With the increase in media literacy and digital marketing, people are getting drawn toward content writing courses. So, we have listed the top 11 content writing courses in Vizag for you.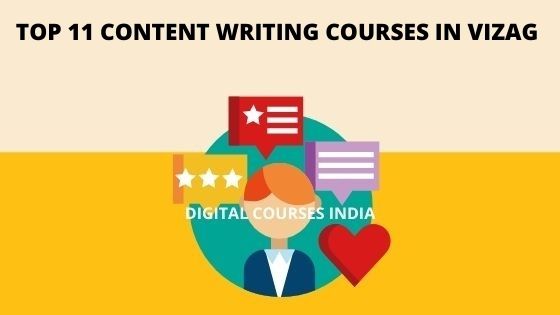 Are you looking for the best content writing course in Vizag? Do you desperately want to be a content writer? Do you have a keen interest in writing? Content writing is an ideal job, with ample future opportunities. It is one of the highest-paid jobs and provides freelance opportunities. A writer can express him/herself through the medium of content writing. It is also the best way for digital marketing. Over 80% of marketers use content writing to guide their prospects through various stages of the buyer's journey. The best content writing courses in Vizag with their price and curriculum are listed below.
What is The Need for Content?
"Content is King"–Bill Gates.
Content is not king, it's an Empire ruled by content writers. An empire where the value of the reader increases. Content will always be an empire till it's of remarkable quality.
Content is required to deliver one's ideas in an understandable and clear way. Content is a way of marketing, entertaining, and communicating. Good content can engage clients and can build a business and help it reach new heights. It is a way to stand out and deliver your views to large masses. Content in the modern era is a way of life.
Content writing refers to the process of creating content for the web. It involves writing, planning, and editing content in a palatable way. It is generally for digital marketing purposes. It includes writing blogs, articles, e-books, posts, scripts, podcasts, and even for particular platforms such as Instagram posts and so on. To put it in an understandable way: Writing is the foundation for any content that you publish or wish to publish.
Also, check the Top 10 Content Writing Courses in Mumbai
When Did Content Writing Emerge as A Career Option?
Content writing is a recent phenomenon. It emerged as a result of digitalization. It first surfaced in the early 1990s when a rise in online activity was noted. It has gained popularity rapidly and continues to do so. People are promoting their businesses and building their profiles with the help of content writing. This change has led to various opportunities for content writers. Now content writing is one of the most satisfactory jobs and has a great future scope.
People have accepted the drastic change which has come through content writing and is thriving with it. We encourage you to do so and build your name in this career.
Types of Content writing:
Articles
Blogs
Scripts
Podcasts
E-Books
SOP
Brochure
Pamphlet
Product Description/Reviews
Social media posts
SEO
E-mailer
Infographic
Technical writing
Ghostwriting
Public Relations Writing
And the list goes on.
Content writers must have these qualities to be successful and impactful in this field.
Great writing skills.
A gift of storytelling.
Research skills.
Data organization abilities.
A better understanding of SEO.
Proofreading abilities.
Editing skills.
Focus and the ability to meet deadlines.
According to HubSpot:
Every sentence of content should have a Jam-Pack value to embed itself in the reader's mind. Write a hook so that you can catch the reader's eye. Write original and play around with angles. In the end, compel the viewer into believing that your content holds a significant value in their life and is relatable to them. It builds trust and credibility towards the targeted audience.
Post as much content as you can. The companies that publish more than 16 blog posts a month enjoy 3.5 times more traffic than the other companies that fail to meet this number.
Scope of content writing courses in Vizag
Wondering what's the hype about this course?
The emergence of this latest and trending course has given new job and career opportunities to the students to establish their names in the field of content writing. It doesn't require specific qualifications. Basic English and 12th class grammar are enough to step into this field.
People have realized the benefits of going digital. Businesses are rapidly establishing themselves in the digital world, this development and acceptance of the virtual world have opened the gates for content writers to a better future.
Vizag is considered the digital hub of India therefore the future of Content writing is blooming. The digital world is taking over and we cannot deny that. The pandemic "Corona Virus" has significantly contributed to its rapid growth.
Over a million blog posts are posted every month and this number continues to rise. So, the career options are beyond enough and one can be assured of its future scope in not only Vizag but the whole world. You may want to know about the Top 10 Universities in the World.
So, take the opportunity and enroll in one of the courses given below to ensure a fulfilling future. Change with the time to change your time!
Freelancer
Web content writer
Creative content writer
Editor
Blogger
Content writer for marketing
Scriptwriter
Top 11 Content Writing Courses in Vizag
1.     IIM Skills
Course Name: Content Writing Course
Price: INR 14900+18% GST
Course Duration: 4 Months (1-month online class+ 3 months internship)
 IIM Skills is a leading institute in the field of content writing, which is popular for its digital marketing and content writing courses in Delhi and across the globe.  There is no doubt that their learning techniques are far superior to others. You get to learn from the experts only. IIM Skills is indeed one of the best content writing courses in Vizag.
Key Highlights:
Course modules: The course is for just 1 month and is designed in a way that it meets the requirements of both beginners and professionals. They teach their students how to create quality content, content marketing, and how to work with Search Engine Optimization (SEO) systems to gain maximum viewership.
Experts: The lectures are led by experts who teach in a way that even the beginners don't face any difficulties. Every topic is explained in great detail. The whole course takes place online and all the basics of content writing and expert strategies are covered.
Practical knowledge: Every module is taught practically, which gives you examples and helps you grasp all the information being taught. You get a hold on numerous assignments, which helps you grow into a confident content writer by the time you finish the whole course.
Paid tools: IIM Skills offer numerous paid tools for free. The tools are worth approximately 35k. All of these tools are related to highly useful plugins. Isn't it just the cherry on top?
Certification: IIM Skills content writing master course grooms you and provides you with an internationally accepted certificate. It also helps you gain a content writing certificate from HubSpot which is internationally acceptable.
Internship: after the course is completed you are provided with a three-month internship to gain experience and get jobs easily. Numerous assignments are assigned to help build your profile and a strong portfolio.
100% Placement: IIM Skills content writing master course makes you job-ready. In addition to it, they provide global placement assistance.
Lifetime Access: You get lifetime access to LMS and can communicate with the IIM Skills trainers any time and they'll be more than happy to assist you.
E-book: IIM Skills gives you the opportunity to publish your first E-book on a well-known platform, Amazon kindle.
Articles: You also get the opportunity to write articles for famous newspapers.
IIM Skills Trusted Brand Partners

Reviews and Testimonials
Other courses By IIM SKILLS
 2.      Skill Upgrader
Course Name: Content Writing Course
Price: INR 6999+18% GST
Course Duration: 16 hours of online classes+70 hours of practical assignments.
Weekend Classes: Classes on Saturdays and Sundays.
Skill Upgraders is one of the finest content writing courses in Vizag. They provide intensive training with Internships as well as Placement Assistance. It is a certified course and provides its students with internationally acceptable certificates.
Key Highlights:
Practical training for better learning.
Dedicated placement Assistance.
This course gives guaranteed internships.
Lifetime support from experts.
Expert trainers.
Extensive training.
You get freelance as well as job opportunities.
The course modules are of the latest standards.
3.      Nestsoft Technologies
Course Name: SEO Training
Price: INR 2500
Course Duration: 1 week to 6 weeks
Eligibility: 12/Diploma/Degree
Nestsoft Technologies is also listed amongst the greatest content writing courses in Vizag. Their placement and Internship guarantee is what makes them one of the most well-known content writing courses in Vizag.
Key Highlights:
Google/Experience certificate.
100% placement, Freelance, and job opportunities.
Job opportunities on their own portal.
Seminars are held regularly.
Training by experienced trainers only.
A guaranteed internship is provided.
Kerala's first online live training institute.
Current course modules.
4.      ECT
Course Name: Advanced Content Writing
Price: INR 1500
Course Duration: 3 Months
ECT is an institute that is recognized by the Government of India, hence it is positioned in the finest content writing courses in Vizag. It is a part of this industry for 10 years and has successfully built its reputation in the industry.
Key Highlights:
Recognized by the Government of India.
International Certification after completion of the course.
Completed over 10 years in the industry.
Live sessions.
Personalized attention and feedback.
Lifetime support.
Internship opportunity.
Freelance and job opportunity.
Help in placement.
5.      Knowledge Hut
Course Name: Business Case Writing Training and Content Writing.
Price: Not shared
Knowledge Hut claims to provide superior curriculum content with intensive training to groom you into exceptional content creators. The course is available in two categories: Team training and online live classes.
Key Highlights:
Interactive course on content marketing.
Intense training.
Learn to create compelling content.
Self-paced study with 100% mentor support from experts.
Practical knowledge.
Case studies to cover real-world scenarios.
Courseware that is downloadable.
Course completion certificate from Knowledge Hut institute.
Get credits (1 credit is for 1 hour of training).
6.      Digital Academy 360
Course name: Creative Content Writing Certification Programme
Price: Not Shared
Course Duration: 2 Months
Digital Academy 360 began with the digital marketing courses in Bangalore and now offers varied courses in the file of marketing, designing, and writing. The Academy has one of the best content writing courses in Vizag due to its expert mentorship and lifetime job notifications which are received through Learning Management System (LMS) every week. It is a great course if you are looking for Job and placement assistance in this field.
Key Highlights:
Portfolio Development.
Top instructors.
Assignments are provided on a weekly basis.
Dedicated Mentors.
Access to Learning Management System.
Proven course curriculum.
Career support.
Freelance projects will be covered.
 7.      Newcent Training Academy: Offers Content Writing Diploma courses and Creative Writing courses.
Price: Distance Learning: INR 15000, Classroom learning: INR 28000, Direct Certification: INR 10800
Course Duration: Distance Learning: 8 weeks, Classroom learning: 8 weeks or more, Direct Certification: 1 to 2 weeks.
Newcent Training Academy provides the facility to directly gain its certification by taking no lectures or training and just by clearing the diploma in content writing and creative writing examination. Its facility to earn direct certification is what makes it one of the leading content writing courses in Vizag.
Key Highlights:
This course aims at teaching how to write less and gain more reads.
Learn communication through both words and implications.
Learn how to get across quickly, deliver punchlines and increase readability.
Get certification after passing the examination criteria.
Assistance in writing your resumes.
8.      Media3 Training
Course Name: WordPress
Price: Not shared
Course Duration: 12 weeks
Their placement record has landed them on the list of top content writing courses.
Key Highlights:
WordPress operations are explained in great detail.
An internship is provided.
Placement Assistance.
9.      Udemy
Course Name: Ultimate Web Content Writing Masterclass.
Price: INR 8640 (Without any discount)
Course Duration: 4 Hours 36 Minutes
Learn content writing, marketing and SEO keyword research, etc with Udemy. This course is the key to digital marketing.
Key Highlights:
10 Downloadable resources are available.
Certification after completion of the course.
Full access for a lifetime.
Access on mobile and television.
30-day money-back guarantee (If you cancel the course)
10.  Coursera
Course Name: Search Engine Optimization (SEO), Search Engine Optimization with Squarespace, Use WordPress to create a blog for your business, Good with Words: Writing and Editing.
Price: Not shared
Course Duration: Search Engine Optimization (SEO): 5 Months, Search Engine Optimization with Squarespace: 2 Months, Use WordPress to create a blog for your business: 2 Months, Good with Words: Writing and Editing: 4 Months.
Get tutoring from the experts and best universities only. The plus point is that there are different courses for all modules, so if you are looking for detailed explanations for a particular course you can enroll accordingly.
Key Highlights:
Practical Assignments.
Shareable certificates.
Self-paced learning.
Step-by-step instructions.
Flexible schedule.
Beginner Level and no experience needed.
11.  Henry Harvin: content writing course 
Price: Self-paced: INR 13000, Online Class: INR 15000
Course Duration: 32 hours of an online live class.
With Henry Harvin, you can learn how to express your thoughts to gain readers. You can experience Professional content writing. A hallmark of CDCW is attached right next to your name after the completion of training.
Key Highlights:
Globally acceptable CDCW certificate.
1year of Henry Harvin Gold Membership.
CDCW certificate Hallmark will be right next to your name.
Guaranteed Internship.
32 hours of extensive training to help build your skills.
Monthly Bootcamp sessions are arranged to boost the learning.
Latest study material.
Recorded videos of all sessions to ensure you don't miss any lectures.
Access to a Learning Management System (LMS) of state-of-the-art
100% placement assistance and job opportunities.
Frequently Asked Questions:
Why should you join a content writing course?
If you want to build your career as a writer, joining a content writing course is a good option. Because it will provide you with a lot of opportunities to showcase your talent in the field of writing.
Is it worth joining a content writing course?
Absolutely worth it. Because today's world relies primarily on digital marketing and the sudden digitalization of the world demands a lot of unique content writers to inform the audience about the company details.
Is freelancing a better option?
Freelancing is a good option if you have your own website and domain. But it is a long process as it takes a lot of time to build your own career in the writing industry as a content writer.
Bottom Line
Every course has its own benefits and highlights. Some have longer duration others have practical assessments, some are cheaper and some have more benefits. It solely depends on you. Enroll in the course which suits your desires and meets your learning pace.
So here ends our work of saving your course hunting time, but your work has just begun. Content writing is a skill that needs to be acquired with precision and hard work. You need to polish your skills to deliver your content in the best way possible.
The value of content is marked by its quality. Therefore, ensuring quality content writing courses is a must.
Internshala after a survey stated that about 23% of students opted for content writing courses in 2021. Therefore, people have already started taking steps toward a bright content writing future. So, what are you waiting for? Trust your instinct and go for it because you won't ever regret this decision.
In the end, it's up to you whether you are ready to work in this field or not. If you are, then do not give up on this opportunity.