The idea of traditional marketing has declined gradually over the years owing to its various drawbacks one of them being the small reach it has as compared to what you can achieve by having your business correctly marketed online. Each business be it at a small scale, or a large scale has understood the importance of having a digital presence.
Thus, the need to hire a professional and certified digital marketer has increased multifold. In the recent past, Dubai has emerged as a hub for start-ups and businesses across all categories. To boost their businesses, make themselves reach out to maximum people, understand the changing demands they need to have a strong online presence and hence the scope of digital marketing has expanded in Dubai. The global digital marketing market is expected to grow at a compound annual growth rate of 17.4% from 2019 to 2027.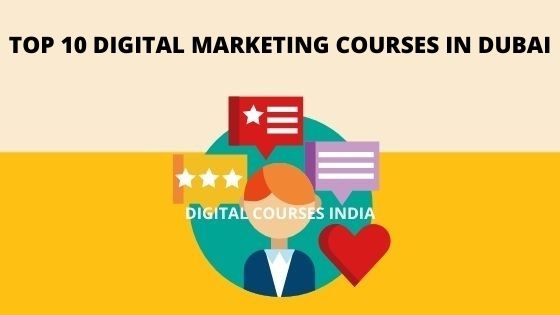 Must Read: How to Choose Digital Marketing Course and Training
Below, there is a list of the top 10 digital marketing courses in Dubai that will help you in gaining the necessary knowledge along with a course completion certificate to make you employable.
IIM Skills: 
IIM Skills is one of the top leading institutes for a Digital Marketing course. It is designed in such a way that anyone right from a student, working professionals, entrepreneurs, and housewives is trained according to the requirements of the market. The best part about their course is that they have both weekends as well as weekday batches, and you can choose according to your convenience the time and batch.
During the digital marketing course, they train you in such a way that you are eligible to appear for the certification exam of IIM Skills along with 15 other significant certification exams like Google, HubSpot, Facebook blueprint. The value of these certificates is recognized globally. 
These classes and the whole process occur online and so you can register for their courses from anywhere across the world. The classes are conducted by professionals who are Google certified experts having experience of 12+ years of working in this field.
Course Name: Master Digital Marketing Course
Course Details:
Search Engine Optimization 25 Hours

Content Writing 30 Hours

Email Marketing 15 Hours

Google AdWords 10 Hours

Micro Video Marketing 10 Hours

Affiliate Marketing 10 Hours

Social Media Marketing 15 Hours

Web Development 15 Hours

Hands-On Assignments 120 Hours
Course Curriculum:
WordPress Web Development – 2 Modules

Search Engine Optimization – 4 Modules

Search Engine Marketing – 6 Modules

Email Marketing – 4 Modules

Inbound Marketing – 3 Modules

Social Media Marketing – 6 Modules

Web Analytics – 3 Modules

Integrated Digital Marketing Strategy -1 Modules

Online Reputation Management- 3 Modules

Content Writing and Blogging -3 Modules

Media Buying – 1 Module

Affiliate Marketing – 1 Module

Video Marketing -1 Module

Digital Infographic Resume Preparation- 1 Module
Course Fee: INR 29,900 + GST
The Institute you work with marketing tools like Google Analytics, Keyword Planner, Semrush, Yoast SEO, Succuri Security, and much more worth AED 3900. Once the course end, you have the choice of taking up their non-paid virtual-based Internship for an in-depth understanding of online marketing.
Contact Information:
Phone no.: +91 9911839503
Email: info@iimskills.com
You may also want to read about the Top 7 Digital Marketing Courses in Nigeria
LearnersPoint Tutorial:
The LearnersPoint Team has helped over 110,000 professionals to realize their dreams with a wide variety of courses from the fields of Management, Finance, ERP, Logistics, Marketing, and many more. They have been in this field since 2001.
They have ready-to-take courses, which they have crafted keeping in mind the schedule of a working professional. Their study material and the training techniques are tailored according to the business needs of the industry. The flexibility that they allow their students while customizing courses and at the same time being cost-effective is what sets them apart.
Course Name: Digital Marketing
Course Content:
Digital Foundations & Strategy

Customer Experience & Conversion Rate Optimization

SEO

Display & Video

Social Media Handling

Marketing Automation 

Capstone Project

Content Marketing & Communication

Analytics

Search – Ads

Owned & earned.

Mobile & Marketplace

Conversational Channels (WhatsApp & Messenger)
There are 2 ways of learning. One is an Instructor-led classroom and the other one is self-paced. The staff is incredible and considerate of our learning curves. They are exceptionally talented with decades of industrial experience. They have a course on Social Media Marketing as well.
Inc.Academy 
Inc.Academy is a company established in the year 2012 that specializes in training people in Digital Marketing and social media marketing. It has its headquarters in New York, The United States of America with the Middle East Regional Office in Dubai.
With having their training delivered in more than 20 different countries, they have also had the privilege to host Government Officials from the Government of Dubai, Dubai Tourism, Dubai Police, Knowledge, and Human Development Authority (KHDA), etc- to name a few. 
They have also hosted budding entrepreneurs and marketing professionals from companies like PepsiCo, Unilever, Etihad Airways, and many more. A unique part about their courses is that their courses are officially recognized by the government of Dubai KHDA (Knowledge and Human Development Authority). They are also the members of London Based CPD (Continuing professional development)
The whole program is conducted by Mr. Gaurav Oberoi, who has 10 years of experience in this field and has been an Official Regional Trainer & Speaker for the Google Partner Academy Program. 
Once an individual completes their course, they are eligible to earn up to 12 certificates.
Course Content: 
Orientation workshop

Social media marketing

Search engine optimization

Search engine marketing

Digital strategy and planning

Google Analytics
Duration of the course: 40+ hour
Five days of classroom mode

Three months of extended online mode

Twenty-two days fast track online mode. 
Contact Information:
I N C Professional Training LLC, Unit 2001, Level 20, 48 Burj Gate, Burj Khalifa Street, Downtown Dubai – 36615, UAE 
Phone#: +971-52-437-1377
SEO International:
SEO International is a Google Partnered firm which offers Digital Marketing courses in the UAE, since November of 1999. They have provided digital marketing training to more than 925 companies.
They cover the basics of digital marketing in a 3 day and 5-day course, which are classroom-based and online respectively. They also have specialized online courses on modules Instagram Marketing, Content Marketing, Linkedin Marketing, Facebook for Business, and many more.
The touched upon modules in the 3-day course are:
Digital Marketing 101

SEO – Search Engine Optimization

YouTube SEO

Google My Business

Google Ads – Search and Display Campaigns

Google Analytics

Content Marketing

Social Media Marketing

Social Media Advertising

Digital Marketing Certifications
All the specialized modules are 6 hrs long and cost AED 975 per person for a group training session, and the in-house sessions for up to 3 people cost AED 1950. For group training sessions, they keep no more than a batch of 8 people to ensure proper understanding of concepts and 1-1 doubt clearing sessions.
The 3-day course costs AED 2,890 and AED 5,650 for a group training session and the in-house sessions for up to 3 people. All their courses are customizable, and they provide flexibility in course dates as well as in customizing the courses. They also guide and assist you in getting certified by Internationally recognized companies like HootSuite, Hubspot, Google, and Facebook at no extra costs.
Delphi Star Training:
Delphi Star Training is the most famous training center for Digital marketing courses in and around Dubai. They offer a variety of courses for a variety of masses, especially for those wanting to restart their career. 
They offer online courses as well as classroom training in Dubai. Through years of revising their modules according to the industrial standards, they have created a course that will ensure that it imparts the knowledge of all the necessary tools and techniques required to become a skilled Digital Marketer.
Course Name: Online Digital Marketing Certification Course
Course content:
Introduction to Digital Marketing

WordPress Website Designing & Planning

Mastering SEO

Mastering Email Marketing

Affiliate & Influencer Marketing

Mastering Mobile Marketing

Mastering Video Marketing

Mastering Social Media Optimization & Marketing

Mastering Search Engine Marketing (SEM / PPC)

Content Marketing

Online Reputation Management

Google Analytics / Web Analytics

Google Certification Exams
Key Points:
They have certified and professional trainers who have significant years of experience in their domain.

Flexible batch timings

They also provide placement assistance post-completion of the course.
Atton Institute
Atton Institute is accredited by multiple organizations. Atton Institute offers a variety of courses in two modes, public training, and in-house training. Their well-tailored courses ensure that the person achieves expertise in digital marketing planning and masters the tools required for the same.
Course Code: DM-001
The course lasts 5 days for which the schedule goes as follows:
08:30 AM – 10:00 AM – Training Session 1
10:00 AM – 10:15 AM – Tea/Coffee Break
10:15 AM – 12:00 PM – Training Session 2
12:00 PM – 12:15 PM – Tea/Coffee Break
12:15 PM – 02:00 PM – Training Session 3
02:00 PM – 03:00 PM – Lunch & Networking
Course Content:
The Digital Marketing Landscape

Search Engine Optimization

Content Marketing

Social Media Marketing (SMM)

Online Advertising 

Leverage Communication 

Lead Management

Brand Management and Business Reputation Management

Analytics
Course Fee:
The course fee for the 5-day course ranges from USD 3,400 to USD 4,400, depending on the number of days before the day of the course. This fee includes the following amenities
Extensive Workbook with Course Materials

Handouts and other Supporting Materials

Practical Examples and Various Case Studies

Quick Reference/Top Tips Guide

Professional & Experienced Instructor

Accelerated and Intensive Learning Techniques

Relationship Building within Course

Post Course Action Plan

Index of Additional Suggested Materials

Course Completion Certificate

FREE VALET PARKING

COFFEE BREAKS

LUNCH

FREE WIFI ACCESS

Course certificate
LeoRon Professional Development
LeoRon was initially established in Sweden and later spread to various pieces of the globe. Today it offers development solutions in all corporate areas including Human resources, Operations, Engineering, and Finance. 
LeoRon is considered perhaps the most pined for Digital Marketing Institutes in Dubai. They have led more than 1200 + courses yearly and 15000 + experts who have been groomed to have a deeper understanding of their chosen field.
They usually conduct courses in 5-star hotels. Their certification courses include the hotel charges as well as snacks and refreshments, study material, and for certain courses, the certificate expense and participation with the authorizing bodies.
Course Name: Certified Digital Marketing Professional-CDMP
Course Fee: 4,470 USD.
Course Curriculum:
Introduction To Digital Marketing

Inbound And Outbound Strategies

Digital Channels

Audience Research

Social Listing

Marketing Functions

Processes And Tools

Content Marketing Benefits

Search Engine Marketing

Search Engine Optimization

Email Marketing

Social Media Optimization and Marketing

Pay Per Click

Campaign Management

Digital Displays and many more concepts. 
Address– Indigo Icon Tower, JLT office, 12083 90601, Dubai, UAE Contact + 97144475711
Institute of sales and marketing 
The Institute of sales and marketing was set up in the UAE in the year 1998. Their insight into the market is magnificent. Their UK-based teachers have tremendous territorial and worldwide involvement with an average of 25+ years of experience in the corporate industry at the highest levels.
They are associated with quality UK sales and marketing organizations and thus make use of 'most elite' coaches from associations like The Chartered Institute of Marketing, which is the reason why their courses are suggested by people who attend them.
The courses are designed keeping in mind the understanding behind the buyer's perception of selling and the motivation behind the cause. Some of the real-life experiences of the course directors that they come across when being associated with thriving businesses on a day-to-day basis are also discussed and talked about during the curriculum. The batch consists of a maximum of 20 people to ensure everyone gets a chance to raise doubts and get their concepts cleared.
The course instructor, Wayne Denner- has experience of 17+ years who specializes in emerging trends of digital media marketing and social media.
Key Learning Points: 
The worth of Digital Marketing.

Key computerized instruments to improve showcasing. 

Connecting computerized marketing strategies to accomplish promoting goals. 

Fruitful on-page and off-page SEO. 

Why substance advertising and third-party referencing are at the core of current promotion.
Course Details:
Starts: Sun 13 June 2021

Ends: Mon 14 June 2021
Location: Time Oak Hotel, Abdulla Omran Tayram St, Al Thanyah 1, Tecom – Dubai, United Arab Emirates
Simplilearn:
Simplilearn is awarded the world's #1 Digital marketing course by Search Engine Journal. The team of tutors from Simplilearn has helped over 1 million professionals across 150+ countries. They also have a dedicated team of 2000+ renowned professionals and industry experts who curate their award-winning online Bootcamp designs.
Course Duration & Fees:
They offer a digital marketing course duration of 1 year, and the fee for the course is AED 2970
Course Syllabus
Mastering SEO

Mobile Marketing, social media, and Digital Strategy

Advanced Web Analytics

Advanced Search Engine Optimization (SEO)

Pay Per Click (PPC) Advertising

Advanced social media (With OMCP Voucher)
Course Highlights:
Case Studies from HBP Education

Get marketing tools up to $500 worth.

200+ hours of live interactive learning
Contact Details:
Phone Number: +65 31 585082
Centre Executive Development
Located in Dubai, the Centre Executive Development (CED) provide work-oriented training programs in line with national Emiratisation initiatives. They design and offer executive management development programs and certifications that help in developing necessary skills to advance the career of their students. 
Course Syllabus
Digital Disruption

Search Marketing

Social Media Marketing

Display Marketing & Email Marketing / CRM

Website & App Development

Performance Marketing & Analytics

E-Commerce

Digital Strategy & the Future of Digital
Course Duration & Fees
3-month diploma in digital marketing course, and the course fee is AED 8,500.
Course Highlights
Highly Focused on the UAE Market Requirements 

Facilitated by Experienced Industry Professionals 

Hands-on Experience 
Contact Details
Phone Number: +971 4 5566 977
 Address: Oud Metha – Dubai – United Arab Emirates.
 Email: ced@ud.ac.ae
Summing Up
So here are the top 10 digital marketing courses of Dubai. Almost all the courses offered by the institutes are online, which speaks about the fact that the learning imparted in the form of live sessions is very effective and helps us to get acquainted with the digital world gradually.
Whatever be the mode of the classrooms, it is important to first understand that Digital Marketing is a massive field that is further subdivided into Search engine optimization, Web analytics,  content marketing, more.
You can go on to understand and have a thorough knowledge of all these topics only through constant practice by taking up projects, consistency in content, and a disciplined attitude that pushes you to experiment with ideas and learn through your own experiences.
In the beginning, so many concepts at once may seem overwhelming, but like every learned person, we need to know that to gain expertise and become a professional in the field of digital marketing we need to allow ourselves to be open to the idea of updating and adapting ourselves in the competitive business of digital marketing.
As a beginner, it is okay to have a plethora of doubts and so irrespective of the course you go for do not forget to clear your doubts and actively engage in projects and assignments.
It is not only important to get certified as a digital marketer but also to put that knowledge into use in the real-life world by either working on your own websites, working as a freelancer, or in a digital marketing agency.