Why suddenly is there an increase in the sales of gadgets like the mouse, keyboard, mobile accessories like headphones, earphones, wireless earbuds, etc? Why did people start searching for their needs online rather than asking a salesperson? This is all because of digital marketing. As India goes digital, many companies started looking at it according to the need of the time. So is the demand for the digital marketing course. So many institutes are offering the best digital marketing courses in India, both offline and online.
The term digital marketing is coined in the year 1990. Digital marketing is also called online marketing, web marketing, or internet marketing. It is all about the marketing of products or services using digital channels to reach consumers. Promoting brands through a variety of digital media is at the core of this campaign.
Covid 19 has accelerated the need for digital transformation across all the industries on a global scale. In addition, the pandemic has forced almost every industry to reimagine its operations and go digital.
When consumers started researching the products or brands online before going to the store, this created a problem for the marketing department of various companies. Another problem the UK found was that most retailers did not register their domain.
These problems encouraged digital technology in market development. With the development of social media in the 2000s like Facebook, Twitter, and YouTube, consumers became increasingly dependent on digital electronics in their daily lives.
Digital marketing encompasses more than just internet marketing; it also includes mobile phones marketing, social media marketing [According to the global web index in 2018, 50% of the consumers researched products on social media], display advertising, search engine marketing, and any other forms of digital marketing.
A digital marketing campaign is considered more target-oriented, measurable, and interactive. As a result, there is substantial demand for digital marketing skills in the industry and the jobs market at large. According to the statistics produced in 2012 and 2013, digital marketing was growing in leaps and bounds.
LinkedIn and naukri.com estimate that India has 460 million internet users. Numbers are growing each day, and the demand for digital marketers is high. Unfortunately, this leads to a shortage of digital marketers right now.
Now, that we have acquired a glimpse of what digital marketing is, let us dive into the list of the best digital marketing institutes in India that offer remarkable digital marketing courses. All these courses are edgy in the ed-tech industry and equip you with the requisite skills to have a promising career in this domain.
The Top Digital Marketing Courses in India:
Rank #1: Best Digital Marketing Institutes in India
1.  IIM Skills
IIM Skills has emerged as the pioneer for digital marketing, believing that practical learning is way more effective than theoretical learning. As a result, it ranks as one of the top digital marketing courses in India. As well as, it also tops the charts for the best content writing courses in India.
The course at IIM Skills is job-oriented, and the students are trained to perform better and are asked to build their WordPress website after the initial training process. IIM Skills has started a digital marketing course with a vision to bridge the gap between working professionals and the knowledge required to excel as a digital marketer.
With over 5+years of experience, the institute has trained 15000 + professionals from 30+countries and has become a trusted brand in the Ed-tech industry.
Key features
Features of the Digital Marketing Course that makes IIM Skills one of the best digital marketing courses in India are:
180 hrs of live training
15+live projects
10+case studies
Three months program
Tools worth 79000
40 digital marketing modules
Certification by IIM Skills, Google, Facebook, HubSpot
Three months guaranteed internship
Launch a digital marketing agency
Placement assistance
Personalized mentorship for career and business
Course content
Introduction to digital marketing
Web development at word press
Search engine optimization
Search engine marketing
Email marketing
Inbound marketing
Social media marketing
Integrated digital marketing strategy
Web analytics
Online reputation management
Content writing and advanced blogging
Media buying and planning
Affiliate marketing
Video marketing
Marketing automation
Digital infographics resume creation
The course is designed as per current industry standards, and the certification offered is internationally accepted, including Google, Hub spot, and facebook certification.
Lifelong access to LMS [learning management system]. Tools play a very important role in any digital marketing campaign. Students are made aware of such tools' necessary applications and operations; this is a tool-driven course.
Tools
SEMRush
YouTube analytics
Google keyword planner
Google analytics
Google trends
Mail chimp
LinkedIn analytics
Twitter ads
Face book ads
Choosing a digital marketing course at IIM Skills gives you an edge over the other students, and overall it is a lifetime experience.
Trusted Brand Partners of IIM Skills

Reviews and Testimonials
Other professional courses by IIM SKILLS
Rank #2: Best Digital Marketing Institutes in India
2.  Digital Scholar
The institute has a reputation for excellence in digital marketing. It is a Chennai-based institute founded by Sourav Jain. Trainers teach here from the basics of the topic to the expert level. It is popular among all the other digital marketing courses in India.
It offers Advanced 3 months digital marketing program with a rating of 4.9/5.
Salient features
20 industry experts
120hours+ live sessions
Weekend interactive online classes
Work on live projects
18+ advanced modules with 3 specializations
Guaranteed paid internships
Live projects
Course curriculum
Polishing social media profile
How to setup hosting for free
Installing and setting up word press to create a fully functional website. How to choose blog post titles
Creating compelling content
Composing and publishing blog posts
How to promote blog/website
SEO/ keyword researching
Integrating and understanding Google analytics
Digital scholar course focuses on 360-degree curriculum like
Content marketing
24+certification [SEMRush, GMB]
Shopping ads certification
Hub spot certification
Feedback/doubt clearing sessions
Case studies and assignment based evaluation
Virtual workshops
SEO analytics
Google analytics, video ads, etc.
Also, read about the Top 6 Digital Marketing Courses in Delhi
Rank #3: Best Digital Marketing Institutes in India
3. Digital Vidya
A global digital marketing course and data science started initially with social media workshops across India in 2009, founded by Anuj Batra. Then, in 2013 started a fully-fledged course in digital marketing called the certified digital marketing master course. It offers unique features as one of the top digital marketing courses in India.
The excellent quality of training and education has led to collaborating with Google, Microsoft, Linked In, Facebook, VSkills, NASSCOM, and digital vidya, an official training partner of Google and Microsoft. Providing state-of-the-art training on cutting edge technologies mainly focuses on imparting new-age skills to individuals and organizations.
200+ experts in digital marketing, digital vidya is a super organization in delivering excellent education online. 38,000+ trained professionals across 55+countries with 10+years of expertise with a team of over 70 expert practitioners.
Using state-of-the-art faculty, their curriculum is unique and brings together digital marketing professionals, building collective knowledge and training digital marketing enthusiasts.
Course curriculum
Search engine optimization -4 modules
Search engine marketing – 5modules
Social media marketing-5 modules
Email marketing- 3 modules
Web analytics- 5 modules
Facebook marketing -2 modules
Other digital marketing topics-15modules
Features
44 modules
100 hrs classes
140 assignment hrs
250+ placement partners
10+trainees/ batch
15 certifications
VSkills [govt of India] certified course
72000INR+worth free digital marketing tools
100%placement support
24x7support through the Q/A platform
Lifetime access to the latest content
Digital vidya mainly focuses on enhancing the individual capability of each team member and equipping them with confidence and competence to execute tasks. In addition, it provides training in emerging technologies to transform the markets.
Also, check out the Top 10 Digital Marketing Courses in Mumbai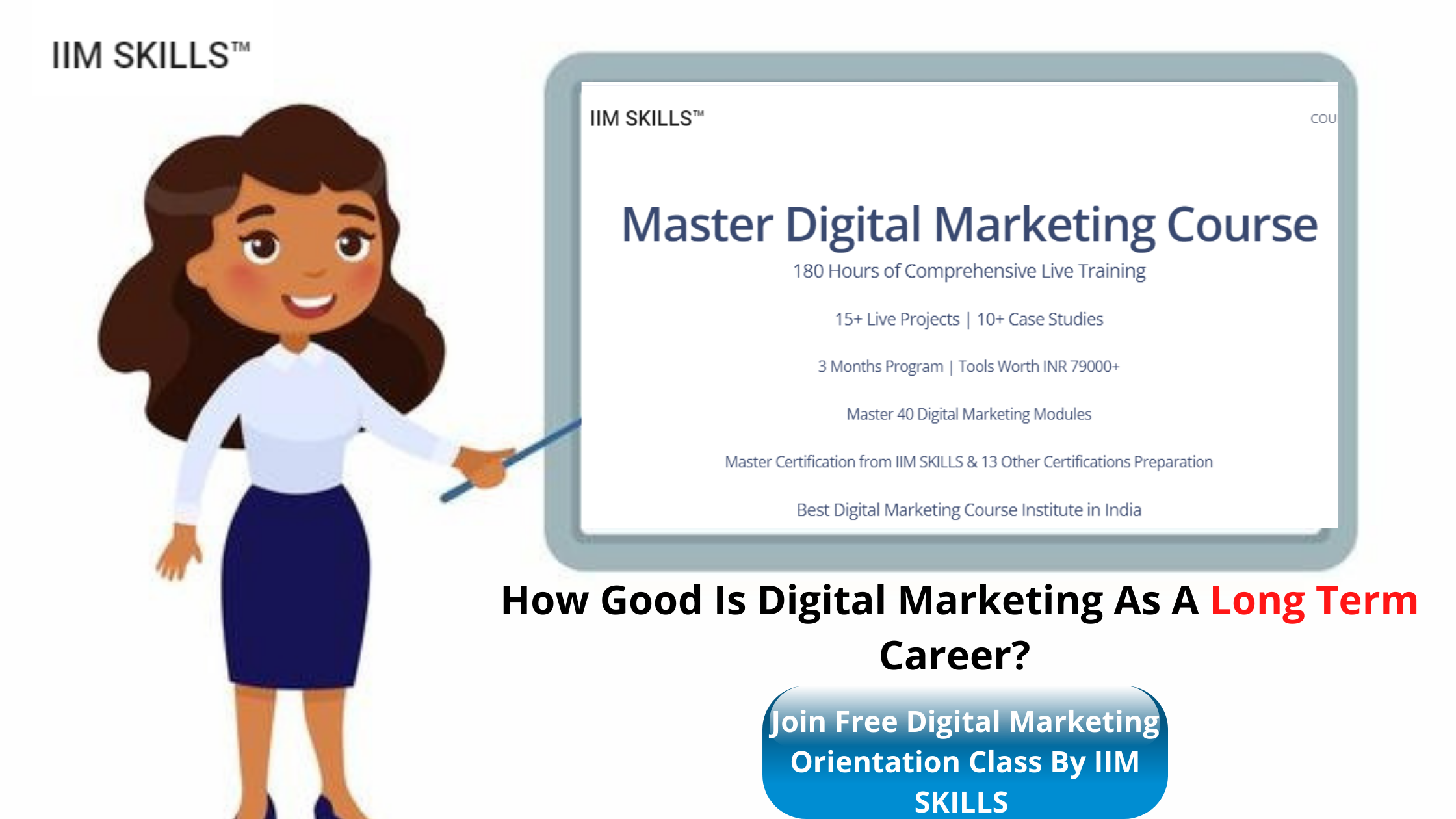 Rank #4: Best Digital Marketing Institutes in India
4. UpGrad
It offers offline and online courses as well as free and paid courses. Their digital marketing course called advanced certificate in digital marketing and communication is a 5-month program, one of the best courses in the field. Up Grad offers excellent courses in digital marketing taught by industry leaders and the best mentors.
Each unit comprises theory, case studies, and industry segments and covers a range of relevant topics: SEO/SEM, social media/ content marketing, branding, marketing analytics, email marketing, CRM, and marketing strategy. It is one of the best digital marketing courses in India.
Key highlights
Certification from MICA and Facebook
Fortnightly coaching by industry mentors
Mock interviews by hiring managers
15 case studies and live projects
Video library with 70+ tools
Personalized resume feedback
No cost EMI option
What you learn
Fundamentals of digital marketing
Marketing analytics and integrated marketing strategies
Search engine optimization and search
Social media/ content marketing
Paid marketing –SEM
Specialization in branding and communication
Programmatic Ad Buying and display marketing
Amazing faculty members provide training, including head of marketing at HCL, head of digital marketing at Microsoft, Asia pacific, former head of global digital marketing at Infosys, and InMobi, world-winning global digital marketing consultants.
A strong curriculum, case study-driven approach, live campaign projects, and career guidance are some of the stunning features of this course at up grad.
Also, dig in the Top 11 Digital Marketing Courses in Ahmedabad
Rank #5: Best Digital Marketing Institutes in India
5. EduPristine
One of the leading digital marketing training institutes in India was established in 2008 by three IITians. It ranks as one of the top digital marketing courses in India.
With a network of 1500 teachers and 25 courses have trained over 15000 professionals. In addition, they conduct offline and online courses that include preparation for Google Ad words certification, the hard copy of study notes, practical case studies and assignments, online materials, access to their question-answering forum, periodic tests, and exams.
Course details
12-day digital marketing training covers
Introduction of digital marketing
Google analytics/ web analytics
On-page SEO/ off-page SEO
PPC marketing
Video marketing/ social media marketing
Content marketing
Email marketing
Affiliate marketing
Lead management and growth hacking
Mobile marketing and project review
At the end of the course, either certificate of participation or a certificate of excellence based upon the student's performance is provided.
Recommended Read: Digital Marketing Courses In Egypt
Rank #6: Best Digital Marketing Institutes in India
6. Simplilearn
Another education and training company based in Bangalore provides offline and online courses based on students' needs. It offers one of the best services among all the digital marketing courses in India. It was founded in 2009 by Krishna Kumar. They offer a digital marketing training program called Advanced online marketing certification training.
It is 175+ hours of e-learning content with a duration of 180 days. They also assist in getting the OMCP certification. OMCP is awarded to professionals who have completed extensive training and possess several years of online marketing experience. In addition, it offers digital marketing certification courses.
Using different digital channels as an effective marketing communication tool with the target audience is the goal of Simplilearn's digital marketing training courses.
The highlights
5 hours of +online learning content
More than 40hrs lessons
Access to the course material for One year
Quiz based
Online mentoring session
Certificate of completion by Simplilearn
Program offerings
Self-paced learning
24×7 learner assistance and support management system
Corporate training
Enterprise-grade learning
Simulation of test papers for self-assessment
With this course, one can understand the fundamentals of digital marketing, the lifecycle of the customer in marketing, and gain knowledge of future trends of marketing and technology.
Rank #7: Best Digital Marketing Institutes in India
7. IIDE-Indian institute of digital education
It mainly focuses on reaching the whole market in a short period with the best marketing policies and provides strategies to cope with the challenging demand of the market. In addition, it offers excellent services as one of the top digital marketing courses in India.
It offers the best and latest methodology tips to students in achieving success and reaches their goals easily. This is because the trainers are true professionals and practice what they teach.
Course syllabus
The digital scenario in India
E-commerce marketing
Search engine optimization
Search engine marketing
How to monetize your blog
Content marketing
Social media marketing
Design essentials
Advance content strategy
Influencer marketing
Brand reputation management
Web analytics
Creative strategy
Media planning
Soft skills
App store optimization
Copywriting
AD psychology
Course highlights
40+hrs of video learning
70+hrs of live learning
20+ industry tools mastery
7 modular assignments
13+ certifications
8 brand projects
1 on 1 mentoring
1 final project
100% placement assistance
250+ hiring partners
The duration of an online course is around 3-4 months, with approximately 12 hours.
On completing each module, IIDE awards a certificate of participation; altogether, 13 certifications are offered.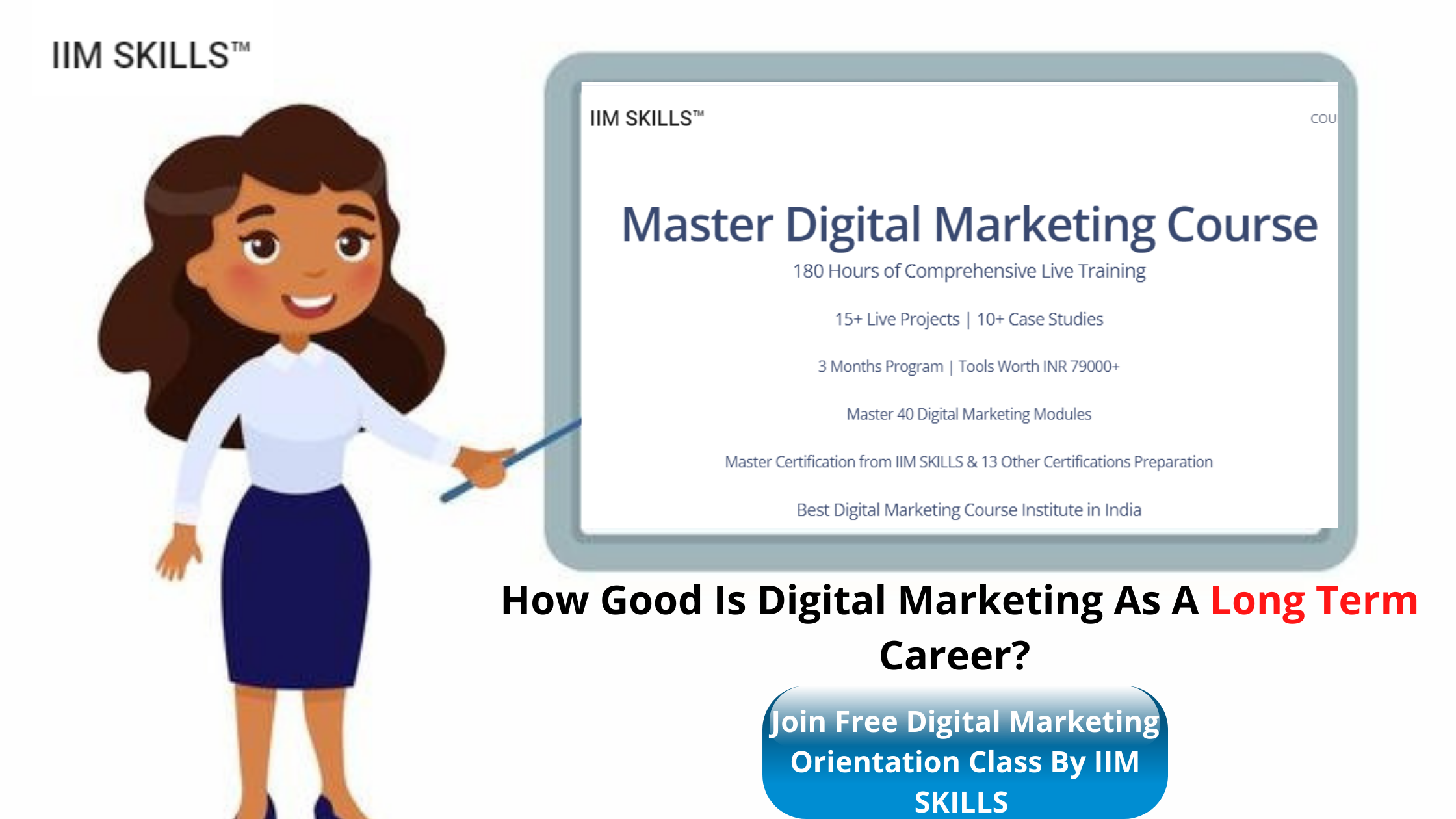 Rank #8: Best Digital Marketing Institutes in India
8. NISM- National School of internet marketing
Offers affordable digital marketing courses in India. It provides unparallel online marketing professional courses for the last 3 years with 100% job assistance. They trained over 6000 students focusing on the past, present, and future of digital marketing.
Course syllabus
Basics of digital marketing
Placing ads Google search engine
SEO/ Local SEO
Coupon code marketing
Affiliate marketing/ domain marketing
E-commerce SEO
Online reputation management
Lead generation for business
Course highlights
Lifetime access to the classes
100% placement
Live projects
15 certifications
Backup classes
24×7 online support
100% practical course
Scope of Digital Marketing In India
Before choosing any career prospect, it is evident to look at the scope of the field. So, you must be wondering if digital marketing is the right domain for you? What is the scope of digital marketing? Does digital marketing have a bright future? The answers to most of these questions are YES!
The scope of digital marketing is immense and skyrocketing with new trends and marketing practices thronging the nation time and again. The competition is getting fierce and so are the marketing practices. More and more studies are being conducted to understand customer behavior and how to strike a chord with them.
When we analyze the key indicators of success in marketing, the first thing that clicks the mind is the reach to the right type of audience. With internet penetration becoming a thing, there is no denying that digital marketing has a wide scope. Look at the numbers, India stands in the 2nd position for the largest number of internet users. The more the number of end-users, the broader the scope of digital marketing becomes.
Moreover, digital marketing lets small and medium businesses compete with established names in marketing. These small businesses can create their own market with advanced digital marketing and thus every other company hinges on digital marketing to work it out in the market. Hence, digital marketing is a growing and evolving industry with a massive scope.
Frequently Asked Questions:
1.    What is the importance of digital marketing courses in India?
Businesses nowadays thrive on online presence, reviews, and customer testimonials. Marketing your brand in a digital environment teaches you how to establish, sustain and extend your brand's online presence across various platforms.
2.    What are the benefits of digital marketing courses in India?
Allows companies to promote themselves to large, diverse audiences, marketing at a very low or zero cost, engaging with customers directly, an ideal environment for a company to conduct market research, promote brands, events, deals, and news offer incentives.
3.    What are the important aspects of digital marketing courses?
An effective strategy for digital marketing should incorporate mobile considerations, organic search, content marketing, and lead nurturing. These factors should also be combined.
4. What are the skills required to become a great digital marketer?
SEO/SEM
Data analysis
Social media
Pay per click/ social media marketing
Email marketing
Storytelling
Basic design skills
Creative problem solving
Sales and persuasion
Project leadership
Agility and adaptability
Strategic planning
Successful digital marketers stay updated with the changes within the industry and globally.
5. How to stay updated in the digital marketing industry?
By following blogs, following industrial experts, and trying new tools, one can stay updated.
6. What are the benefits of digital marketing carriers?
Soaring demand
Short term training courses
Skill drove industry
Evolving market
Handsome salary
Creative freedom
Work with ad agencies
Great work-life balance
7. Is digital marketing a good career?
A digital marketing career in India tends to offer higher pay, higher revenues, and a broader range of work experiences.
A digital marketer draws anywhere between 15 to 20 lakhs and can go up to 40 lakhs. By 2022, digital marketing is predicted to generate 2.5lakh jobs in India, according to the Times of India.
8. What are the employment opportunities after pursuing a digital marketing course in India?
Digital marketing manager
Content marketing manager
Content writer/ copywriter
Inbound marketing manager
Social media marketing experts/ specialists
Search engine marketer
SEO executives
Conversion rate optimizer
9. Who should join this course?
This course doesn't require an MBA degree. However, any graduate with basic knowledge of computers and good communication skills will be perfect.
10. What are the qualities one should check before joining the institute to undergo digital marketing training?
The best digital marketing course should give you new skills in the segments of copywriting, SEO, PPC, email, mobile marketing, analytics, content management, and social media covered by a digital marketing degree.
Before joining the course, one should check for certification, fee structure, the qualification of mentors, internship, practical live projects, post-course assistance, course curriculum and faculty expertise, reviews and recommendations, and placements.
Picking a digital marketing institute in India can be a tiresome task. If a single institute offers a complete package with a truckload of factors would be ideal.
Conclusion
As per market and market search, virtual reality will become an important part of marketing campaigns by 2025 as its market continues to expand from $7.9 billion in 2018 to $53.6 billion in 2025.
This development means that a marketer will need to invest more time and money in understanding potential customers and their needs. Digital marketing jobs rank among the top in-demand jobs, according to LinkedIn, based on job growth and learning.
There is an increasing need for well-trained people to handle the immense opportunities the digital economy will bring. Businesses are now earning crores of rupees simply by expanding their businesses through digital marketing.
Digital marketing allows you to master a variety of digital marketing fields. Therefore all these reasons are enough for you to decide to pursue a digital marketing career. Therefore, apply to a digital marketing course from the best digital marketing institutes in India and take the first step to advancing your career.