Digital marketing is considered the most effective marketing strategy in this vigorous age—the age where we need something new, creative, and competitive. Learning digital marketing has become a smart career choice. Read more about the benefits of Digital Marketing courses, career opportunities, and Top 5 institutes offering Digital Marketing courses in Nashik.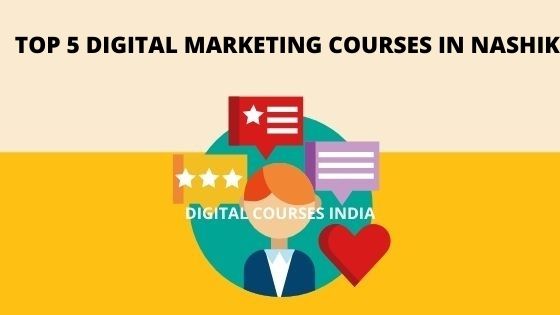 Many people are more likely to continue working from home in this pandemic than to go out like earlier. A large chunk of people, including the elderly, middle age, millennials, and Gen Z, are sure to be spending a considerable amount of time on social media. So, now you will find more advertisements on social media than billboards. Across different sectors, even the companies are relying more on online platforms than ever. It is all because social media is an effective digital marketing strategy.
Hubspot data suggests that more than 3 billion people worldwide are using different social media platforms for communication. Using the right marketing strategy to promote a brand on social media incorporating more than 3 billion potential consumers requires a skilled digital marketing expert. The first step of becoming an expert is to find the best institute to learn digital marketing skills. Here, we have mentioned the top 5 institutes offering Digital marketing courses in Nashik.
Must Read: How to Choose Digital Marketing Course and Training
What is digital marketing?
In technical words, digital marketing is 'marketing' or promoting a particular brand or agency over the internet (or any digital platform). It is similar to traditional promotional activities – one has to sell a product, create brand awareness, and engage with customers. As the digital platform is more versatile and flexible, it provides better scope and opportunities for marketers to sell their products.
Learn more about How Digital Marketing Works in 2021
List of areas a digital marketing student should focus on – 
Search Engine Optimization (SEO)
Content curation and management
Email Marketing
Knowledge of interactive technology
Search Engine Marketing
E-Commerce
Analytics
One cannot expect a digital marketer to have a thorough knowledge of everything. Professionals who acquire some experience in marketing management, web development, copywriting, or even web designing –  have already taken their first step into this field. However, freshers with no experience in this field should not get discouraged. With some training and understanding, even the freshers can make a place for themselves in this industry.
Budding professionals and students in Nashik now have the opportunity to kickstart their career with the listed top 5 Digital Marketing courses in Nasik.
Learn about  The basics of SEO for beginners in 2021 
Top 5 Digital Marketing courses in Nashik
After Pune, Nashik is the next big IT hub in Maharashtra. With the explosive market growth in the city, the opportunity for digital marketing has increased. It requires digital skills and experts to engage more customers, attract new businesses and bring more ROI. Among several options, these are the 5 best institutes rendering digital marketing courses in Nashik.
1 . IIM Skills
Let's start our list of the top 5 digital marketing courses in Nashik with IIM Skills. IIM Skills is one of the most reputed and coveted online digital marketing institutes. They initiated distant learning digital media courses five years ago, offering a Master Digital Marketing Course with 180 hours of comprehensive live training.
It might be a distance learning course, but it will provide you a vast platform to socialize with people from different cities, states, or even countries. Amidst this Covid and social distancing, this course won't make you feel socially distant at all. At IIM Skills, you can take live online sessions, communicate with your instructor and other batchmates in real-time.
Here, you get a flexible schedule that allows you to choose your preferred time without compromising your other work. And in case you miss out on any of the sessions, you will get the access to go through the recordings later and catch up on everything you've missed.
The Digital Marketing course module will include 40 chapters. Also, you will get 15 live projects and around 10 case studies narrating the failure and success of great players in this industry. By the end of this course, you will be awarded a Master Certification from IIM Skills if you pass the given test.
As the name suggests, IIM Skills emphasize enhancing your skills rather than providing you just a certificate. So, the classes will be scheduled only for the first three months, where you will learn digital marketing skills. The following three months will be an internship to utilize your theoretical knowledge in the practical world.
The course syllabus keeps on changing with the changing trends. Understanding their responsibility, the mentors at IIM Skills will guide you not just for 3+2 months of span but all through your digital marketing career. You will also receive lifetime access to all their course contents.
IIM Skills will provide you with the knowledge, a certificate, a letter of recommendation, and build your confidence to launch your own digital marketing agency. By the end of it, you will also get an opportunity to work with big companies like Times of India and many more.
As you have read about the digital marketing courses in Nashik, you might also like to know about Top Content Writing Courses in Nashik
Detailed Course structure:
Web development at WordPress
Introduction to Digital marketing
Search Engine Optimization (SEO)
Email Marketing
Search Engine Marketing (SEM/Google AdWords)
Inbound Marketing
Social Media Marketing
Integrated Digital Marketing Strategy
Online reputation management
Web Analytics
Content writing and advanced blogging
Media Planning & Buying
Affiliate Marketing
Video marketing
Marketing Automation
Digital infographics resume creation
Additional Perks
Lifelong access to study material, video recordings
Free tools worth Rs. 79,000
Personal mentorship
2 months Paid internship (optional)
Support with placement and interview
A golden opportunity to write for The Times of India blog
Resume building
Letter of recommendation
Youtube Channel and Podcasts
Contact Details
Phone: +91 9911839503
Email: info@iimskills.com
Website: www.iimskills.com
Read IIM Skills Digital Marketing Course Review
Other courses
2 . IIDE – Indian Institute of Digital Education
IIDE is one of the best institutes for digital marketing courses in Nashik, providing a futuristic way of learning. Unlike traditional institutions, IIDE doesn't emphasize learning through PowerPoint presentations. It believes in a concise, customized, and time-relevant curriculum.
Amidst this surge of Covid-19, IIDE has also started adapting online mediums helping students to study from their homes. IIDE offers Online Digital Marketing courses with advanced comprehensive teaching methods. Students can learn from the videos curated by the top industry professionals and experts.
The best part is, students can attend weekly live sessions with the trainers and discuss their doubts, queries and participate in different fun activities. Students can also have 1-on-1 mentoring sessions with the trainers and solve their queries in detail for additional guidance.
The online digital marketing course at IIDE includes 40 hours of video learning. On top of that, students will also get 70 hours of live sessions with seven modular assignments. By the end of it, you will receive an IIDE certificate along with 100% placement assistance.
Detailed Course structure:
Digital Scenario
E-Commerce Marketing
Search Engine Optimization (SEO)
Monetizing Your Blog
Search Engine Marketing (SEM)
Google Ads
Content Marketing
Advance Content Strategy
Design Essentials
Social Media Marketing
Influencer Marketing
Brand Reputation Management
Web Analytics
Creative Strategy
Media Planning
Soft Skills
Email Marketing
App Store Optimization (ASO)
Website Planning & Development
AD Psychology
Copywriting
Additional Perks
20+ Industry Tools Mastery
13+ Certifications
8 Brand Projects
250 + Hiring Partners
1 Final Project
Expert faculty
Career guidance
Live Q&A
Resume & Interview Training
Contact Details
Phone: +91 9619958615
Email: connect@iide.co
Website: www.iide.co
3. Premium School of Digital Marketing
Premium School of Digital Marketing is among the top-rated institutes for digital marketing courses in Nashik. It has other branches stationed in different cities across the country. It mainly focuses on exploring the true potential of the learners. They have adopted the best training and development strategies for more comprehensive learning. They also support marketing experts, organizations, educational firms, and other enterprises to grow in this competitive market.
Premium School of Digital Marketing is the oldest training institute with affordable fees for the last ten years. It has been referred to by many bloggers as one of the best in providing digital Marketing courses in Nashik.
Premium School of digital marketing is an award-winning institution trained over 9000+ students. The institution provides flexible timings for the students, professionals building digital marketing skills, and others interested in digital media.
Detailed Course structure:
Digital Marketing Overview
Search Engine Optimisation
Content Marketing
Web Structuring
Google Analytics
Real-Time Traffic
Understanding Acquisition and Conversion Data
Affiliate Marketing
SEO
Google Webmaster Tool
Social Media Optimization (SMO)
Facebook Advertising
Twitter Advertising
LinkedIn advertising
Youtube Advertising
Google Adwords
Remarketing and Conversion
Email Marketing
Growth Hacking Topic
Google Tag Manager
Google Adsense
SMS Marketing
Additional Perks
Versatile Batch Timings
Best Placement options
Certified Industry Experts
Mock Interviews
Internship Programs
Contact Details
Phone: +91-8698606666 / 020-24486389
Email: info@schoolofdigitalmarketing.co.in
Website: www.schoolofdigitalmarketing.co.in
Learn More about Top 10 Digital Marketing Courses in Mumbai 
4. Staenz Academy Digital Marketing Course Institute
Staenz is an award-winning academy for digital marketing courses in Nashik. It is primarily famous for the placement opportunities provided to its students. It helps their students to learn the core concepts of digital marketing. Using the latest technologies, Staenz offers high-quality visuals for their student's better understanding. With their contemporary teaching pattern and expert faculty, Staenz has helped many students to become an expert in this field.
It has structured its syllabus in an effortless way that allows students to understand easily. Their students can participate in live projects which further extend their knowledge in the practical world. For further doubts or queries, Staenz also provides personal mentorship. The faculties at Staenz are the experienced digital marketing coaches who make sure you get proper training along with career guidance.
Detailed Course structure:
 Search Engine Optimization (SEO)
 Search Engine Marketing (SEM)
 Social Media Marketing
 Email Marketing
 Web Analytics
 Hubspot
Blogging
Affiliate Marketing
Mobile Marketing
Grow Online Business
Integrated Digital Marketing Strategy
LinkedIn
Snapchat
Online Listing
Shopping Advertising
Display Advertising
Google Analytics
Google AdWords
Copywriting
Additional Perks
Placement Options
Latest Technology
Flexible courses timings
International Certifications
Contact Details
Phone: +918448449874
Email: amnashik@staenz.com /
Website: crnashik@staenz.com
Check out How to Make Digital Marketing a Side Hustle Without Quitting Your Job
5. I-Tech System
Ranking number 5 on our list, I-Tech is no lesser than any other institute mentioned above for digital marketing courses in Nashik. It is a leading web designing & PHP training institute. It provides a flexible schedule with weekdays and weekend training programs. They also offer virtual sessions for the students who are unable to attend classroom training.
Once you complete your course, I-Tech System will enable you to utilize your skills for different businesses, services, companies, and products. You will also get to learn website development, blog writing, and promotions through Digital marketing.
Students at I-Tech get a chance to work on Search Engine Optimization (SEO) and Google Adwords. They can also do Social Media Marketing, Email Marketing, Affiliate Marketing with marketing strategy and planning. At I-Tech, you will be offered placement assistance for Digital Marketing in different cities of India.
Detailed Course structure:
Web Design
Web Development
Software Development
Microsoft .net
Software Testing
Android App Development
Java
Python
C,C++ Programming
SAP
Digital Marketing
Google Adwords
Facebook Ads
Email Marketing
Google Analytics
Websites & Blogs
Affiliate Marketing
Marketing Strategy Planning
Case Study
Social Media Marketing
Search Engine Optimization (SEO)
Additional Perks
Classroom training program
Online training program
Mentorship with industry experts
Career support
Contact Details
Phone: 0253-2582186, 9422248005
Email: info@itechnasik.com
Website: www.staenz.com
People have also liked reading Top 7 Digital Marketing Courses in Pune
Why take digital marketing as a career option?
Working in the digital marketing field will provide you many opportunities to showcase your creativity. This field is dynamic, so the professional will always have something new to learn and constantly upgrading themselves.
Professionals in this field get an opportunity to work with several companies from different backgrounds. It not only makes them skilled but also versatile in their career.
The constant evolution of this field will bring a scope for many businesses to grow and develop.
The requirement for digital marketing experts is rising and will increase more in the future.
People involved in the high-demand industry have a better chance to grow financially.
Career opportunities
Digital Marketing Manager or Digital Director
Digital Marketing Manager or Director's position is on top of the hierarchy. For this position, one should have a considerable amount of experience in this field. It requires an overall understanding of marketing development devising strategies that help to drive more traffic. Should handle social media campaigns and make necessary improvements in the website.
Web Developer & Web Designer 
A web developer or designer is the brains behind those excellent websites you across on the internet. Their responsibility includes coding, designing, and modifying the website.
Social Media Executive and Social Media Manager
As a social media executive/manager, your responsibilities are regularly checking on the latest social media trends and preparing your strategies accordingly. In order to create quality content, it requires better coordination between the content team and the client servicing team. Thorough knowledge of all social media platforms is considered essential for this role.
SEO Executive/Expert
The responsibilities of an SEO executive include driving traffic on the website and improving the Google rankings. They have to make sure that the content on the website should be comprehensive and search-friendly. Should use SEO tools efficiently, build sitemaps, etc.
PPC/SEM Expert
Their primary role is to generate leads, split ad groups, manage PPC keywords, refine landing pages, create reports, and provide ad copies and graphics suggestions.
Content Marketer
A content marketer is responsible for creating content and making sure that it is promoted well through SEO. Coordinate with other team members and encourage them to incorporate their inputs into the projects.
Other Roles
CRM Manager
Analytics Manager
Email Marketing Manager
E-Commerce Manager
Digital Agency Account Director
FAQs
Which are some of the best digital marketing courses in Nashik?
There are many distinguished digital marketing institutes that offer digital marketing courses in Nashik. IIM SKILLS is one of the best online courses in Nashik that you can take up.
What are some important modules of digital marketing in Nashik?
Some important modules to master in digital marketing in Nashik are SEO, SEM, brand management, Social media management, web analytics, website analysis, email marketing, affiliate marketing.
What is the course fee for digital marketing courses in Nashik?
The fee for a good digital marketing course varies from 25000 to 60000 in Nashik.
Conclusion
Build a career in digital marketing can be difficult without proper guidance from experts. Hence, it is imperative to choose a good digital marketing institute to reach your goals.
Before you choose, make sure you compare the curriculums, mentor's qualifications, and the amount of practical training you will receive from that institute. Only theoretical knowledge of digital marketing is futile. Thus, live- training will make you understand the digital marketing elements that work better in the internet world.
You can learn to become an expert in digital marketing by being at home. With online courses like ours, Masters in Digital Marketing, you will get a competitive digital marketing skill with flexible timings. But if you prefer classroom learning, you can opt from this article on the Digital marketing course in Nashik. We hope this list will help you to find the course that suits you the best.