Are you looking for the best digital marketing courses in Trivandrum? After reading this article, you'll be able to pick the right digital marketing course based on factors such as course curriculum, duration, fees, placement opportunities, and certifications.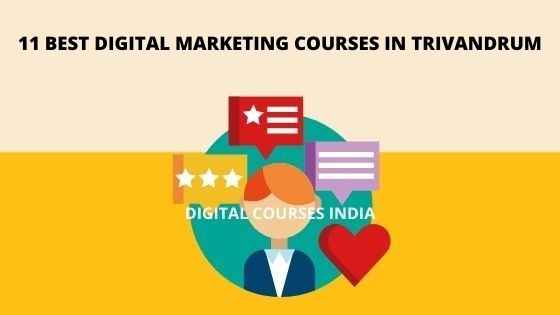 Thiruvananthapuram is the city with the highest educational standards and a lot of corporate companies. All over Trivandrum, digital marketing courses are growing at an exponential rate. No matter the size of the company or the type of individual, everyone is shifting to the digital era.
Demand for digital marketers with a wide range of skills has been growing. Now, you can learn these essential skills in your city Trivandrum by taking Digital Marketing training online or offline.
Must Read: How to Choose a Digital Marketing Course and Training
Best Digital Marketing Courses in Trivandrum
IIM Skills:
IIMSkills is the foremost institution in digital marketing not only in India but globally. They offer courses online. IIM Skills began as an educational blog. It helped one million people digitally with career guidance before being launched as a training institute offering a variety of courses.
IIM Skills offers programs led by industry experts who have at least 12 years of experience. IIM Skills focuses on delivering hands-on training. By now, the reputed institute has trained 15000 students from 35 countries.
IIM Skills offers Digital Marketing courses that prepare you for Master Certification from IIM Skills as well as 15 other important Certifications including Google, Hubspot, and Facebook. This course covers 40 of the most important modules of Digital Marketing. IIM Skills provides lifetime access to training materials, course recordings, and class presentations.
 Course Content
Introduction to Digital Marketing
WordPress Web Development – 2 Modules
Search Engine Optimization – 4 Modules
Search Engine Marketing (Google Ads) – 6 Modules
Email Marketing – 4 Modules
Inbound Marketing – 3 Modules
Social Media Marketing – 6 Modules
Integrated Digital Marketing Strategy -1 Modules
Web Analytics (Google Analytics) – 5 Modules
Online Reputation Management (ORM)- 3 Modules
Content Writing and Advanced Blogging -3 Modules
Media Buying and Planning – 1 Module
Affiliate Marketing–1 Module
Video Marketing (Youtube) -1 Module
Marketing Automation-1 Module
Digital Infographics Resume Preparation- 1 Module
Course Highlights
Search Engine Optimization 25 Hours
Content Writing 30 Hours
Email Marketing 15 Hours
Google Adwords 10 Hours
Micro Video Marketing 10 Hours
Affiliate Marketing 10 Hours
Social Media Marketing 15 Hours
Web Development 15 Hours
Hands-On Assignments 120 Hours.
Course Duration & Fees
Contact Details
Phone: +91 9911839503
Email: info@iimskills.com
Website: iimskills.com
Also, read about the Top 15 Digital Marketing Courses in Madurai
IIDE
IIDE is a prominent institute for digital marketing globally. IIDE offers a customized, concise, and industry-relevant curriculum. IIDE offers comprehensive online Digital Marketing Courses in Trivandrum with over 13 Certifications.
The course features high-quality, self-paced video courses curated by top industry professionals and subject matter experts, weekly live online sessions, and personalized mentoring sessions.
Course Curriculum
Digital Scenario in India
E-Commerce Marketing
Search Engine Optimization (SEO)
How to Monetize Your Blog
Search Engine Marketing (SEM)–Google Ads
Content Marketing
Advance Content Strategy
Design Essentials
Social Media Marketing
Influencer Marketing
Brand Reputation Management
Web Analytics
Creative Strategy
Media Planning
Soft Skills
Email Marketing
App Store Optimization (ASO)
Website Planning & Development
AD Psychology
Copywriting
 Course Highlights
40+ hours of Video Training
70+ hours of live classes
20+ Industry Tools Mastery
7 Modular Assignments
13+ Certifications
8 Brand Projects
Personalized Mentoring
The final project
100% placement assistance
250 + Hiring Partners
0% EMI Option
Expert faculty
Career guidance
Live Q&A
Interview and resume training
Check out Top 10 Digital Marketing Courses in Delhi NCR 
Course Duration & Fees
The duration of the online digital marketing course is two months, approximately 12 hours per week. The fee for the course is INR 67,795 + Taxes.
Contact Details
Phone: +91 9619958615
Email: connect@iide.co
Website: iide.co
Read A Beginners Guide to Digital Marketing
Areva Digital
Areva Digital is an eminent institute that offers one of the best digital marketing courses in Trivandrum. Areva Digital has over 26 faculty members who are experts in digital marketing and has successfully placed over 600 students.
This is a great opportunity for you to network with industry leaders and put your knowledge to work. You will also learn how to build relationships with clients and companies, as well as handle brands and businesses.
Course Content
Overview of SEO Basics
How Search Engines Work
Keyword Research & Competitive Analysis
On-Page Optimization–Content SEO
On-Page Optimization–Technical SEO
OFF Page SEO
Long Term Content Planning
Measuring SEO Effectiveness
SEO In E-Commerce
Google Business Listing
Google Analytics
Google Tag Manager
SMM Social Media Marketing
SEM Search Engine Marketing
Web Development Using WordPress
Affiliate Marketing
Youtube Marketing (V-Blogging)
Inbound Marketing
 Course Highlights
Government and International Certifications
Training Undertaken By Real-Time Working Professionals
On-the-job training and placement assistance
Part-Time & Regular Batches
Full-Fledged Live Projects
Personalized Training
Course Duration
Areva Digital offers an offline digital marketing course that lasts 180 hours a week, Monday through Friday, with special holiday batches on Saturday & Sunday.
Contact Details
Address: Rema Plaza, S.S.kovil Road, Thampanoor, Trivandrum., Kerala
Phone: +91-904-8236664
Email: info@arevadigital.com
Website: https://arevadigital.com
Digital Trainee
Digital Trainee's digital marketing courses in Trivandrum are completely practical and hands-on. Experts have designed these courses to meet the needs of both students and job seekers. As a result, students are prepared for better career and job prospects in digital marketing. Working professionals who wish to enhance their salary through additional skills may find this course useful.
Industry experts have designed the courses and modeled them after industry standards. The batch size is small, and they give each student individual attention.
This course comprises 50 modules, and the institution prepares students for 17 certifications. Besides providing free domain and web hosting, they also provide real-time experience by working on actual projects and case studies. They provide 100% job placement assistance to their students.
Course Syllabus
Digital Marketing Overview
Search Engine Optimization
Introduction to Google Search Console
Content Marketing
Local SEO
App Store Optimization
Website Planning
Search Engine Marketing (SEM)
Online Display Advertising
Mobile Marketing
Video Marketing
Remarketing And Conversion
Social Media Optimization
Facebook/Instagram Advertising
Twitter Marketing
LinkedIn Marketing
Google Analytics
Online Reputation Management
Email Marketing
Google Adsense
Affiliate Marketing
Lead Generation for Business
Growth Hacking Using Digital Marketing
Mobile App Creation
Social Media Automation
WhatsApp Marketing
YouTube SEO & AdSense
Viral Marketing
Graphics Designing Using Canva
Personal Branding using digital marketing
Media Planning
SMS Marketing
Influencer Marketing
Course Highlights
50 Course Modules
Preparation for 17 Certifications
Provides Free Domain and Web Hosting
Hands-on Real Time Projects and Case Studies
100% Placement Assistance
Courses Duration
The duration is two months.
Contact Details:
E-mail: info@digitaltrainee.com
Contact Number: 9946758154
Address: Tc 26 | 871 Behind Saudi airlines, Panavila Junction, Po, Thycaud, Thiruvananthapuram, Kerala 695014.
Website: https://digitaltrainee.com/
AVIV Digital
AVIV digital is owned by Acodez IT Solutions. They offer advanced skills-oriented courses to meet the needs of professionals in the digital marketing industry. Aviv Digital provides you with both the basics and the latest trends in the field. In this course, students will learn about digital technologies that can help them market their online business.
Course Syllabus
Digital Marketing
Social Media Marketing
Inbound Marketing
Email Marketing
Search Engine Marketing
Search Engine Optimization
Affiliate Marketing
Online Entrepreneurship
Course Duration and Fees
The course lasts for two months. Contact them using the information below to learn about their fees.
Course Highlights
Internationally Certified Courses
Live Project Experience
Research-Based Internship
Trainer's Support on a Discussion Forum
Hands-On Projects and Assignments
Free Marketing Tools
100% Job Support
Classes from Industry-Experienced Faculty
Lifetime Access to the Latest Presentations and Videos
Contact Details
Phone Number: +91815799884
Email ID: info@avivdigital.com
Website: https://avivdigital.in/
Extreme Media
Extreme Media provides innovative web design solutions and advanced digital marketing services in Trivandrum. They are also one of the top providers of digital marketing courses in Trivandrum, besides being an agency.
In this course, trainers cover all the essential modules more practically. Students, entrepreneurs, and anyone looking to harness the power of digital technology for growth can benefit from this course.
Course Syllabus
Web Designing & Development
Live Project Training
Software Development
WordPress Training
Digital Marketing Training
Web Designer Freelancer training
Business Analytics
Social Media Marketing
Search Engine Marketing
Search Engine Optimisation Training
Graphic Designing Training
Blogging
Affiliate Marketing & Online income
Web Hosting
Course Highlights
○          120 hours certification course at Rs. 16,000 + GST
○          240 hours diploma course at Rs. 30,000 + GST
○          60 hours of the business-oriented training program at Rs. 10,000 + GST
For homemakers, freelancers, and working professionals:
○          120 hours of the part-time job-oriented program at Rs. 20,000 + GST
Course Duration
Digital marketing courses are available for 5 or 6 months, depending on the course.
Contact Details
Phone Number: +91 9995109573
Address: Extreme Media, 1st Floor, Chembumtharayil Complex Ulloor Jn, Trivandrum 695011.
Email: info@extrememedia.in
Website: http://extrememedia.in
TechBound Innovations
TechBound Institute provides digital marketing training in Trivandrum and consulting for students and professionals seeking a career in digital marketing. TechBound digital marketing course can give you both theoretical and practical knowledge of digital marketing. You can prepare for the in-demand certifications from Google, HubSpot, Bing with their comprehensive digital marketing course.
Course Syllabus
Digital Marketing Overview
Web Development
Search Engine Optimization
Google Advertising
Web Analytics
Social Media Marketing
Content Marketing
Email and Affiliate Marketing
Course Highlights
Training Conducted by Industry Experts
Google Certified Faculty
Hands-On Training on Live Websites
Google and Fb Budgets
Free Google Preparatory Module
Work on Real-Time Cases from a Different Domain.
Flexible Timing
Course Duration & Fees
They offer a 180-hour (classroom-based) digital marketing course. Contact them using the information below to learn about their fees.
Contact Details
Phone Number: +91-8606497677
Email ID: contact@techbound.in
Website: https://techbound.in
Proideators
Proideators are a group of highly experienced professionals from IITs, IIMs, and the industry. They hope to bridge the gap between our existing education framework and the changing business environment. By identifying these gaps, they provide the best possible training to benefit both individuals and industry alike.
In the field of Digital marketing, Proideators is a trusted study partner for those seeking success. Their digital marketing course in Trivandrum has reasonable rates and excellent reviews.
Course Syllabus
Fundamentals of Digital Marketing
Website Development.
SEO–Search Engine Optimization.
Search Console (Google Webmaster Tools).
Google Adwords/Ads Certification (SEM & PPC).
Social Media Marketing (SMO & SMM).
Email Marketing Certification.
ORM–Online Reputation Management.
Adsense & Blogging.
Landing Page Techniques.
Digital Marketing Strategy.
Course Highlights
31+ modules
175+ topics
Uniquely designed learning management system
Veteran and intellectual mentors and trainers
Flexible schedules
Support for certifications from Google, Facebook, Hubspot
24/7 query support system for one year
100% Placement Assistance
Contact Details
Phone: +918070080999
Email: join@Proideators.com
Website: https://www.proideators.com
Tandem
The digital revolution is making a positive impact on the world, and it's happening right now. Students need access to the latest digital marketing training tools, technologies, and solutions in a constantly changing environment.
Tandem, an IT training institute, offers various skill-based courses that draw on its knowledge and experience. Among the reputed digital marketing institutes in Trivandrum, they offer top-quality training in digital marketing.
Tandem has trained over 11,000 students and placed over 5,000 of them. Tandem prepares its students for top Digital Marketing certifications such as Google Analytics, Google Ads, Facebook Marketing, YouTube Marketing.
Course Syllabus
Digital Marketing Overview
Website Planning, Designing & Creation
Search Engine Optimization
Search Engine Marketing (AdWords/SEM/PPC)
Social Media Optimization
Affiliate Marketing
Online Reputation Management
Content Marketing
E-commerce Marketing
Content Marketing & Management
Web Analytics
Video Marketing
Email Marketing
Fundamental of Google Adsense
WordPress / Blogging
Mobile Marketing
Creating a Digital Marketing Strategy
Google Analytics
Course Highlights
Flexible Batch Timings
Well Equipped Labs
Mock Exam Sessions
Hands-on Classes
Industry Standard Syllabus
100% Placement Assistance
Boost your sales/business career
Improve Your Company's ROI
Improve Digital Marketing Skill Set
Course Duration
Tandem offers a 180-hour digital marketing course.
Contact Details
Phone Number: +91 9995866430
Address: Tandem Institute, Axis Towers, 6th flr, S.S Kovil Road, Trivandrum 695001
Email ID: info@itstandem.com
Website: https://itstandem.com/
IDM
Digital Marketing Courses in Trivandrum at IDM comprise modules that cover some of the essential aspects of the field. This course is for business owners, self-employed web professionals, marketing executives, web enthusiasts, bloggers, writers, website owners, web developers, programmers, web designers, and media professionals. The Digital Marketing course would comprise some brief discussions, assignments, and exams that would touch upon the essentials of various components.
Brief Course Syllabus
E-mail Marketing
Outbound and Inbound Marketing
Search Engine Optimization Essentials
Search Engine Marketing
Web Analytics
Social Media Planning and Marketing
Course Highlights
Incredible support
Team of professional trainers
Job assistance for freshers
Discussion Forum for all modules
Inputs from Digital Marketing Experts
Lifetime access to course contents, videos, and materials
Easy customization and clubbing with other courses
Direct trainer-learner discussion and problem solving
Course Duration
The duration is one month.
Contact Details
Website: http://idm.space/
Contact Number: 096332 54579
Address: Noel Apartments, Attinkuzhy, Kazhakuttom PO Thiruvananthapuram, Kerla
Clearsleg
Cearsleg is a leading training institute for digital marketing in Trivandrum. They provide training programs in a broad range of software fields. The faculty members have extensive experience and knowledge in their fields.
They offer both online and offline digital marketing courses in Trivandrum. As part of the program, they also provide 100% job placement assistance. They provide ten live projects and case studies that give students practical experience. Students will have lifetime access to the course models.
Course Syllabus
Digital Marketing Overview
Web Development
Search Engine Optimization
Google Advertising
Web Analytics
Social Media Marketing
Email and Affiliate Marketing
Course Highlights
100% placement assistance
Work on ten live projects and case studies
Lifetime access to the course models
Course Duration
The duration of the course is two months.
Contact Details
Website: https://www.cearsleg.com
E-mail: info@cearsleg.com
Contact Number: +91 471 485 1755
Address: Parameswara Towers T.C. 15/1948(3, Vellayambalam – Vazhuthacaud Rd, Thiruvananthapuram, Kerala 695014
FAQs related to Digital Marketing Courses in Trivandrum
What is the cost of the Digital Marketing Course in Trivandrum?
Typically, a digital marketing course costs around INR 30,000. For more information, contact the marketing institute.
What are the modes of learning digital marketing?
There are two modes: classroom and online.
What are the eligibility criteria for Digital Marketing?
Almost anyone can do the course. Among the people who can benefit from digital marketing courses are undergraduate students, post-graduate students, entrepreneurs, and marketing professionals.
How much does a digital marketer make on average?
An average digital marketer may earn between Rs 3,00,000 and Rs 3,50, 000 per year. You can expect this sum to rise as you spend more time working in marketing and within the industry.
What jobs are available in digital marketing?
You will find the following jobs as a digital marketer:
Digital Media Managers
Pay-Per-Click Managers
SEM and SEO Specialists
Content Strategists
E-commerce Specialist
Brand Marketing Expert
Social Media Marketers
Digital Project Managers
Marketing Analysts
Visual Designers
Conclusion
The digital marketing field goes through multiple changes regularly. Also, Google regularly develops new algorithms to improve the online user experience. So, these courses update their content to reflect the online market trends at the moment. You must constantly evolve if you want to become a successful digital marketer.
A career in digital marketing is rewarding, regardless of whether you're currently working in the field or want to change careers and gain new skills. Consider what skills you will need and what courses are affordable and suitable for your needs.
You have a plethora of choices with Digital Marketing courses in Trivandrum, and the above list will help you find the best ones.