Bitten by the digital marketing bug? Or are you looking to get bitten? The right guidance provides you with the right "bite" to turn you into the next digital marketing spiderman. If you are searching for digital marketing courses in Patna, then this article is for you. It's time to flex your spidey senses and jump right in.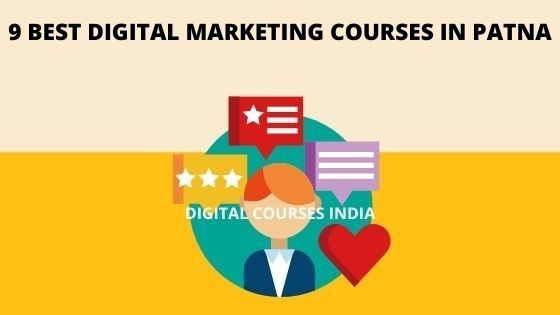 Before diving in, must-read: How to Choose a Digital Marketing Course and Training
9 Best Digital Marketing Courses in Patna
1.    IIM Skills
IIM Skills is a fully online platform providing professional courses such as digital marketing courses in India. The institute aims at providing courses that are high in demand and also validated by industry experts.
Their Master Digital Marketing Course comprises 180 hours of live lectures. It covers more than 15 live projects and 10 case studies. The program duration lasts 5 months with 2 months of guaranteed internship. They also provide placement assistance after the completion of the course. The class recordings have lifetime access validity which you can revisit even after the course period.
The course does not have pre-requisites. Students, working professionals, traditional marketers, entrepreneurs, housewives, dropouts, or even digital marketers looking to enhance their skills can take up this course. The course is INR 34,900/- along with 18% GST.
The skills that would be acquired after pursuing their digital marketing courses in Patna include the following modules:
Introduction to Digital Marketing
Web Development with WordPress
Search Engine Marketing (SMM) – Google Ads
Email Marketing
Inbound Marketing
Social Media Marketing (SMM)
Web Analytics – Google Analytics
Online Reputation Management (ORM)
Content Writing – Advanced Blogging
Media Buying and Planning
Video Marketing
Resume Creation
Brand partners of IIM Skills 

Reviews and Testimonials
Over the top, you can also read this detailed IIM Skills Digital Marketing Course Review to have a better perception of the course.
If you happen to find this course interesting you may also consider checking out other courses offered by IIM Skills which are listed below:
2. Semsols Technologies Pvt.Ltd.
Semsols is a digital marketing and website development company in Patna founded in 2008. It aims to provide the best experience for its customers with customized websites and digital marketing solutions. They not only provide services to their customers but also provide training for aspiring career seekers.
Not only digital marketing, but they also provide training in other areas like video editing, graphic designing, and photoshop. They have 4 types of courses namely :
Basic Courses
Advanced Courses
Online Courses
Industrial Training
Concerning their Digital Marketing Course, they have 3 courses under multiple categories. They are as follows ;
Digital Marketing Course
Advanced Digital Marketing Course
Zero to Hero Online Digital Marketing Course
You can also read about the Top 10 Content Writing courses in Patna
Digital Marketing Course
The duration of this course is 3 months. In these 3 months, the course is split into 23 modules like Email Marketing, Google Analytics, Google Adwords, etc. You would be learning about the free and paid tools being used in digital marketing. They have query sessions before every class where your doubts are cleared.
Once the coaching is done, you get a chance to do an internship to get your hands dirty on the practical application of the concepts. You get your certificates upon course completion. The fee for this mode of coaching is INR 25000/-.
Advanced Digital Marketing Course
This mode of coaching is a full-time 1-year program. It involves working on live projects throughout the year. The company also provides a stipend in this mode of coaching for working as an intern with them. This indirectly results in you earning back a portion of the money you had invested as fees.
This course consists of 6 months of training followed by 6 months of internship. The course also mentions a 100% job and money-back guarantee. The fees for this course stands at INR 50000/-.
Zero to Hero Online Digital Marketing Course
This is an online mode of coaching that lasts 3 months. It offers a month-long internship post the training period. It consists of more than 200 videos of lectures in Hindi. It has a 30-day ranking challenge to rank your content s part of the internship program.
A separate group named Semsols Inner Circle Support Group provides support for interview preparation and placement assistance. The fees structure for this online course is INR 6000/-.
3.    Achievers It Solutions
Achievers IT Solutions is a digital marketing company that works on providing creative and client-oriented internet services to its clients. Apart from their services, they also have a digital marketing training program in place. The purpose of this training program is to equip future digital marketers with the know-how and practical exposure in the field.
Their course has 3 variants as below :
Regular Course
Fast Track Course
Crash Course
Their regular course runs for 100 days with 2 hours of class per day. Their fast-track course goes on for 45 days with 4 hours of class per day. Their crash course is the shortest lasting 15 days but having 6 hours of lecture per day.  Apart from this they also run a weekend batch spanning across 8 Sundays with 4 hours of coaching a day.
They also promise lifetime access to reading material and 100% job assistance; thus, making it a top choice for digital marketing courses in Patna. Their digital marketing course consists of the following:
Search Engine Optimization (SEO) Course
Social Media Marketing (SMM) Course
Google Ads / SEM / PPC Course
WordPress Website Design Course
Youtube Video Promotion & Marketing Course
Email Marketing Course
Google Analytics
Blogging & Google Adsense Course
Affiliate Marketing Course
4.    Candent SEO
Candent SEO is an internet marketing service in Patna that offers various services like SEO, web design, graphic design, etc. Its main focus is to bring about a substantial return of investment to its clients by reaching out to the right target audience. They too offer digital marketing training apart from their business.
Their digital marketing course is mostly aimed at students, professionals, business owners, and anyone looking to establish their digital presence. Mentioned below are some of the features of their digital marketing course in Patna:
Access to their training content covering all the aspects of digital marketing.
Learning by doing and then applying to your projects.
Visual tutorials explaining the practical approach of the concepts.
Option to learn the skills at your own pace.
Getting to learn SEO and SEM techniques to boost your website traffic.
Click through rate concepts
Ranking Reports
Page Analysis
Linking Techniques
Website Structure
5.    Indofast Digital Media
Indofast Digital Media is a digital marketing training company that strives to provide best-in-class and complete training to equip you with the skills that employers are on the lookout for. They have a vision for themselves that visualizes India becoming a predictive economy with the contribution of youngsters. For this, every youngster needs to be work-ready and this is where they aim to make a difference with their digital marketing courses in Patna.
They are focused on imparting knowledge on all the aspects that digital marketing encompasses. Rather than having a single course, they have several courses related to digital marketing which you can choose from. The courses that they offer are listed below :
Web Design Training
Web Analytics Training
Content Writing Training
Affiliate Marketing Training
Pay Per Click (PPC) Training
Search Engine Marketing (SEM) Training
Search Engine Optimization (SEO) Training
Social Media Marketing (SMM) Training
Online Reputation Management Training
WordPress Training
Mobile Apps Training
Web Design Training
6.    Pace Career Academy
Pace Career Academy has been in the digital field for around 12 years. They not only have a digital marketing course but also other courses like HR and Accounts & GST. They have provided training to more than 12000 candidates who are now working across more than 150 companies.
With regards to their digital marketing courses in Patna, they have 3 types of customized modules namely :
Beginners
Executive
Masters
Beginner Level Module
The beginner-level module is meant for those who do not have any prior knowledge of digital marketing. This module might be perfect for graduate-level students or anyone from other areas for work looking to switch their careers into digital marketing.
Executive Level Module
The executive-level module of their course aims at people who are already having some grasp on digital marketing. These might include candidates having some digital marketing knowledge but are not sure of the direction in which they should take their careers into. This module might also be helpful for those who want to delve a bit deeper into individual concepts of digital marketing.
Masters Level Module
This module is designed for those who are looking to go full throttle into the digital marketing arena. For landing a digital marketing job with reputed brands offering good packages, the masters level module is the right fit.
Their digital marketing training covers multiple concepts which are provided below:
Digital Marketing Overview
Website Planning & Creation
Search Engine Optimization
Search Engine Advertisement
Social Media Marketing
Mobile Marketing
Google Analytics
Online Display Advertising
Email Marketing
Ecommerce Marketing
Lead Generation for Business
Content Marketing
Internet Marketing Strategy
Affiliate Marketing
Adsense
Online Reputation Management
Freelancing Projects
Remarketing
Blog Marketing
Mobile Application Marketing
Infographics
Google Webmaster
Landing Page Optimization
Basic Video Making
7.    ClickBySEO
Click By SEO focuses on providing offering affordable digital marketing services in addition to their digital marketing training program at affordable prices. They work towards ensuring innovation in results and revolutionary thinking to provide optimum results for their clients. They help scale businesses not only across Patna but across India. Their SEO techniques stress driving website traffic in line with the client's business needs. Their motto is that every business owner needs to have their own website at a low cost.
The digital marketing training provided by the company covers various aspects of the digital marketing world to make you industry-ready. The duration of their course range from 1-3 months based on the batch timings opted. They provide job assistance posts with the course. They aim to train you with a completely practical approach with a reasonable fees structure.
You will be learning to create a blog and learn online marketing approaches. They make you work on the service projects that they have in hand.
They have 3 timing options that consist of the daily batches, weekend batches, and alternate weekend batches. Some of the skills that they teach you in their digital marketing courses in Patna include:
Search Engine Optimization (SEO)
Social Media Optimization (SMO)
Pay Per Click (PPC)
Google Adwords
Blogging & Video Marketing
Google Adsense
Affiliate Marketing
8.    Brand Radiator Digital Academy
Brand Radiator is a company with a unique vision. It believes that entrepreneurs are present in the tier-2 and tier-3 cities of the country as well. Due to a lack of reliable online marketing resources, they find it difficult to establish their brands. This is the problem that Brand Radiator intends to tackle. The company works on providing digital marketing services to help grow businesses in such cities. This in turn would create employment for the local talent and not force them to migrate outside the state in search of careers.
Their digital marketing course is an initiative designed to impart in-demand skills in the digital marketing arena to zealous candidates. The minimum eligibility would be a 10+2 qualification. Anyone with higher qualifications is also eligible. This course caters to freshers, entrepreneurs, brand managers, traditional marketing professionals, content creators, and web developers. Their course duration is 4 months. They charge around INR 15000/- for their course. They also have an EMI plan through which you can pay in 3 installments.
Some of the highlights that they mention in their digital marketing courses in Patna are:
Google Certification
Working on live projects
Dedicated faculty for each area of specialization
Resume Feedback
Practice sessions and assignments
Mentor for the success of individual student
Personalized student attention
Placement Assistance
The following are some of the skills that you get to learn:
Search Engine Optimization (SEO)
Search Engine Marketing (SEM)
Social Media
Content Marketing
Branding
Marketing Analytics
Web Development
9.    NIKS Technology
NIKS Technology can be termed a complete IT solutions package. They offer a variety of services to their clients including software development, web development, cybersecurity, android development, and digital marketing. They offer client-centric services through innovative and creative strategies. Their goal is to satisfy the business and revenue expectations along with the promotion of their client's businesses. They strive to ensure long-term relationships and derive mutual benefits from them.
The digital marketing course offered by NIKS Technology includes an internship as well. They have divided their course structure into two levels as Level 1 and Level 2. Displayed below are topics covered under both their levels of digital marketing courses in Patna:
Level 1
Introduction to Digital Marketing
Defining Analysis
Analysis and Intuition
Web Analytics
Google Analytics
Direct, search, and referring traffic concepts
Page Rank
Meta Data
Campaigns
Google Adwords
Google Adsense
Pages and Landing Pages
Event Tracking
Site Search
Ecommerce
Level 2
CRM and Analytics
Web Analytics
Social Media Analytics
Online Marketing
Email Marketing
Integrated Marketing Communications (IMC)
Search Engine Marketing (SEM)
Search Engine Optimization (SEO)
Frequently  asked questions:
Q1. Is digital marketing a good career?
A. The answer is yes. If you learn the strategies well to reach a larger audience and convert the leads into customers, the digital marketing industry will provide you with multiple opportunities. 
Q2. Is a digital marketing course expensive?
A. It depends. Usually, the cost for pursuing a Digital Marketing Course is approximately 30,000 to 36,000 including GST.
Q3. Is the digital marketing course easy?
A. Nothing is easy if learning is involved there. But if you can learn the techniques and methods well, then the course will provide you with opportunities to build a career in this industry.
Summing Up 
After a long read, we now arrive at the end of this article helping you find your ideal digital marketing course in Patna. This time we really mean it so rest assured. Hope this compilation provides helpful insights to you to pursue your passion in the digital universe, The "bite" has happened and it's now up to you to make the right decision and transform yourself into "the friendly neighborhood" for businesses.