Want to enhance your writing skills and kick start your career? Are you searching for the best content writing courses in Patna?  Then you have landed just the right article. Here is the list of few institutes offering the best content writing courses both offline and online in Patna.
Patna, the most happening city with a population of over 2.35 million is the capital of Bihar. It is the 19th largest and one of the fastest-growing cities in India. Patna mainly is an administrative and educational hub where English is spoken extensively.
Many top-notch educational institutes in Patna offer content writing courses and digital marketing courses on par with international standards. There are plethoras of opportunities in content writing in the city like Patna, one of the best career options for all walks of life.
Why all of a sudden content writing has become the talk of the town?
As the pandemic has struck, everything has gone online right from groceries to as simple as buying a pen or jobs seekers to job providers or marketing to teaching online. 
People are no longer opting for traditional methods like books or newspapers. Content has become the king. Marketers need the right mix of content and copywriting to promote their sales and increase organic traffic flow to their websites to capture the leads.
E-commerce has seen a boom in recent years, and sales depend on extraordinary content. Good content depends on how well it has tied the people together compelling them to buy the product or buy a course. So overall content can make or mar one's business.
Pacing up with Content Writing, learn another in-demand skill that goes in hand-in-hand with content marketing, which is Digital Marketing. Learn the practical application of marketing using digital platforms and SEO best practices with the Top Digital Marketing Course 
What are the criteria for good content?
A skilled content writer with engaging content can convert audience into leads and increase sales
Touching the pain points of your audience and knowing the target audience, catering to their needs.

Genuinely caring for them and showing a solution to their problems, building a rapport with the customers.

Different styles and tones, mostly conversational to reach a bigger audience, following different styles to write different types of content.

Blend of copywriting and content with content marketing on various platforms can bring a boom in the business.

Following SEO guidelines have become an indispensable quality like keyword density, placing them naturally aligning with minimum technicalities for better visibility and ranking.

The well-written relevant and compelling article helps in scaling up the ladder fast.

Well researched and free from grammatical errors.

Plagiarism free with short and crisp sentences

One idea per sentence and short paragraphs.

Formatting with the right headings and subheadings to eye-catchy images makes the content far more audience-friendly.
What are the types of content writing?
Sop writing

Infographics

E-mailers

Scriptwriting

Product/ book reviews

Public relations writing
Who all can learn content writing?
This is a big question with an easy answer. Neither you need a Harvard university degree nor proficiency in oxford dictionaries. 
Anyone with the zeal to put their thoughts into words can learn. One who has good online research skills, English understanding, and basic technical skills with a motto to create something original and unique is an apt choice. Right from a housewife to a graduate- anyone can start learning content writing.
Content writing as a career option offers huge opportunities and can consider it as a full-fledged profession with firms dedicated exclusively to offering content solutions to your clients.
According to The Times of India, more than one lakh internships and jobs were posted for content writing.
Another survey by Internshala reveals that 23% of the students opted for content writing and digital marketing courses. 
Besides taking employment with the company, freelancing or a full-time blogger or content creator is sweeping the market around the globe. Freelancing [remote work culture right from the comfort of their home] opportunities are flooding with starting from anywhere between 10 to 12 thousand to lakhs of rupees.
Read about How to Choose a Course before we hop on the trail of the best content writing courses in Patna. So what are you waiting for? Enroll and become a certified content writer.
Top Content Writing Courses in Patna
1. IIM Skills
A brand ambassador and forerunner with half a decade of experience in the content writing field have generated many outstanding and successful content writers.  IIM Skills is a combination of expert content writers who came together to provide state of an art exclusive content writing courses to impassioned content writers who want to escalate. The faculty is mostly student-centric.
Believes in imparting practical training along with theoretical knowledge, offers exclusively online. Altogether a brand to reckon with.
Important features
Helps in setting up the website. 

Imparts training on how to develop blogs while taking care of SEO standards

Teaches the different ways of monetization of the content on social media and content promotion

Various forms of content writing are covered like blogs, articles, SEO, SOP, public relations, copywriting, product/book review, business listings, and many more.

Importance of SEO, how to use SEO tools, keyword research, local SEO is taken care of.

Tools worth 35k are given free at the end of the training program.

Setting up of plug-ins and HTTPS secure server set up, along with basic technical understanding.

Students are trained to find a job or to build a career in freelancing. 

The icing on the cake is at the end of the course, they provide three months internship. 

Intricate writing

 and content marketing are well-taken care of.
Four weeks [16 hours] of interactive, instructor-led live training.

60 hours of practical assignments.

Lifetime access to the [LMS] material along with changing updated algorithm.

All the students get placement assistance and freelancers are taught how to land gigs constantly.

The course fee is 14900+18% GST
Curriculum design
The curriculum is designed in twelve modules.
Web development

Blog creation

Introduction to content writing

Keyword research and how to use keyword research tools

You start content writing and weekly tasks provided

Focusing on standard content writing tools

Enlightens on plagiarism tools and to detect duplicate content

Email marketing 

Setting up a profile on various social media platforms

Content marketing via social media
Taking stock of social media tools
Clarity and knowledge about freelance content writing.
Certification and placement program 
At the end of the course, a test will be conducted for 25 marks, and a certificate is awarded to the candidates who cleared the exam. Moreover, you receive a globally renowned content marketing certificate from Hub spot academy.  IIMskills has a dedicated placement cell that supports the hiring process. Overall training in IIMskills is an honor in itself.
Contact Information: info@iimskills.com or call at 9911839503.
Must Read: IIM Skills Content Writing Course Review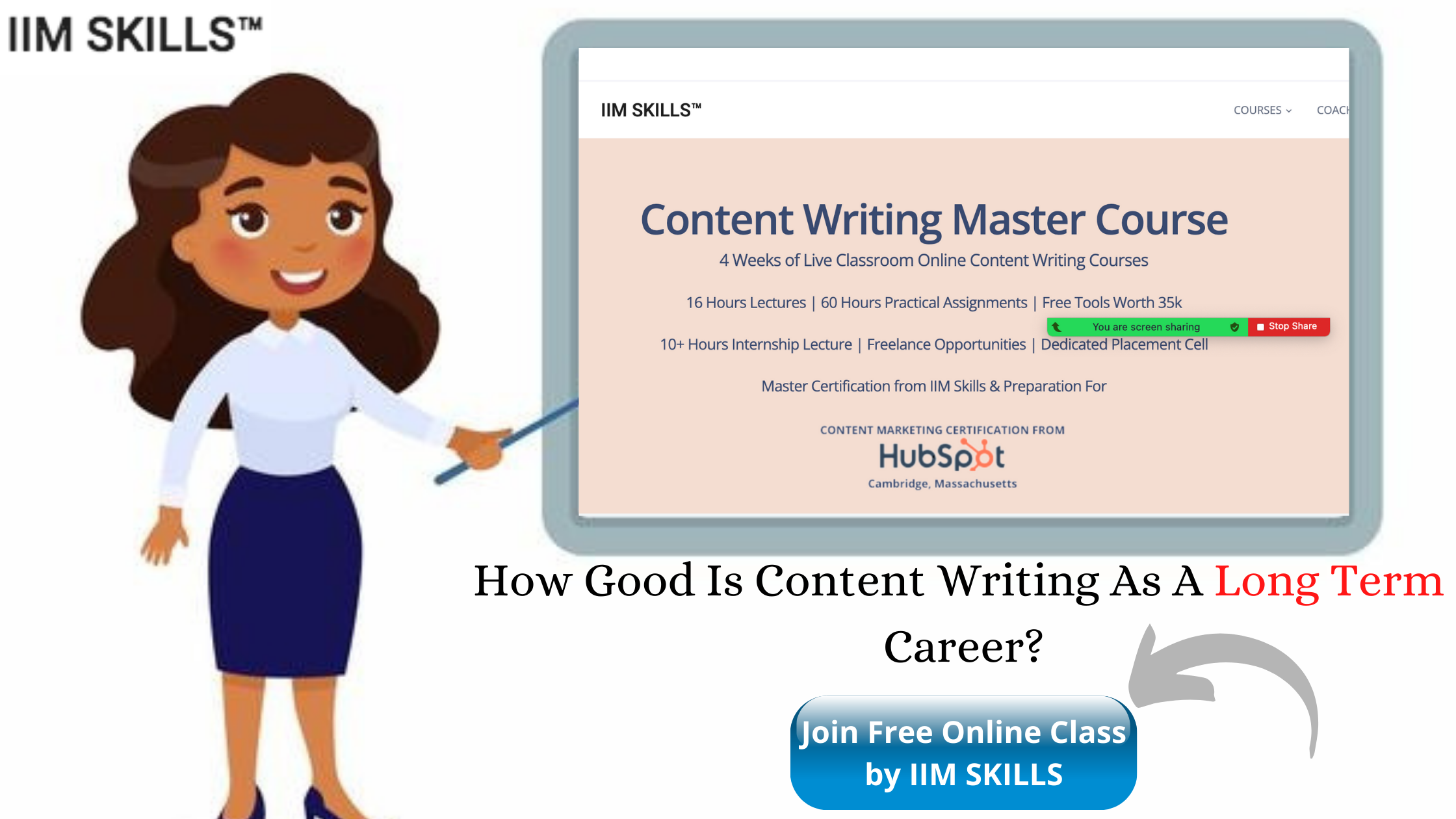 2. Skills Upgrader
A company with international standards offers the best online content marketing writing course. Highly regarded excellent professors offer training as per the current industry standards with the right mix of content writing +content marketing.
It is one of the best content writing courses in Patna for beginners as the approach is student-oriented with practical training. They enroll a limited number of students to keep a check on every individual's performance.
Key features
Expert faculty 

Lifetime support to their LMS program 

Up-to-date course module

Website setting

Basic technical skills

Various types of creative content writing

Focusing on intricate of content writing

Tools worth 40k free
Course structure
16 hours of live training online classroom training with doubt clarification sessions
70 hours of hands-on assignments [all topics of writing forms are covered]
Course fee-6999+GST
Also, check the Top 10 Content Writing Courses in Nagpur
3.Talent spiral
It is an IT corporation with a regional footprint that believes in globalization. Its curriculum is designed to catch up with the manufacturing demand all around the world. It is an excellent learning platform for the students. They are upgraded with innovative portfolio constructions; start-up approaches, SEO marketing, ads on social media, training, learning, and recruiting opportunities.
The highly optimistic staff makes the students well versed with basic technicalities and creates a friendly atmosphere.
Key features
Strong work atmosphere

Global live ventures

Continuous offline/online guidance

Placement guarantee
The main motto behind this institute is to rise together by helping each other leave students to achieve, learn and inspire success.
Read about the Top 6 Content Writing Courses in Delhi NCR 
4.Udemy
It is the only institute that permits you to study according to your convenience. It offers multi-subject courses with easily accessible and downloadable materials. It also provides free courses.
Currently, the best-selling course is content writing home business.
Key features
Includes training on how to write great content

A quick and easy method to create content for the web.

Ultimate web content writing master class with the focus on using power words and writing an e-book.
Course includes
It includes basics of writing like punctuation, short and crisp sentence formation, paragraphs, essay writing to advanced forms such as the use of foreshadowing and cliffhangers.

It offers training in creating book covers by using Microsoft PowerPoint, self-editing, and self-publishing.

17 hours of on-demand video classes

28 articles

17 downloadable resources

Full lifetime access to the study material

Access on mobile and television

Certificate of completion
Read all about the top Digital Marketing Courses in Patna to excel in Online Marketing. 
5. Coursera
It offers multilingual and multi-subject affordable courses. Expert and proficient trainers transform the individual from layman to professional. It has language filters such as beginner, intermediate or advanced. 
One of the best in content writing with the content marketing strategy with the rating of 4.5/5. It mainly focuses on types of content and content marketing strategy and a way to manage your content. 84,025 students are trained and with exclusive training by industrial experts.
Coursera teaches you to craft your story that holds the readers from the beginning to the end to their seats.
6.Skillshare
It is an online learning platform offering more than 30,000 classes to choose from. Offers a wide variety of courses such as graphic designing, logos and branding, UI/UX design, animation, fine arts, and creative writing.
It offers the most value in creative writing. The skillshare pricing structure is pretty simple. Most of the courses are very specific and short. It helps in going through the nitty-gritty of the creative experiences and arrives at better and more original ideas.
Their expert faculty focuses on designing thoughts based upon day-to-day life activities and experiences through photos, songs, playlists, summaries, etc. They mainly focus on narrative, descriptive, persuasive, expository, and creative writing.
Recommended 
Content Writing Courses In Hyderabad
Content Writing Courses In Faridabad
Content Writing Courses in Gurgaon
7. Leads content writing training    
It was founded in 2006 by young, energetic, enthusiastic, and talented professionals. The main motto behind setting up this institute is they understood the wide demand gap and shortage of skilled content writers.
 Their course is designed around various forms of content with the crispiness of writing. They believe in bringing meaningful difference in the lives of students/organizations and entrepreneurs. To bring that difference, the course is well researched- meeting current requirements.
They are committed to educating students about the emerging trends of the modern economy. In the content writing courses, one can learn SEO strategies, keyword research, producing and promoting the content on various platforms.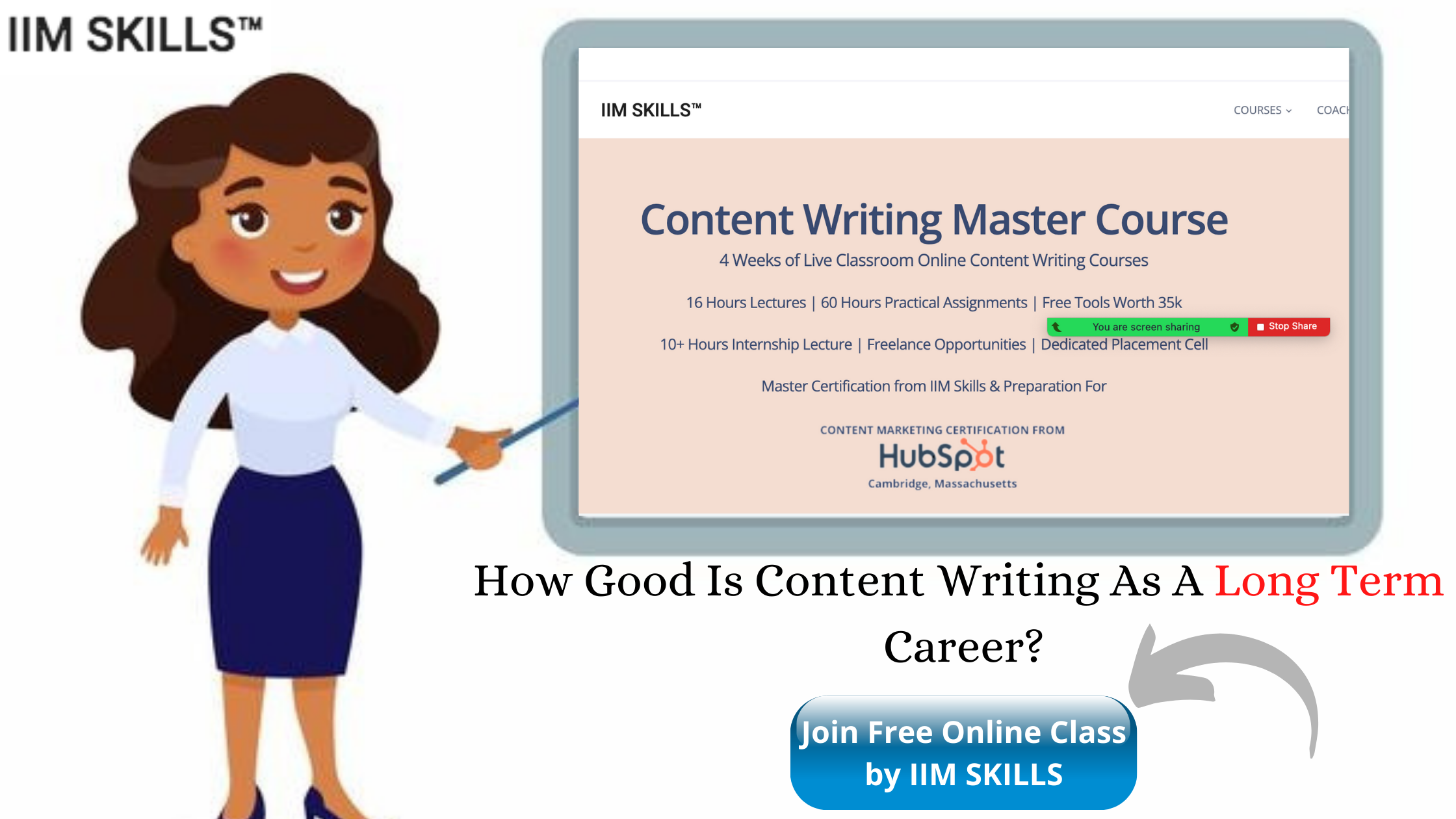 8. Nest Soft
Nest Soft is one of the best institutes when it comes to content writing in Patna. They train the students on how to outstrip in writing material. Teachers are experts with strong teaching skills. It has over 18 years of experience in the industry and successfully trained over 35000 students/professionals. 
The course is divided into 6 modules. This course mainly focuses on communication skills and grammar to enhance quality. 100% placement is offered. They enroll a limited number of students with flexible batch timings. It also helps in research ability and builds a command over the language. The course is designed to polish your writing skills with real-world projects.
9. ECT [Education and career times]
Education and career times is a training institution recognized by the government of India. They offer courses such as content writing, digital marketing, communication skills, and personality development.
Key features
32 hours of a live classroom session with 50 hours of practical training.

3 months course

It includes four live projects and eight assignments.

100% placement assistance

Covers various formats of writing and gives an understanding of how to publish your book.

It also has a YouTube channel to cover a wide audience on content writing.
10.Henry Harvin
Their course is in huge demand not only in India but across the globe with their partners in 42 countries. Henry Harvin is a global leader with a stellar reputation teaches its learners to develop authentic content that appeals to the target audience. It is the first institute to launch a content writing course in south Asia. It teaches in analyzing, organizing, and selecting correct and valid keywords.
Course duration/ course fees
32 hours classroom training with 24 hours boot camp training

The course fee is 15000 for instructor-based training.
Course format
They focus mainly on keyboard planning, website making, business [technical –SEO] blog writing, academic and research strategy.

30 types of content writing formats are included in the course.

It provides 6000 worth of monthly boot camp sessions free for one year.

Students are provided with LMS which includes logo, software, guides/ workbooks, question-making software, etc.
After training facilities
Provides paid/ unpaid internships

At the end of the course, the program provides 100% placement/employment support is provided.

A certified 

digital content

 writer certificate is offered to the qualified students at the end of the course that adds to their profiles.

One year free membership.
. 
Contact:
Phone: +(91)9015266266

Email: info@henryharvin.com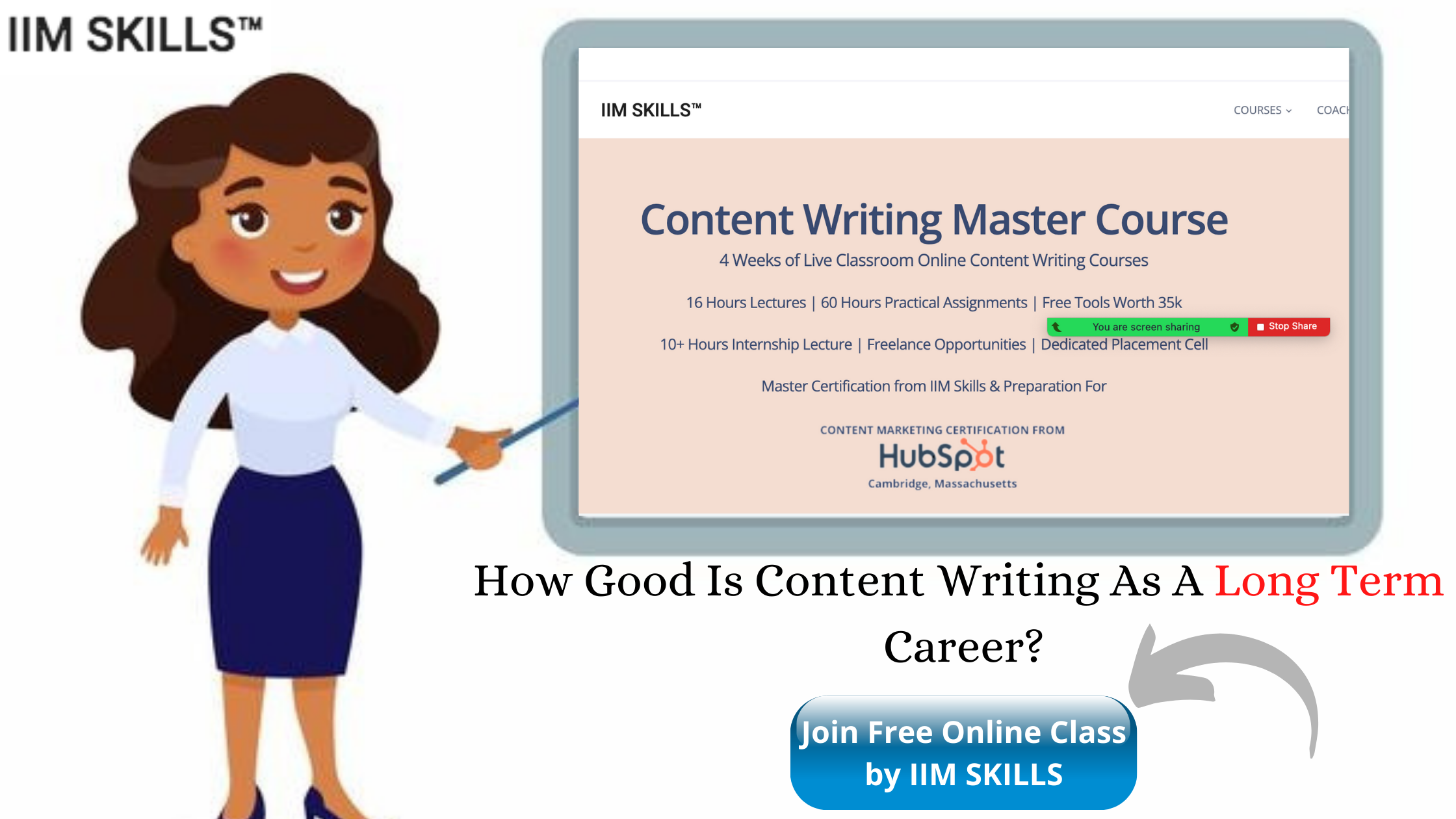 Signing off
Consistent, engaging, and high-quality content improves audience engagement and retention. A good content writer needs adaptability, research, originality, SEO, time management, communication, editing, and knowledge on social media. Businesses mainly hire content writers to get as many website views as possible.
According to Hub spot,
The companies that published more than 16 blog posts per month got almost 3.5 times more traffic than those that only published 4 or a few posts.
Before developing content, touching the biggest pain points helps them to understand what steps they need to take to solve their problem.
It builds trust and the target audience helps to build credibility and authority.
FAQs
Which are the top content writing courses in Patna?
There are many distinct content writing institutes that offer top-quality content writing courses in Patna. IIM SKILLS has one of the best online content curricula that you can enroll in. It is an exemplary virtual training program that incorporates all important elements of content writing. You have practical assignments in content writing to master the skills perfectly.
What are some topics for content writing courses in Patna?
Some important topics for content writing are blogging, best practices for writing, content writing tools, creating content for SEO, eBook and copywriting, email writing, creating a content calendar, content scheduling, GMB, keyword research, social media, automation,  website analysis, speed testing.
What is the duration of content writing courses in Patna?
A content writing course is for 4-8 weeks approximately (Internship included) in Patna.
Finally,
According to a Marketing proofs report, around 2 million blog posts are written every day. It has created a lot of gaps between the demand and supply of quality content writers. So with tremendous opportunities, one can choose content writing as the best career option.