Once you've established an online business, it's impossible for a company to survive without learning the fundamentals of digital marketing. No matter the nature of your business, you have to be acquainted with the basics if you want stability for your business.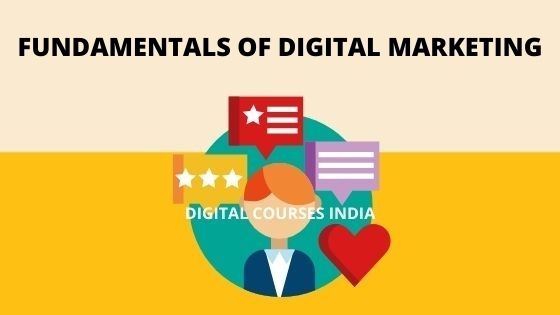 If you are new to digital marketing, read this Beginner's Guide to Digital Marketing
To at least gain some traction on the internet, you don't have to know every single thing about digital marketing. However, the minimum knowledge is appreciated. As long as you have a grasp on the starting point, you can add to your experience as time goes on.
Now, there are multiple ways you can learn about the bullet points of digital marketing. You can read certain articles on the internet about digital marketing fundamentals to get a good idea or buy a good book on the topic. While those are great ways to learn about something, short-term courses might be the best method. Through short courses, you can get some hands-on experience and learn about the basic requirements.
Digital marketing is something that's always better experienced, so courses that allow you to test out your skills would be for the best. Even without that though, short courses have lots of case studies that can help the matter become clearer for you. Keeping these things in mind, let's take a look at the courses that can get you started on the digital journey.
Also, check out the Top 10 Digital Marketing Institutes in India
Top 5 Places To Learn Fundamental Of Digital Marketing Courses
IIM Skills
Master Digital Marketing Course from IIM SKILLS isn't the shortest course out there, but it is extremely effective in teaching you the fundamentals and the practical side of things. While marketing itself is something you constantly learn and upgrade yourself on, the course is extensive enough for you to get the main gist of everything you need to further your business.
The program is officially for 3 months. After that, if you wanted to improve your work portfolio, you can apply for the 3 months internship at the institute. The internship is guaranteed as you would be one of the fresh students they know they have taught well.
In total, you would have to go through 180 hours of live online training. You would study over 10 cases and participate in 15 live projects in that period. After going through the comprehensive 40 digital marketing module, you should be able to run your business as well as get a job in the industry anywhere you want.
By the end of the course, you should have a well-developed portfolio, blog posts written for the Times of India, press releases, and more importantly, armed with the knowledge you were seeking. The institute extends lifetime support to the students. If you face any roadblocks after leaving the institute, the instructors are more than happy to offer you advice. It does not matter whether you need advice on expanding your business or technical help, they would be there.
What you learn in the live online classes is also available to you for a lifetime. Anytime you think you are about to forget any of the fundamental information, you can check back on your old classes.
You can also learn the advanced techniques of content writing with the Best Content Writing Master Course
What Are The Advantages?
Globally recognized Certification
Letter of recommendation
Interview and placement support
Chance to launch your own agency
3 months internship guarantee
A blog for Times of India
Must Read: IIM Skills Digital Marketing Course Review
Google Digital Unlocked
If Google itself is offering you a free course on the fundamentals of digital marketing, there is absolutely no reason not to try it once. As long as you have a Google account, all you need to do is go to their page and use the sign-in option. You can immediately start learning all you want to about digital marketing. It is a basic level course and what you were looking for if you want to start somewhere. If the idea of learning too much at once scares you, this course will take you on a slower ride that's more suitable for your pace.
The course is mainly video tutorials. In total, you have 40 hours of video content. At the end of each lesson, you answer some questions that will help you verify if you have understood what you just saw. Despite being a free course, it is IAB accredited. IAB stands for Interactive Advertising Bureau. You will also receive a certificate at the end of the course which is recognized globally.
You can also learn How Digital Marketing Can Save Low Budget Business
The Google trainers decided on the course structure, sprinkling it with a generous amount of real-life situations and practical examples you can evaluate.
The certificate from Google can be added to your CV and proudly displayed on your LinkedIn profile. All you need to do is reach the end of the course and take the 40 questions final. On successfully passing the course, you will achieve your certificate. Alternatively, studying from somewhere like IIM SKILLs would also prepare for the Google digital certification as the material covered there is pretty much the same along with lots more extra information.
Also, check out the Top 5 Digital Marketing Courses in Delhi
What Are The Advantages?
Certification from Google
Learn business strategy and online marketing
Free course
Learn local and email marketing
Show off your approval from Google on job sites
You may be interested to know about How to Make Digital Marketing a Side Hustle
Coursera
Digital Marketing Specialization is a six-week course from Coursera. The certification from the course is not for free. However, to appear for the test, you need to pay some amount. The other things such as viewing and reading the course are free though.
Coursera has multiple courses on digital marketing but this is one of the courses with the shortest learning time. The course is more of a look into the latest trends in the industry, all taught by the experts. The best thing about Coursera's courses is the availability of the course in more than 8 languages. Even if you are not fluent in English, you can use subtitles to get the main points in Arabic or Spanish.
If you do decide to pay, you get a proper certificate. The beginner-level course does not need you to have any kind of idea on digital marketing before joining. As it is a completely online course, you can learn at your pace.
However, the course would not be available forever so you do have to finish it before 8 months. They are in partnership with Grainger. On the completion of the course, you can choose whether to participate in the capstone project set up by them. You can get considerable experience from the project as you would get to test out your learned skills. The course also focuses on using the latest tools for web analytics.
Check out How Digital Marketing Helps to Grow Your Business 
What Are The Advantages?
Certificate on payment
Free course
8 months time to grasp the course
Internship project on completion
Available in multiple languages
Glance through the Top 10 Digital Marketing Courses in Mumbai
Udemy
There have always been different courses in Udemy covering a range of digital topics. Our preference is the Learn Fundamentals of Digital Marketing by Jasmeet Singh. It is an excellent course for someone completely removed from the digital space. It is a simple, straightforward introduction to digital marketing. You are introduced to new terms with layman's explanation so you have no chance of getting confused or getting misinformation.
It is one of the shortest courses you can find on the internet on digital marketing. The on-demand video for you to binge through only covers 1.5 hours. The access to the course would be for the full lifetime. Additionally, at the end of the course, you get a certificate that would verify your knowledge in other's eyes.
The course comes with no demand for knowledge on your side. Since it is an introductory course, you can go in with absolutely no idea. On finishing the course, you are rewarded with a certificate that will allow you to showcase your newfound expertise to others.
The video contents cover the basics along with statistics that will prove why the subject is important. It also has short overviews on all the different parts of online marketing such as SEO and Paid Advertisement. Once you take this course, you can move on to other advanced courses on Udemy.
Also, get insights about the Roles of digital marketing for a Business
What Are The Advantages?
Certificate proving you've taken the course
Lifetime access
Can be accessed anywhere online
Can be watched at your own pace
Cost-effective
HubSpot Academy
Hubspot is never far behind when it comes to online courses. This time is no different with their excellent Digital Marketing Lesson course. The free course is short but has enough information packed in it to get us the major gist of the subject. There are a total of 3 videos covering all you need to know about digital marketing and what makes it important. It is a 30-minute lesson comprised of the most basic stuff. As a result, it is one of the top choices for learning the fundamentals of digital marketing.
The lesson starts with the importance of marketing in the digital space and what it entails. It gives you a good idea about why you are going out of your way to take the course in the first place. Then, the course veers into all the channels and strategies people in the industry have implemented to expand their business online.
Once you are done with this course, you will have a better idea of what kind of ads you should run for your website at least. On the other hand, there won't be a certificate from this course. The only usefulness of this course is it will teach you the basics you wanted to know about.
What Are The Advantages?
Learn about different tactics
Get to learn various channels for marketing
Learn how it benefits your business
Learn about paid advertising
Why Learn About the Fundamentals of Digital Marketing?
Even if you are looking for someplace to get a basic understanding of online marketing, you might be still conflicted about actually signing up for a course. For how much everyone seems to emphasize the advantages of excelling in the digital world, you might be worried if it really pertains to you. Let's take a look at why this is a skill that would be helpful for you to help clear any confusion.
High Growth Promise
Every statistic indicates digital marketing will only see an upward growth. In fact, it seems compared to the offline economy, the economy in digital space has seen ten times increase.
Companies have become aware of the influence that can be wielded with the digital space. Through digital marketing, it is possible to reach a larger audience. At the same time, it is possible to narrow it down to a loyal demographic that would support a company through everything provided they think they get proper value front the product offered by a company. The revenue possible from bigger and loyal customers is unprecedented.
This is possible through extensive ad campaigns and proper promotions. If you don't know how to navigate the digital space though, this becomes an impossible task. As the demand for this type of work increases, the need for more digital marketers does. This is why we can assure you that people willing to make their way in this world can find amazing progress with the right training.
Increased Pay
Your salary would see a definite hike once you have acquired some knowledge about digital marketing. It does not matter the profession you are in, every company needs digital marketers. If they can get the same person to do some of the digital marketing work or if the same employee has enough knowledge to go to the companies appointed digital marketer every time there is a problem, it saves everyone a lot of time.
For this reason, when companies see Digital marketing as part of the expertise in resumes, the employee's value automatically increases. The person has more chances of getting hired. If the employee is already working for a company and learned Digital marketing recently, the employer is likely to give them a raise. After all, the employee has added another important skill to their repertoire, making them more valuable than before.
Revenue Guaranteed
If you have just created a website and don't know how to reach a new audience with it, Digital Marketing is the solution you were looking for. Once you learn how to promote your website, you would be able to use all the digital channels. You would know how to create a seamless experience for your customers, who would be impressed with your efforts.
If your presence can be felt on every platform, the customer would realize your company has more to offer than initially thought.
Online marketing creates lots of freelancing opportunities. Even if you are already employed, you can do it as a side job. Freelancing is amazing since you can engage with work on your own terms and conditions. As long as you know how to make a contract beforehand so you don't get duped by your contractor, you would be able to thrive in the business. Freelancing gives you more ways to earn while you do it in the safety and comfort of your home.
Final Thoughts
We hope this has cleared any confusion you have over the digital world. Not only are you better aware of why learning it can be advantageous for you, you know where you can learn it from too.