Content writing is the art of writing either for your own business or any other company to target the maximum audience. It is a way of attracting people and other businesses through your relevant content. It has different types of genres through which it is divided, and further, it can be done for your own business, as a freelancer, or as a job for companies.
Everything is Online Now
As we all know that due to the pandemic, many things have been changed. Professional and personal lifestyles both have been changed a lot because of technological development and pandemic. So, professionally, all the businesses and jobs will be undertaken online. 
It has its benefits like saving traveling time and cost, small rental offices expenses, and working hours convenience. And if we specifically talk about writing courses and jobs then they are best suited for people who prefer working online. 
They can spend more time on their research and without any restrictions on working hours, they can give the best output from the most convenient input of effort, time, and cost to their piece of work. So, the courses mentioned here are not only the content writing courses in Gurgaon but worldwide.
Reasons for Doing A Content Writing Course
Professional Learning – If you want to learn writing for a professional purpose, you should opt for a course as it will help you in getting knowledge on how things exactly work.
Technological Learning – If you want to improve your technical skills, then you should go for a course like learning how to use different tools for plagiarism, keyword planner, designing tools.
Learning SEO- Search engine optimization is the key for any writer to spread the content widely among the interested group, and courses can help you understand that better.
Getting Help In Internships And Jobs- Courses usually offer internship jobs opportunities after giving you training in that field, so it is a good opportunity to enroll in a course that offers internships.
Growing Your Own Business- If you are already in the writing business and want to achieve more information and knowledge on growing your business, then the course can be beneficial for you.
Improving Your Writing Skills- Working under professionals and experienced people can help any writer to improve their writing skills. And taking assignments will automatically increase knowledge and will result in better performance.
Better Opportunities- Your CV will reflect better skills by adding a valuable course in it, and it will open more and better opportunities for the same.
More Recognition- After doing a valuable course and working in a field where recognition matters the most, showing more work content will help you get a better job which can be achieved through an internship.
So, if you wish to get these benefits, you should join a good content writing course. The best part is that you don't have to run anywhere; everything is available and done online not just because of the pandemic but because the field of writing involves things to be online.
Top 11 Content Writing Courses In Gurgaon
IIM Skills
IIM Skills is considered to be the best content writing course institution in India. With its professional and proficient services, it has helped many people grow in the field of writing. Providing 16 hours of live classes with 3 months of internship training, they offer detailed knowledge and information about how to write and how to do the best possible marketing for your content. 
They not only guide you to write for blogs and then get jobs, but the founder of IIM Skills Mr. Vaibhav Kakkar will himself guide you on how to get the best SEO, write your book and get jobs or do freelancing and start your own business and reach your goal by adding some extra points and efforts in your content.  They provide lifetime access to the recordings and tools on which they provide guidance.
Besides, global certification is also provided, and it is also the best for people who are retired, housewives, or aspiring college dropouts. If you are a blogger and want a high reach for your content, IIM Skills can help you with all the marketing strategies to boost your blog.
Without any doubt, it is the best institute for content writing courses and if someone genuinely wants to work with proper dedication, then joining the institute can help you a lot to achieve the best marketing strategies for your work and get a job.
With this course, you will also have the best place to interact with many people who can have the same niche and it can help you have an interactive session with the trainers and trainees. They not only offer content writing courses in Gurgaon but overall in India.
Things you get:
· Live Online Classes
· 16 Hours of Lectures 
· 60 Hours of Practical Assignments 
· Free Tools Worth 35k
· 10+ Hours Internship Lecture 
· Freelance Opportunities 
· Dedicated Placement Cell
· Master Certification from IIM Skills and preparation for HubSpot certification
· 3 Months Guaranteed Internship
Other Courses:
Brand partners of IIM Skills

Reviews and Testimonials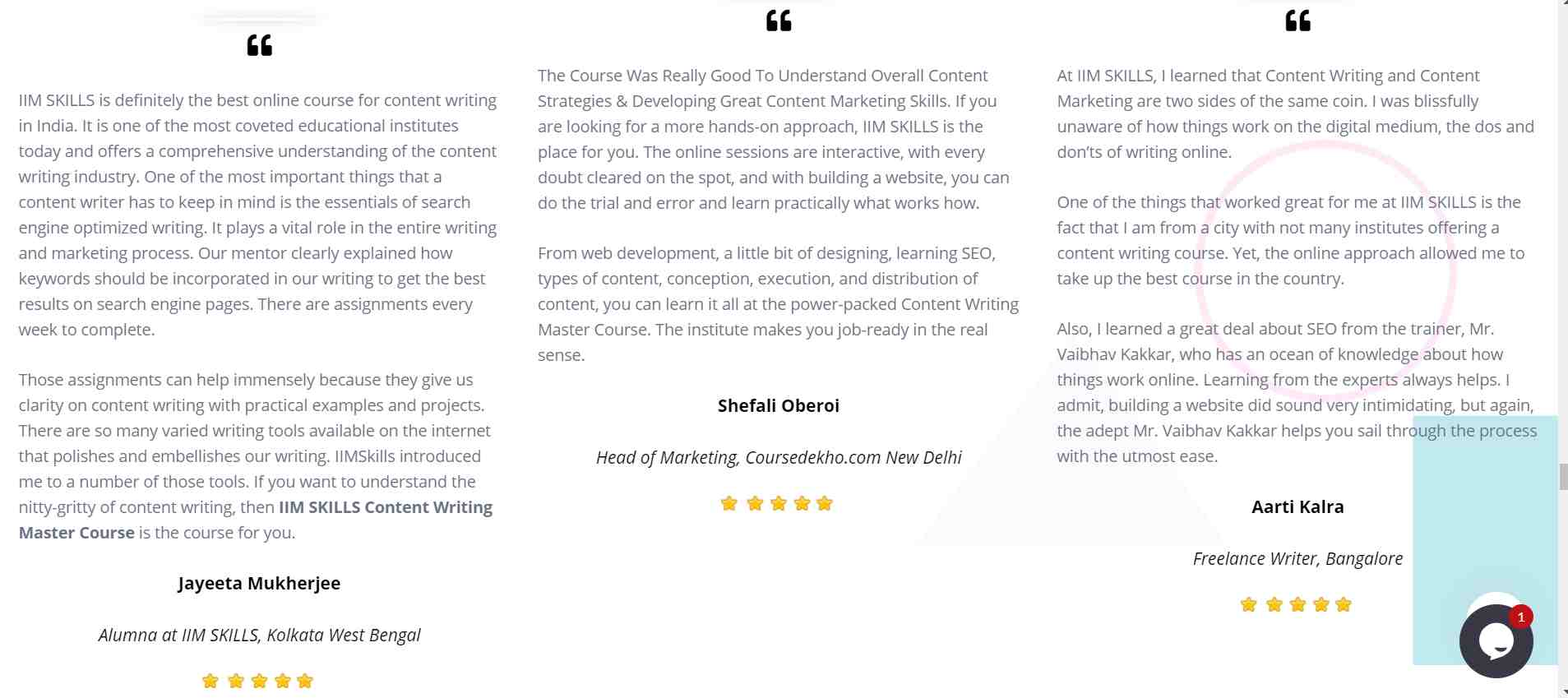 2. ECT
Education and career times is the second-best institute for content writing in India. Mr. Saket Kumar Singh is the founder of ECT, a former MBA from FORE School of management, and B.Tech from GGS IP University and provides the best services for learning content writing. 
The duration of the course is 1.5 months of live classes and 1.5 months of internship. ECT was started in 2010 and now is one of the best institutes for content writing.
This is a worldwide recognized certification course and with a lot of personalization which helps in better understanding, ECT is indeed a great online platform to learn content writing courses. They offer content writing courses in Gurgaon and other regions as well.
You may also want to look at the Top 6 Content Writing Courses in Delhi   
3.Coursera
Coursera is a huge online-based company that was started in 2012 by Stanford University computer science professors Andrew Ng and Daphne Koller. Coursera has alliances with many colleges and universities and some corporations that offer online courses for different subjects. It has many courses, which are free as well.
They have a variety of long term and short-term courses; there are many options available in content writing courses as well like –
· Good with Words: Writing and Editing
· The Strategy of Content Marketing
· Search Engine Optimization (SEO)
And they have specialization too; they have thousands of courses available- you just need to do your research properly to gain the best out of the multiple options. 
Check out the Top 10 Content Writing Courses in Faridabad 
4. Udemy 
Udemy is one of the finest online learning platforms worldwide, which provides a wide variety of courses for specific learning.
Courses like:
·      Better Business Writing Skills – This is a 3.5 hours course that has 64 lectures.
·      Writing Tools And Hacks – for blogging, copywriting, content writing. – This is a 1.5 hours course which has 33 lectures.
· Ultimate web content writing master class, power words, e-books. This is a 4.5 hours course which has 45 lectures.
Udemy gives certification for all courses and also provides a privilege to complete the course at your convenience. They also run offers, so that one can always look for a pocket-friendly price offer as per their choice.
5. Skillshare  
Skillshare is again one of the biggest platforms worldwide accessible and acceptable for various online learnings. They teach many types of content writing courses as per the need of an individual with apt learning and certification for the same.
The company was created by  Michael Karnjanaprakorn and Malcolm Ong. Presently, Matt Cooper is the CEO of Skillshare. If you want to have detailed knowledge or want to know particularly about certain areas in writing or marketing, then sign up for short-term courses, which can be done with studies or a job.
 6. Skills Upgrader 
Skills upgrader is an online-based company, which only offers content writing courses and is founded by Mukesh Sachdeva, Sameer Bhutani, Saurabh. They offer 16+ hours of classes and 3 months of guaranteed internship.
International certification is available, and a demo class is also given for better understanding. It is Kalkaji based institute but also provides online content writing courses in Gurgaon.
They follow an 8-step process to become certified content writers.
· Enrolment 
· Batch confirmation
· Attendance
· Assignments
· Blogging internships
· Freelancing opportunities
· Placement assistance
· Happy skills upgraders
 7. Online Idea Lab
Online idea lab is a networked platform operating in India, the USA, and Canada, which teaches through an online system. It has various content writing courses.
The course Content Writing include
· 10 Hours of Live Interactive Classes
· Recordings of Live Sessions
· 6 Months Access to Entire Course
· 15+ Additional Resources for Enhanced Learning
· 6 Activities and Assignments
· Quizzes to Take Part in.
· Session to Clarify Your Doubts
· Study Material
· Assignments to Complete and Proper Evaluation.
There are other beginner's courses as well, which can help you understand the basics of writing within a short period and at low costs.
8. Newcent Training Academy
Newcent training academy provides two types of content writing courses – one is for beginners, and the other one is advanced. It is a distance learning-based course and has 8 weeks duration to complete the course and only includes study material for studying. However, for advanced study, the course includes live and recorded sessions for better understanding.
They also only have examination and certification options for people who just want to test their skills and get certified for the same without paying or learning through them. Only the examination fees will be required. It is Chattarpur based institute but also provides online content writing courses in Gurgaon.
 9.Digital Acharya
Digital Acharya is an award-winning company for content writing courses and they not only focus on internet skills but also language specification, which helps in improving writing skills to reach maximum people with the best of the content. 
They will teach you how to improve your skills and how you can work for yourself and others. They do offer demo sessions, which can be helpful to know better. It is located in West Patel Nagar, and this Institute also provides online content writing courses in Gurgaon.
10.Information Developers Foundation 
Information Developers Foundation was founded by Mr. Rahul Karn, who has 15 years of experience in the field. If people know how to write and want to promote it and earn through it, then joining this institute is a great idea.
You can join the course for part-time or full-time purposes as per your convenience as the course is for 2 months with the weekly classes on Saturday and Sunday. Placement opportunities are promised, and proper certification of the course is also given. They too teach content writing courses in Gurgaon and overall Delhi.
11. Henry Harvin 
Henry Harvin was started in India in 2017, and the founder is Mr. Kounal Gupta. HH education not only works in India but also in other countries and has great media partners like Hindustan Times, Aaj Tak, The Hans, India Today, and many more.
They provide the learners with live online classes and an online training experience. The internship is provided with the course with great recognition and certification and lifetime access to the recorded sessions and the tools. Also, the trainers are well experienced with a minimum of 10 years of experience.
They have many recorded videos uploaded on their YouTube channel, which can be seen for better understanding. They have also started with a new gold membership plan for people who are interested in joining. They will teach usage of more tools at fair prices. They operate online and provide content writing courses in Gurgaon.
Must Read: IIM Skills vs Henry Harvin: Which is better for Content Writing? 
Frequently Asked Questions:
1. Is content writing a short version of digital marketing?
® Digital marketing is a vast thing in itself that covers almost every online marketing business. Whereas content writing is the basis for starting something online as you need to write the basic things down to tell others what exactly you are. So, if a content marketer makes a website and wants to optimize it, then the role of a content writer comes in equally to write proficiently about the company.
2. Difference between content writing and content marketing?
® There is no drastic difference between content writing and content marketing as both include educational articles, e-books, videos, entertainment, and webinars. However, content writing is noting down everything in your computer system, but showing it to people in the most attractive way is content marketing.
Here comes the role of these types of courses that can help you achieve a good number of audience and reach it out in the rightest way to right people. So, writing is for many, but promoting it the right way can be taught by the institutes to you. And can also help in getting the dream jobs for many.
So, if you wish to show your work to the world, then your research for the right course is on the right path.
3. Difference between content writing and creative writing?
® The difference here is about the formal and informal ways of expressing the data. Creative writing is usually the informal way of penning stories, poems down. Content writing is more like working professionally for some researched based data company or even starting your business.
4. What is the exact job of a content writer?
® A content writer not only writes articles about the company or product descriptions for the company. They have to make sure to optimize it skilfully where online courses come in for help. However, writing articles, press releases, page content for google, making pamphlets, infographics, brochures, product descriptions, emailers, writing for social media posts are a part of the job. And if you are working for a typical writing-based company, you may also have to write down video scripts and e-book for your personal growth.
5. How much money can a content writer earn?
® There's no standard amount that can be promised to a content writer; it all changes as per your experience and timings you give to the job.
Initially, a content writer is paid very little, maximum up to 10,000 rupees. But with SEO learning and being regular at your work, one can increase and improve in financial terms.
Conclusion
· Firstly, you should understand your short-term and long-term goals for doing any course.
· Then the main thing which comes into the scene is your research work, don't just rush into things. Always take your time to know as much as you can.
· Apart from checking social media and the internet, try to look for people around you who have done something like this and try to connect with them. It helps in widening your establishment and gaining exposure.
· After collecting all the information, evaluate whether the services offered to you are needed by you.
· Comparison is a must; everyone will try to convince you why they are better than others in terms of extra learning through adding more learning tools and by also offering better price offers. Compare and contrast properly to make an informed decision.
· You should try to take free demo sessions and have a conversation with a senior over the call to know if you can understand them and what they teach.
· After taking sessions and comparing which trainer and institute are best suited for you, you should then enroll in that course and institute.
· You can always try for some price negotiation if possible. However, never compromise the quality because of the price range.
I hope this was helpful and cleared all your doubts about joining the best content writing courses in Gurgaon.
So, if you are in Gurgaon and looking for content writing courses in Gurgaon, then you can look for more options as everything is online.