Content writing offers a plethora of chances and challenges. For a long time, content writers have been in high demand. However, the demand for great writers has risen dramatically since the internet debut. Writing, which was once merely a pastime, has now evolved into a career. 
We're also embracing content creation as a full-time job. There are only a few courses that teach you the intricacies of content writing and how to monetize your writing skills. In this article, we are summing up the top 8 content writing courses in Hyderabad worth investing your time and money in.
Content Writing is an art that is an expression of your mind and influences the mindset of your readers. Great content allows people to pause and reflect, and it is in this space that transformation occurs. It becomes highly valuable to develop insanely good content that is useful, enjoyable, and inspiring.
What Is Good Quality Content?? – A Million-Dollar Question.
Intense research, clever wordplay, sound knowledge, excellent vocabulary, and grammar is all you'll need to build good content. Not just that, high-quality content requires meticulous editing, rewording, and fine-tuning to ensure that every word is precise. By offering high-quality content you can attract more visitors.
 But Who Decides On The Content's Quality?
Answer: Your "Users".
Hence, to build quality content, write for your readers, make your material readable, match search intent to your aims, be trustworthy, maintain your content up to date, and improve your site structure. As a result, you'll have appealing content that your viewers will enjoy. This will increase the number of visits, bounce rates, and conversions to your site.
You may want to know Is Content Writing a Good Career Option
Why Is Content Writing So Important?
When the world wide web revolution accelerated the digital game, Bill Gates rightly stated, "Content is King." Content still reigns supreme in this century, when the digital revolution is at its pinnacle. Content is only a piece of information, but it's worth has skyrocketed and is widely felt in the current digital age.
Since the world's digitization, traditional marketing has taken a step back. Every business, big or small, wants to establish a digital presence to attract a wider audience. As a result, so many businesses are vying for the attention of the same audience for which they need high-quality, tailored content to break through this noise and reach their potential customers.
Here, Content writing aids in the creation of engaging content that gives a business an advantage over its competitors. This highlights the value of content to a brand.
The Skills For A Content Writer:
A passion for writing with decent language skills is what you'll need to get started. But that's not all; regular upskilling and learning are essential to your success as a writer. Not all writers come from a literary family. A degree in literature, journalism, mass communication, or English is recommended if you want to do so.
The Following Are A Few Crucial Skills To Own As A Content Writer:
Intense Research Skills
Solid SEO knowledge
Editing and Proofreading skills
Social Media Understanding
Good marketing skills.
Apart from this, consistency, adaptability, and the capacity to meet deadlines by having solid time management skills are also essential. It's even more necessary to produce high-quality content with creativity while keeping the readers in mind. Hence, good writing abilities and an analytical mind are two things you can't do without.
Top 8 Content Writing Courses In Hyderabad
A question that hits the majority of people at this point:
"Is a content writing course required?"
It is strongly advised that you begin with a content writing course as your initial step, as you will have a lot more to learn and explore. A course can surely lay a concrete base to put your foot strong ahead and to build your future.
Does it make a difference?
Content writing courses can help you improve your skills and gain better technical knowledge. They are backed by industry experts as trainers, making them a beacon for bringing your content writing goal to life. Do keep in mind, enrolling in a premier course or getting trained by the finest instructor won't benefit you if you miss putting in the effort.
Listed below are the top 8 content writing courses in Hyderabad based on their training pedagogy.
1. IIM Skills:
A forerunner and a name to be reckoned with when it comes to content writing courses in Hyderabad and digital marketing courses in Hyderabad. IIM Skills is a major online education institution based in New Delhi that offers globally recognized skill-based courses. They are a leader in the content writing industry with an exceptional reputation, for providing world-class training by industry professionals.
The "CWMC – Content Writing Master Course" is a flagship program given by IIM Skills and is developed with an intense training curriculum that covers all areas of content writing as well as the core concepts of digital marketing.
Other Courses:
Recommended Read: Top 11 Digital Marketing Courses in Hyderabad
The Online Content Writing Course Includes:
16-hour lecture split over 4 weeks of live online training
10+ hours of internship lecture
60+ hours of practical assignments
3 months internship
Freelancing opportunities
Lifetime access (Consulting & Technical)
Industry case studies
Master certification from IIM Skills
Training for the HubSpot's "Content Marketing Certification"
The Content Writing Master Course Curriculum:
The training program has 12 modules, the most essential of which are:
Web development
Blog creation
Creating engaging content that influence
Keyword research
Basics of SEO and Creating SEO friendly content
Content Marketing using social media
Social media tools and Content writing tools
Through the content writing program, you can master writing content from articles, blogs, e-books, ad-copy, business listings, academic writing, press release, business writing, product description, video script, web pages, e-mails, brochures, and social media posts, and digital infographics.
By the time you complete the course, you will learn to design your website or blog. You will also learn to write an ebook and will have published your first e-book on kindle as a part of the curriculum. You'll also get the chance to write for periodicals like the Times of India. Overall, if you want to master techniques with practical knowledge while being mentored, this is one of the top content writing courses in Hyderabad.
IIM Skills Brand Partners 

Reviews and testimonials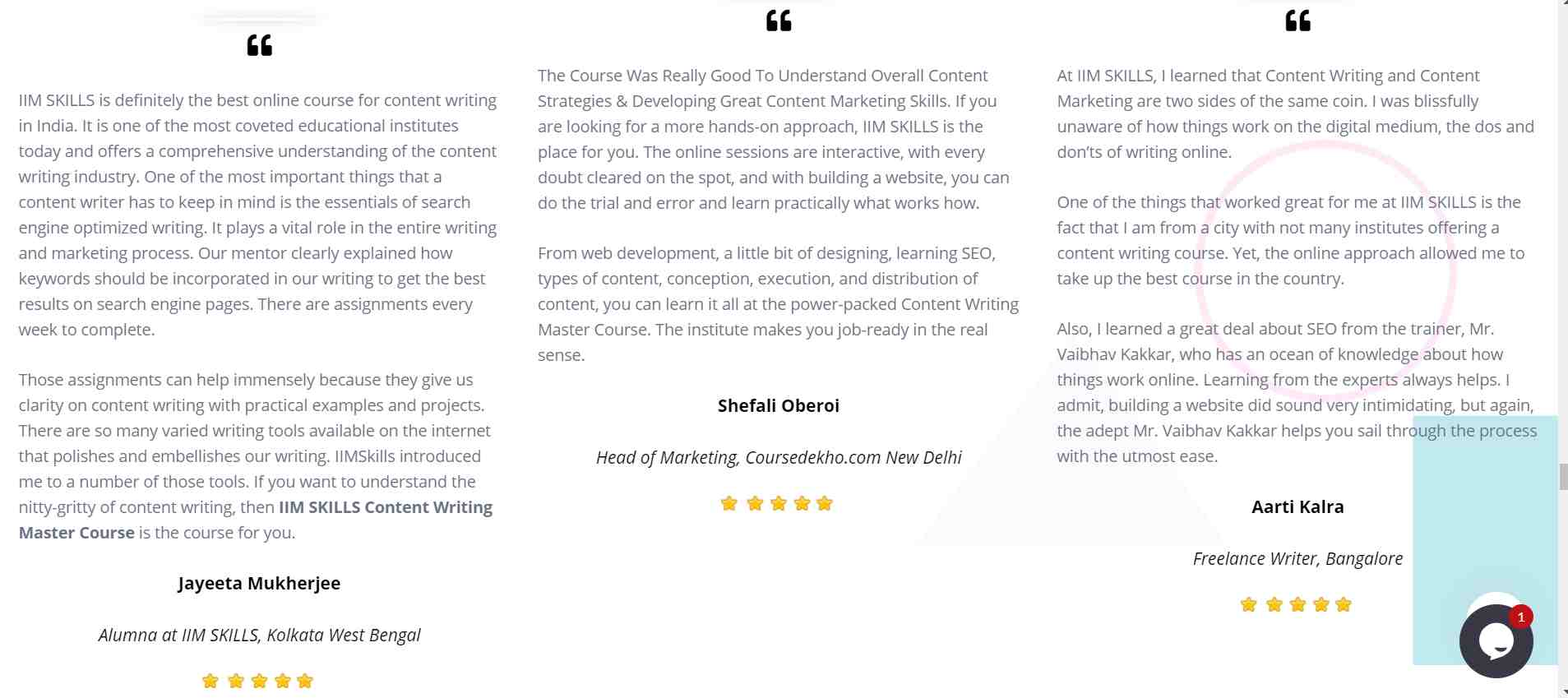 For more detailed cognition, read the IIM Skills Content Writing Course Review
2.  Ace Web Academy:
Ace Web Academy is a well-known IT training institute in Hyderabad with over 11 years of excellence that offers a wide range of courses including web programming, web designing, IoT, and Artificial Intelligence, to name a few.
The "Ace Content Writing Course" offered by Ace Web Academy addresses all areas of content writing by providing methods, tactics, and resources to help you thrive as a content writer. A 1-month course trained by industry experts.
The Ace Content Writing Course Includes:
20 hours of classroom training
18+ hours of simulation practice
Job placements
Ace Web Academy course completion certificate
The Ace Content Writing Course Curriculum:
The course has 7 modules covering all essentials of content writing ranging from:
Web Content
Blogging
Article writing
Press Release
Classifieds
Social Media Posts
Content Marketing Strategy
If you are looking for content writing courses in Hyderabad with a classroom setting or one-on-one tutoring then Ace Web Academy should be your choice.
3. Skills Upgrader:
Skills Upgrader is a career research consulting firm dedicated to personal and professional growth. They do offer content writing courses in Hyderabad that are worth checking out.
Their Content Writing Course Includes:
16-hours of online lecture
70+ hours of practical assignments
3 months internship
Freelancing opportunities
Lifetime access (Consulting & Technical)
Certificate on completion issued by skills upgrader
Content Writing Course Curriculum:
The training program has 15 modules, the most essential of which are:
Web development
Blog creation
Keyword research
Basics of SEO
Content Marketing using social media
Content Marketing Strategy
Social media tools and Content writing tools
Finally, you'll learn how to put your thoughts into words and generate interesting content that reaches your target audience more effectively. You will be taught how to write various forms of material, which will help you on your route to being a successful writer.
4. Online Idea Lab:
Online Idea Lab offers content writing courses in Hyderabad at both foundation and advanced levels. They also train on creative writing.
The Content Writing Master Course Curriculum:
The course offered by Online Idea Lab is split into 3 modules and 10 sub-modules.
The 3 Major Modules Are:
Content Research,
Content Writing and
Content Promotion.
The Sub-Modules Include:
Fundamentals of Digital Marketing
Fundamentals of Visual Content
Competitor Analysis
Editing and Proofreading
Basics of SEO
Content writing tools
5. ECT:
Education and Career Times, or ECT, is a training institution offering content writing courses in Hyderabad. It has been recognized as a startup by the Indian government. Digital marketing, communication skills, and personality development are a few more courses available. They operate centers in Noida and Delhi but do train online as well.
The ECT's Content Writing Course Includes:
3 months long course
32 hours classroom/Live online training
7 Assignments
5 Practical projects
10 Quiz that has to be cracked
Certificate on completion from ECT
Lifetime support
The ECT Content Writing Course Curriculum:
The course has 13 modules that cover Business Writing, Technical Writing, Fiction and Non-Fiction Writing, and Academic Writing. You will also learn about publishing ebooks and how to monetize your skills.
6. Udemy:
Udemy, one of the most popular global learning platforms offering courses at an affordable cost. They offer a diverse range of courses such as web content creation, content writing, content marketing, and a lot more with the greatest instructors tutoring under one platform.
They have many courses that are good enough to go into the category of top content writing courses. Their lessons are incredibly interactive, with video lectures and downloadable materials. You also get a certificate of completion and lifetime access for the course enrolled.
A Few Of Their Courses Include:
Ninja Writing: The Four Levels of Writing Mastery: A bestseller where you'll learn to develop compelling writings effortlessly. You'll discover the true power of narratives, sentences, and words. You will learn how to transform yourself into a master writer and stand out among the crowd.
Ultimate Web Content Writing Masterclass: A course where you'll get to know the fundamentals of content writing and copywriting. You'll learn about blogging, creating web content for business, and writing product or category pages. You'll learn the knack of marketing by writing compelling content and get a bonus module on keyword research. You furthermore get a "Power word e-book" with this course.
If you're seeking content writing courses in Hyderabad taught by world-class instructors on a worldwide platform, Udemy is the place to go.
7. HubSpot:
You can learn from HubSpot if you are a newbie or don't know what content writing is all about and want to learn more about the subject before enrolling in one of the above-mentioned institutes.
HubSpot Academy is a HubSpot education and training platform where you can enroll in courses on inbound sales, digital marketing, content marketing, and a variety of other topics to increase your expertise and obtain certification.
HubSpot's Content Marketing Course: HubSpot's certificates are almost a golden standard in the industry of marketing. This Content Marketing Certificate is one of a kind that is widely accepted and globally recognized.
You will learn to generate ideas and create effective content. You'll also learn to plan your content strategy and create high-quality content tailored to your target audience.
Overall, you'll improve your ability to create, promote, measure, and analyze content. As a result of this training, you'll become a more powerful, leaner, and strategic content marketer.
Check out their "Content Strategy Course" and "Business Writing Course. By bestselling author Daniel Pink that teaches you more about researching, editing, and proofreading. Though they don't come with a certification, you're sure to gain good knowledge.
These courses from HubSpot are the best content writing courses in Hyderabad and are free so you won't have to break the bank.
8. Henry Harvin:
Henry Harvin conducts both professional and technical certification courses in India. They're considered one of the best upskilling courses of all time. Henry Harvin focuses on experiential learning using GCAO (Goal-centred action-oriented) pedagogy with experienced industry deep-rooted trainers.
The "CDCW- Certified Digital Content Writing" course by Henry Harvin is accredited by the American Association of EFL and the Content Writing Association of India, as well as UK Cert, UKAF, and MSME. India Today has classified it as one of the best content writing courses.
The Certified Digital Content Writing Course Includes:
36 hours of live online classroom session
Practical projects in learning skills, research writing, technical writing, academic writing, and more.
Guaranteed Internships
Placement support for 1 year
Monthly boot camp for next 12 months on course completion
1 year Gold Membership
Globally Recognized CDCW certificate
Attend unlimited batches with multiple trainers for 1 year
The Certified Digital Content Writing Course Curriculum:
There are 11 Modules in the training curriculum and two bonus modules, the most important of which are:
Language skills
Technical and Research writing
Creative Writing
Copywriting
Content Marketing Strategy
Social media tools and Content writing tools
Soft Skills Development
Resume Writing
The candidate will master SEO writing and gain knowledge of landing pages, blogs, and social media. Candidates will also learn how to write e-books, newsletters, magazines, press releases, product reviews, and descriptions, resumes, and cover letters, among other content kinds. You can also hone your research and graphic design skills.
By the end of this course, you're sure to gain knowledge on different writing styles and get your grammar right. You get to learn the different types of writing and get your hands on a few so that you may better choose your niche.
You will receive detailed guidance on freelancing and establishing yourself on the global stage. Overall, this should be your choice if you're seeking educationally enriching content writing courses in Hyderabad.
The above content writing courses in Hyderabad are just a few to list. As a content writer, polishing your skills in search engine optimization and marketing, to mention a few would also be quite beneficial. You can even start expertizing based on your chosen niche after you've caught the hang of it.
Enrolling in a course and getting certified might show you the road to travel. Whereas, fostering your skills in this journey will make you reach your destination as a content writer. Though you don't need any pre-requisites or qualifications to start content writing it becomes highly important to upskill yourself to stay highly visible.
"Writing is a skill, not a talent. A skill can be refined with diligent practice."
Frequently Asked Questions
Q1. What is Content Writing?
Content writing is the process of researching, creating, editing, and disseminating helpful and relevant content on various platforms such as websites, social media, and emails. Blogs, articles, infographics, social media posts, emails, brochures, and text media are just a handful of the various types of articles that fall under the content writing blanket.
Q2. Is there any minimum qualification to become a content writer?
No! You can pretty much enter into this industry if you have decent language abilities and an active imagination. Consider taking a content writing certification course, however.
Q3. Is content writing a good career?
Due to the broad breadth of content writing in this digital modern era, it is unquestionably a wonderful career choice for someone who enjoys writing and researching.
Q4. How to create job opportunities as a fresher?
As a fresher, start blogging to establish your online presence. To build a name for yourself, consider enrolling in internship programs. Freelancing can be a lucrative alternative as well.
You have multiple avenues of opportunities from copywriting to web content writing, creative writing, technical writing, academic writing, scriptwriting, and many more. You can even work as a content marketer or content creator for brands if you have considerable professional expertise and industry exposure.
Q5: Do you need to specialize and work on a particular niche?
Finding your niche and having one is very important because it helps you to identify what you are good at and what type of writing projects you should undertake. Travel, education, food, health and fitness, finance are a few top niches but do keep in mind that they could change in time.
Conclusion:
Content writing is a growing industry that will always be in high demand for a long time. Validating the assumption "Content is King" will help you carve yourself a fast-paced career in the booming field of content writing. Using your own distinct, identifiable voice, tone, and style across all of your platforms will pay off and help you establish a strong presence.
The content writing courses in Hyderabad listed above will enable you to express yourself to your full potential. But before making a decision, carefully examine each institute's key aspects. Keep in mind that high-quality content alone will never bring your content to life if you don't have the right marketing and SEO skills. As a result, an institute that integrates content and marketing to provide you with in-demand expertise is a fantastic option.
Do keep in mind, content writing is an ocean, learn to surf those choppy waters. To discover a pearl, venture far beyond the shore.
As an aspiring content writer, read, improve your network, keep your research base strong, maintain your social media presence, broaden your horizons and keep evolving. Never stop experimenting until you satisfy your creative urge.
Make writing your priority and bring your dreams to reality.