Vizag is one of the fastest-growing cities, and it is the commercial capital of coastal Andhra Pradesh. It is well known for its tourist spot, industrial growth, and sea trade. Since they must invest more time and money in the online platform, they required skillful digital marketers who know their stuff in the online world.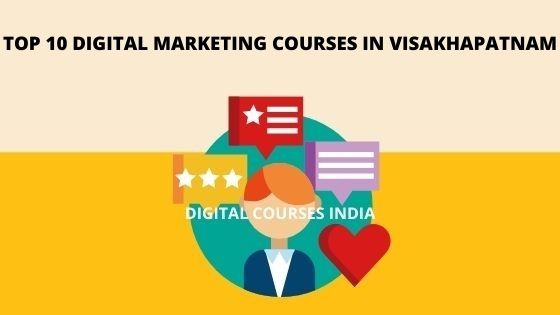 As the fastest growing city, it has already proven itself with its GDP of 43.5 billion. This tells us that it already has set foot in the online world. From buying a product, selling a product, renting a product, and advertising a product everything is done online. Vizag is known for its tourism, and you know how the online world plays a major role- from booking hotels to buying tickets.
So, it is essential to know your way around Digital Marketing. Every company needs a digital marketer who can help their companies in the Digital Marketing world.
Must Read: How to Choose Digital Marketing Course and Training
Top 10 Digital Marketing Courses in Visakhapatnam
Below is the list of top Digital Marketing courses in Visakhapatnam that will guide you through the Digital Marketing world and make you a professional Digital Marketer.
1. IIM Skills
IIM Skills is one of the finest online education services, and they have already benchmarked their name in a Digital Marketing course and Content Writing course. Its mission is to give world-class education at an affordable price. It is one of the finest Digital Marketing courses in Visakhapatnam. Being a worldwide renowned online education service, they exactly know their stuff and what to teach the students, and how to make them understand it.  
Course Name: Digital Marketing Master Course
Duration:5 months
Fee: 34900+18% GST
Course content
Introduction to Digital Marketing

WordPress Web Development – 2 Modules

Search Engine Optimization – 4 Modules

Search Engine Marketing – 6 Modules

Email Marketing – 4 Modules

Inbound Marketing – 3 Module

Social Media Marketing – 6 Modules

Web Analytics – 3 Modules

Integrated Digital Marketing Strategy -1 Modules

Online Reputation Management– 3 Modules
Content Writing and Blogging -3 Modules
Media Buying – 1 Module
Affiliate Marketing – 1 Module
Video Marketing -1 Module
Digital Infographic Resume Preparation- 1 Module
They give 180 hrs of comprehensive training with more than 15 live projects and 10 case studies. They provide optional internships. Since it is a tool-driven course, you can learn and get hands-on training.You get tools worth 79000 with the course package. At end of the course, you will receive a master certification from IIM Skills and help for google HubSpot, Facebook exam certification preparation.
They also provide you a letter of recommendation post-internship. This Digital Marketing course provides you with lifetime access to its course material, recorded session, and class presentation. This course has weekdays and weekend batches, and you can switch the batch to your flexible time. They also provide free demo classes, so you know what you're getting into it.
Email: info@iimskills.com
Also, read this detailed analysis of IIM Skills Digital Marketing Course Review to make an informed decision.
2. Simplilearn
Simplilearn digital marketing specialist is one of the best Digital Marketing courses. They can give you the best insight into Digital Marketing. They give you in-depth expertise in every branch of online marketing and helps you to perform well.
Course name: Digital Marketing Specialist
Fee: 59999+18%GST
Course content
Mastering Search Engine Optimization, Content Marketing, and Digital Analytics

Social Media, Mobile Marketing & Digital Strategies

Advanced Web Analytics

Advanced Search Engine Optimization (SEO)

Advanced Pay Per Click Certification Program

Advanced Social Media

Harvard Business Publishing Case Studies in Digital Marketing  
Also, read about the Top 5 Digital Marketing Courses in Delhi NCR
Each of these contents has a different curriculum, so you will understand every nook and corner of Digital Marketing. It has 200 hours of live interactive sessions with more than 45 live projects and case studies. At end of the course, they will give a Digital Market Specialist certificate.
They also have partnerships and certifications like HubSpot, Hootsuite, Online Marketing Certified Professional, and Online Marketing Certified Associated, Google Ads, Bing Ads, and Google Analytics. Timing of course is flexible to students, so you don't have to worry if it is weekdays or weekends.
Overall, this course will teach you in-depth about Digital Marketing but with a higher fee structure. They also provide you with a free demo class to equip you with their teaching style. Also, a free Hootsuite Certification course is available.
Website: www.simplilearn.com
Contact no: 1800-212-7688
Also, read about the Top 7 Digital Marketing courses in Pune
3. Sai Santhosh technology
Sai Santhosh technology offers Advanced Digital Marketing courses in Visakhapatnam. They give quality training for each individual and help them with their placement. They are well known for their job placement and do provide great assistance to the students.
They give hands-on training so that students could learn and understand how Digital Marketing works. The course is being refreshed according to the change in Digital Marketing. If you're looking for a short-term digital marketing course, then this is your thing.
Course Name: Advanced Digital Marketing
Duration: 60 days
Fee: INR 15000
Also, read about the Top 5 Digital Marketing courses in Nashik
Course content
Preface to Digital Marketing

Google AdWords Fundamentals

Advanced Search Display Advertising

YouTube Video Advertising

Mobile Advertising

Google Analytics

LinkedIn Advertising

Facebook Advertising

Website Designing

Local Business
Social Media Optimization and Marketing
Mobile Marketing
Email Marketing and many such important concepts.
This course syllabus has a job-oriented module and a self-learning module.
Also, read about the Top 10 Digital Marketing courses in Kolkata
Job oriented module 
1 Search Engine Optimization
2 Search Engine Marketing
3 Social Media Marketing
4 Keyword Research
5 Google Analytics
6 Google Search Consoles.
Self – learning module 
1 YouTube Affiliate 
 2 Marketing
3 Website Designing
4 AdSense
5 Facebook
7 Mobile app
Website: seosaisantosh.com
Contact: 95534-28515
Also, read about the
Top 10 Digital Marketing courses in Mumbai
Digital Marketing Courses In Belgaum
4. Pivotalsoft
Pivotalsoft IT service is a leading institute in Visakhapatnam, and it has been in the training business for 12 years. They provide software training and Digital Marketing courses in Visakhapatnam. Since they offer many courses and have trained many people for the past 12 years, this makes them the best. So they exactly know how to train an individual and teach him the subject.
Since it exclusive in Visakhapatnam, people may even get better placement in Visakhapatnam in the Digital Marketing field. 
Course content
Overview of Digital Marketing

Digital Marketing Platforms and Strategy

Types of Digital Marketing

Traditional Versus Digital Marketing

Social Listening

Website Architecture

E-Commerce Website

Search Engine Optimization

Social Media Marketing

Search Engine Marketing with special emphasis on inorganic SEO
Paid Search Ads
Pay Per Click
Cost Per Click And CPM.
As being an IT sector, they do know the importance of Digital Marketing. They have tie-ups with various sectors, so there is no problem in getting you placed. They also provide you soft skills, so you can confidently appear for an interview.
Each session is followed by a practical session, so the trainee can understand better. They also provide 24×7 support to know course duration and fee structure contact the below number. 
Website: www.pivotalsoft.com
Contact: 09030 200009  
5. Colourmoon training and development
Colourmoon is one of the leading institutes which provides Digital Marketing courses in Visakhapatnam. They also provide other courses like Web Designing Training, PHP Development Training, Android Development Training, IOS Development Training, Hybrid App Development Training, Graphic Designing. 
They started as a web solution company, and now they are a training institute. This is a one-month job-orientated course, and the idea of getting placed in a company is very much possible.
Course content
1: Digital Marketing Fundamentals
2: Trend and Keyword Research
 3: Website Planning and Creation
4: Search Engine Optimization
5: Local Business & Listing
 6: Pay Per Click Marketing
7: Social Media Optimization
 8: Social Media Marketing
9: Web Analytics
10: Content Marketing
The syllabus has been customized in a way that concentrates on job and placement. Thus, it gives a 100% job-oriented course. With its best fee and packages, it gives the best course at an affordable price.  So, there is a possibility that people approaching the career is high.
It gives a face to face training with highly trained industrial faculty who would give you a perfect insight into this job-oriented course. It also provides live project training that helps you to understand better.
Website: www.colourmoontraining.com
Contact: 9676600666
6. S.R.J Infoways
S.R.J Infoways is an IT sector that not only provides Digital Marketing and Web-related services, but also provides Digital Marketing courses in Visakhapatnam. Their mission is to give a world-class experience and help the trainees to be better Digital Marketers. 
Course content 
1 Introduction to Digital Marketing
2 Search Engine Optimizations
3 Search Engine Marketing
4 Content Optimizations
5 Search Advertising
6 Display Advertising
7 Social Media Marketing
8 Social Media Optimizations
9 AdWords
10 Content Writing
11 Shopping Ads
12 Lead Generation
13 Analytics
14 Affiliate Marketing
15 Video Advertising
16 Email Marketing
17 Mobile App Promotion
18 Remarketing
19 Backlinks and Internal Linking
20 Setting Filler
With their hands-on training and highly experienced faculty, their Digital Marketing course benefits many trainees. And they make sure each one of you has learned and understood about Digital Marketing.
This course helps even if you are new to this domain and gives you a clear structure for Digital Marketing. They also provide other courses like PHP and Web Design. 
Website: www.srjinfoways.com
Contact: 7286886666
8. GIT Training Institute
Git training institute is known for its IT and business-related training. The institute offers Digital Marketing courses both online and offline. So you can choose which one is a better option for you. They also provide other courses like C++, Java, PHP, Python, and much more. So they do know how to give better training and make trainees understand the concept.
Course content              
1 Overview of Digital Marketing
2 Search Engine Optimizations
3 On-page Optimization
4 Off-page Optimization
5 Local SEO
6 Social Media Marketing
7 Affiliates
8 Facebook Marketing
9 Twitter Advertising
10 Video Marketing
11 Google Analytics
12 Mobile Web Marketing
13 Online Reputation Management
14 AdSense and Blogging
The duration of the Digital Marketing course is 40 hours with hands-on training and give the trainees a better understanding of the course. With its best and experienced faculty, they guide the trainees to a better path and helps them to achieve their best self.
Website: www.grafx-itsolutions.com
Contact: 0891 254 1479
9. Knowledge Hut
Knowledge Hut has a diverse training program, and they also provide Digital Marketing courses in Visakhapatnam. Being renowned for its diverse training program, it gives you a better insight into Digital Marketing. So, this helps the trainees have a clear understanding of the subject and boost their confidence about what they have learned for future placement.
Course content 
Introduction to Digital Marketing

Business strategy and marketing

Brand strategy

Marketing Analytics

Excel, Statistics and Data Visualization 

Metrics, Sources, and Statistics

Segmentation, Targeting, and Tracking

Testing & Experimentation

Budgeting & Planning

Presenting & Storytelling

Mid-course lab

Acquiring and Engaging Users

UX Fundamentals & Trends

Developing a content strategy

Activation & Retention

Email Marketing

Search Marketing

Social Media Management & Influencer Marketing

Facebook Advertising

Twitter, LinkedIn & Display Advertising

Final Presentations
This is a short-term course, and you can get comprehensive training from Marketing gurus who helps you to understand what works and what's does not. They offer 16 hours of comprehensive and interactive Digital Marketing training, and they also provide real-world examples and give different case studies to help you understand.
Learn the strategy that might help you to develop your businesses and they also provide downloadable courseware and course credit.
Website: www.knowledgehut.com
Contact: 91-80-41520045
10.Wifi Vidya
Wifi vidya is also well known for its Digital Marketing courses in Visakhapatnam. They also provide an individual course in SEO, Pay Per Click, blogging, YouTube, freelancing, and so on.
Course name: Digital Marketing
Fee: 25000
Course content 
Introduction to Search Engine Optimization

Types of Search Engines

Keyword Research by Position

On-Page Off-Page Optimization

SEO Report Generation

Search Engine Marketing Introduction

Types of Campaigns

Conversion Tracking

Social Media in Business and Its Importance

Facebook Introduction
Engagement
How to Make Money Through Affiliate Networks
Email Marketing
blogging
How to Create Effective Content
They provide hands-on training while teaching theory and help the student to understand in-depth Digital Marketing. With the weekly assignment, you might improve every week. At last, they evaluate you after giving you a case study. At end of the course, you will receive the certificate.
With free 20000 worth of tools, you can get the gist of Marketing tools and how to use them efficiently. With experienced faculty, you can learn from the best. Since this is a job-oriented course, you get increased chances of getting placed. You can manage your course time; you don't need to stress about it.
Website: www.wifividya.com  
Contact:  9908 178 486
FAQs
Which are some of the best digital marketing courses in Visakhapatnam?
There are many highly rated digital marketing institutes that offer digital marketing courses in Visakhapatnam. IIM SKILLS is one of the frontrunner institutes where you can enroll and get certified in digital marketing.
What are some important modules of digital marketing taught in Visakhapatnam?
Some important modules to master in digital marketing are SEO, SEM, Online brand management, reputation management, SMM and SMO, web analytics, website analysis, email marketing, affiliate marketing, GMS, and others.
What is the course fee for digital marketing courses in Visakhapatnam?
The fee for a good digital marketing course varies from 25000 to 65000 based on the facilities provided by the institute in Visakhapatnam.
Conclusion
So, these are the best Digital Marketing courses in Visakhapatnam. I hoped this helped you to choose which is best for you. Digital Marketing is a booming business, it is a necessity in the modern world to make things easily available to consumers. It is also a smart way to engage with customers, and soon it will take place among new gods in the digital world.