In 2017, the Goods and Services Tax (GST) was passed in the parliament on March 29, which later came into effect on the 1st of July in the same year. This was one of the biggest tax structure reforms in the country in decades. If you aspire to become a trained and certified GST practitioner in the country, you have come to the right place to enquire about the best GST certification courses in Kolkata.
The city of joy is currently one of the biggest educational hubs in the country. But with ample options available, it becomes difficult to shortlist the best ones. This article intends to guide you through a comprehensively researched list of the top 10 GST certification courses by the government as well as by private institutions in Kolkata.
Advantages of GST Certification:
As a GST practitioner, you will be a certified person bridging between the GST architecture and the registered user. You will have to be fully equipped with all the necessary skills to guide the taxpayer about the rules and regulations related to GST agreements.
Since the GST has come into force, over two lakh jobs have been created in the industry for GST professionals. An apt GST certification course in Kolkata will give you all the skills to compete in this opportune job market.
With a number of new businesses starting up every year, the demand for GST practitioners has risen drastically. Ever since the new GST adoption in 2017, companies are actively looking for administration, up-gradation, and reconciliation of the GST.
Certified professionals are paid more than their non-certified counterparts, by around 15% to 25% on an average.
If you are an accounting or a finance professional, having a certification will give you an edge over others. You can even commence your consultancy and start running your own business.
If you are already very knowledgeable and aware of the e-technicalities of GST, a certificate will be a boost to your confidence. Taxpayers needing advice and consultations will find you more credible and trustworthy. A highly beneficial add-on.
Therefore, your inclination to look for appropriate GST certification courses in Kolkata is a wise decision.
List of the Best GST Certification Courses in Kolkata:
The city of joy, Kolkata, is home to some of the oldest universities in the country. The thirst for learning and knowledge has been immense forever. Taxation has always been a crucial part of our economy, but with dynamic reforms, one needs to be up to date to thrive and succeed in the accounting and finance domain. There are several GST certification courses in Kolkata that will develop your skills and make you a certified GST practitioner. Let's have a look:
IIM Skills
Course Highlights:
IIM Skills is one of the best institutes in the country which offers comprehensive GST certification courses in Kolkata. What's more? They offer the best business accounting and taxation courses in Kolkata.
Know more about the GST course at IIM Skills:
Master certification registered with the MSME, recognized by the government of India.
Hands-on implementation aligned with case studies for 100% practical learning.
Expert trainers and course content that's high industry-relevant.
16 hours of recorded lectures.
Lifetime access to tools and software related to GST for managing several clients at once.
Placement cell to assist with internships or jobs.
Guaranteed 100% money-back policy after the first session, in case you are not satisfied with the course.
Online examination for which 70% attendance is a per-requisite and 80% score mandate for attaining the certificate.
Attend the class from anywhere in the world, with the comfort of your laptop, tablet, or phone.
IIM Skills' Master GST Course in Kolkata enables you a smooth process for enrolment and registration.
Course Curriculum:
The course structure is spread into 9 modules which start with an introduction to the structure and framework of GST. It also encompasses all the rules, regulations, schemes, and systems under GST.
The Reverse Charge Mechanism (RCM) and the input Tax Credit and payment are also covered in the course. The course enables you to start from the very basics, leading to an in-depth understanding of all the GST provisions and making you ready for a fulfilling career in this domain. Moreover, if you have an inclination of working in the finance sector you can explore other career avenues such as financial modeling. You may want to check out the top financial modeling courses in Kolkata to glean more information on the prospects of a career in financial modeling.
Fees –  INR9900
You may want to read the detailed analysis of the IIM skills GST Certification Course Review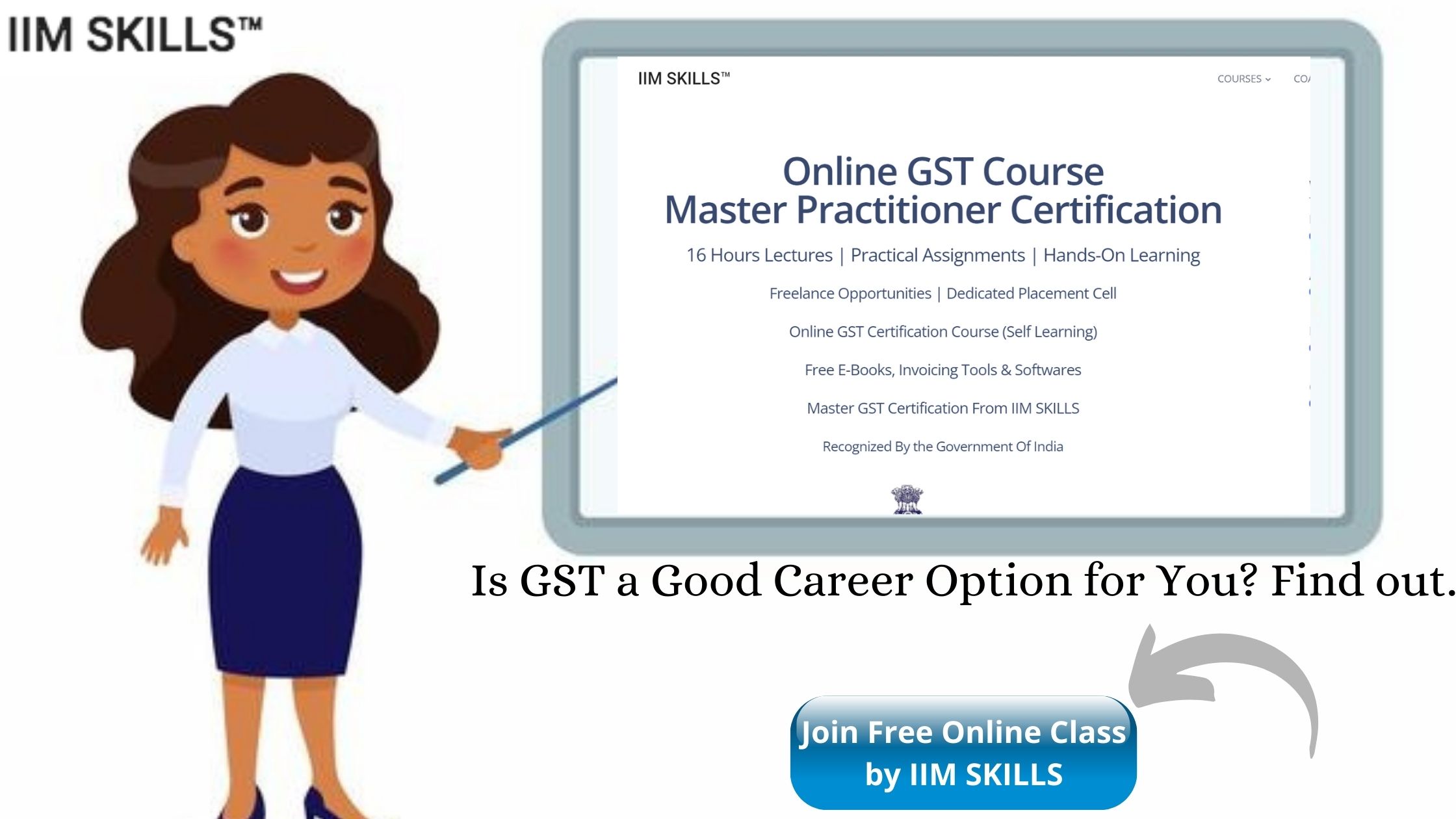 Other courses from IIM SKILLS institute:
GST Course at Flowria Academy
One of the best training institutes for computer training, the Flowria Academy is also a top contender in the list of GST certification courses in Kolkata. Situated in the Tollygunge area, the institute is quite popular among other areas of the city. Other than providing GST certification courses in Kolkata, the institute also provides services to computer and tally training institutes, Computer Training institutes for MS Excel, GST training institutes, and computer training at home as well.
Course Highlights:
Two-month course with just two days in a week classes.
Certificate in Tally.ERP9 with GST will be provided.
Training on Tally, a popular ERP, accounting software already being used on VAT, CST, or Service Tax.
The institute also provides another course – a certificate in account expert with Tally ERP.9 is a more insightful course for accounting professionals.
Course Curriculum: 
The course has 10 modules starting with an introduction and advanced financial accounting topics and later on covering fundamentals on TDS and payroll. It will also give you a fair knowledge of software management and upgrades and impart skills related to Inventory, Business management, and document printing.
Fee – INR6000.
You may want to check out the Top 7 Online GST Courses in India
The George Telegraph Institute of Accounts (GTTI)
The institute is a part of The George Telegraph Group and has been operating for the past several decades. The institute offers a GST Course to equip its trainers with all the necessary skills required to tackle the new tax regime.
Course Highlights:
Two months course with classes for 5 days a week.
Forty hours of lectures.
Courses offered are affiliated with the National Skill Development Corporation (NSDC), a government non-profit body under the Ministry of Skill Development & Entrepreneurship.
The advisory board is composed of chartered accountants, company secretaries, financial analysts, business administrators, cost and management accountants.
100% job placement assistance.
The clientele of big brands including Samsung, Sony, Wipro, Infosys.
Course Curriculum: 
The course promises you will be "GST ready" after successful completion. All topics related to Supply (scope, IGST, time and value) and tax ( input tax credit, tax invoice, accounts and records, returns, payment of tax & refund, and TDS & TCS) are thoroughly covered. Other topics include e-commerce, recovery, inspection, search, seizure, offense & penalties, FCM & RCM, etc. Starting with the introduction, the course will lead you to be an expert GST practitioner in no time.
Fees – On request.
Contact +91 76040 14541 for details.
Tally Academy Institute of Learning
The renowned institute deserves to be on the list of top GST certification courses in Kolkata. With its affiliation to the National Skill Development Corporation (NSDC) and MHRD, the institute has been doing quite well since its establishment in 2005.  Courses offered by the institute are:
Taxation and GST Basics
Certificate in Goods & Services Tax in Tally ERP.9 (C-GST)
Certified GST Professional with E-filing
Course Highlights:
Become a certified GST professional with Tally ERP.9 skills
Real-life classes and practical projects
Approved by the MHRD in the Government of India
GST filing can be learned in English or Hindi
Course Curriculum:
The courses are tailored to suit your need for skills. A certified GST professional with Tally ERP.9 will understand the basics of GST as well its concepts and usability through theoretical and practical training.
Using Tally ERP.9 efficiently will also be taught in this course. Certified GST professional with e-filing will acquaint you with all the skills required to assist a user with GST's practical aspects such as e-filing, registration, payments, etc.
Fees: INR3000, INR5000.
Recommended Read: Most Informative GST Certification Courses in India
Central Institute of Technology (CIT)
One of the best institutions for GST certification courses in Kolkata, CIT has been operating in the city of joy for a decade. They specialize in training students and professionals in several areas other than GST, which includes digital marketing, computer training, web design and development, cyber security, graphic design, and animation. Let's know more about the GST course.
Course Highlights:
The institute claims to be an MSME-approved, computer and personality development training institute.
The name of the GST courses is Tally ERP.9 & Prime with GST E-Filing (Expert) and GST with E- Filing.
Tally is six months whereas GST with E- Filing is for just three.
100% job guarantee.
Faculty with experience of over ten years provide classroom education.
Lifetime access to tools and resources.
Course Curriculum:
The course is quite extensive consisting of more than 90 modules on GST and e- filing designed for all kinds of aspirants. The 90 modules are divided into three parts which start from the very basics of accounting and tally and cover detailed topics as well. A live project is also a strong point to choose this institute for GST certification courses in Kolkata.
Fees: INR10000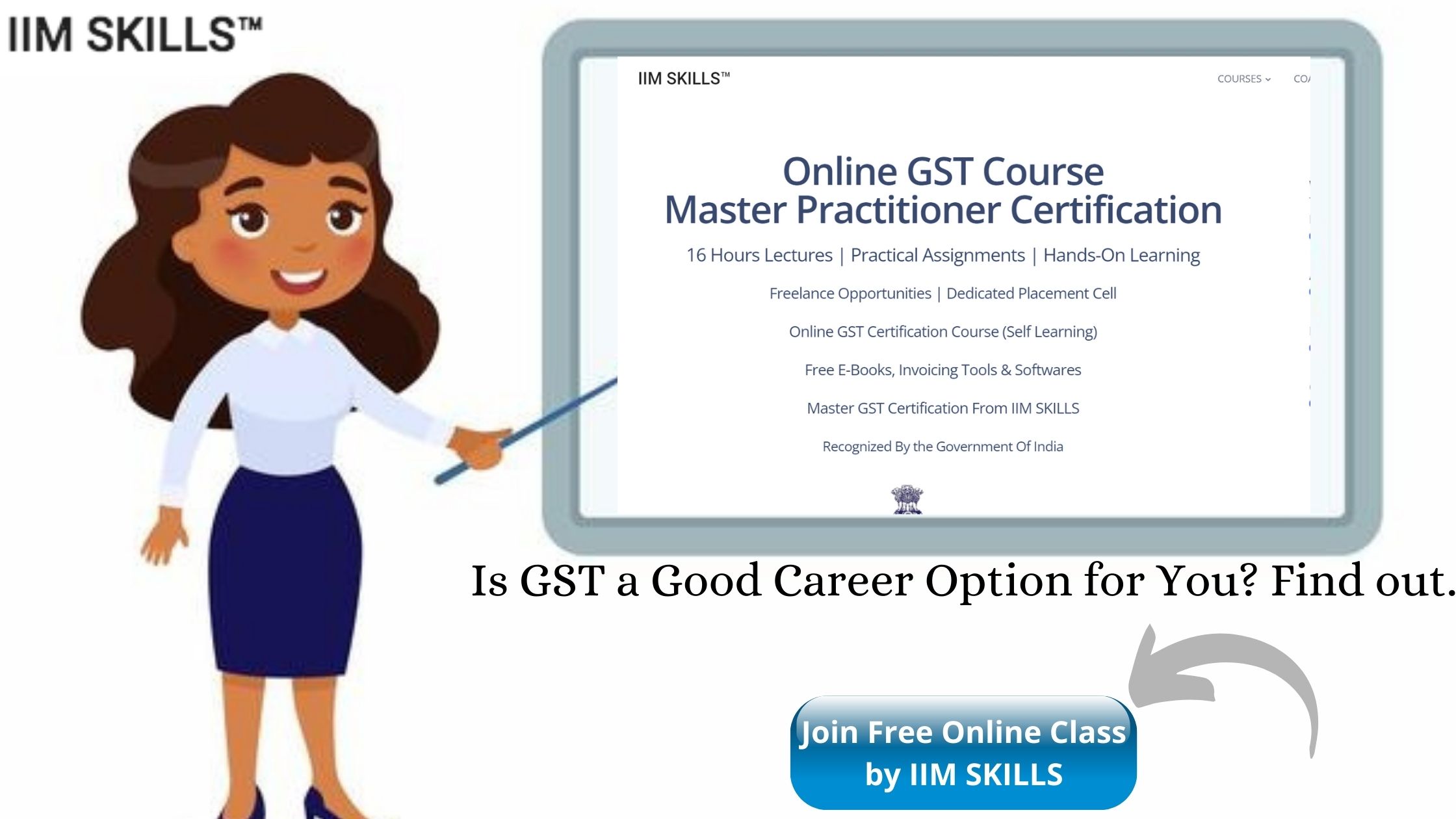 Onward Academy
A leading institute providing financial accounting career courses in Kolkata, Onward academy's GST course, in association with the Tally Academy, pioneers in its domain. It offers a one-year diploma program which is Tally Academy's Tally Expert Course, one of the best options among available GST certification courses in Kolkata.
Course Highlights: 
One year course with the option of regular and weekend classes
One year diploma and six months fast track courses are offered
Claims to be the sole network partner of the reputed Tally Academy in Kolkata
Practical projects are included as part of the course and are done in association with chartered accountants
Offers soft skills sessions free of cost
Industrial Visit
The institute has collaborated with several MNCs to assist with 100% of job placements
Course Curriculum:
The curriculum is divided into four modules which consist of – Tally Fundamentals, Tally & Billing, Inventory, Tally & Taxation, and lastly Tally Payroll. Each of the modules will enable you to become a true GST professional.
The first and second module is the accounting assistant program and accounting executive program respectively, whereas the third is the Tally professional program and the fourth mentioned program is the ultimate Tally expert program. With each module that you complete, you get closer to becoming an expert GST practitioner.
Fees: Not disclosed on the website.
Other Recommended Reads: Digital Marketing Courses in Kolkata 
AITCS
The uniqueness of this institute is that it specializes in offering services related to taxation. The training services of the firm include a couple of courses related specifically to GST. One is GST e-filing training and the GST practitioner training course. Tax coaching services are also offered by the institute for training students from commerce and finance backgrounds.
Course Highlights:
The course is imparted through classroom training and is very interactive
The size of the class is deliberately kept small (minimum 2 to max 10 students) to give individual attention and enable more interactions among peers
Weekly tests to keep you motivated and involved
Practical classes, placement assistance, are among other aspects provided
The center also claims to refund your fees if you are not satisfied the first day
Course Curriculum:
The course structure of both courses is designed to aid students to work independently post-competition. Under the GST law, the topics related to returns and forms are thoroughly covered in both theory and practical parts of the GST e-filing training course. The GST Practitioner course helps you to prepare and crack the NASCIN test, which is mandatory to pass for becoming a certified GST Practitioner.
Fees: GST e-filing training is INR7500 and GST Practitioner course is INR5000.
Bengal Tax Counsel (BTC)
A leading name in the list of GST certification courses in Kolkata, Bengal Tax Counsel aims to prepare its students to become masters in the field of Accounting and Taxation systems. A professional training institution, BTC's focus is on imparting in-depth knowledge to make you thorough professionals.
It offers Professional Certificate in Accounting and Taxation (PCAT) and Professional Certificate in Goods and Services Tax courses to provide theoretical as well as hands-on expertise on the modern taxation system in the country.
Course Highlights:
The GST course is a six-month course whereas the PCAT course is for one year
Classes will be only for a couple of hours and two times a week
Provides free counseling to its ex-students, who are struggling  with taking important career decisions
Focuses more on teaching students to become self-employed and claims to have over 70% of students choosing to become independent consultants post completion of the course
Course Curriculum:
An insightful course covering crucial topics such as the GST law, online GST, and GST accounts. Practical training is provided to give hands-on experience. GST treatments through Tally ERP9 are also taught. With the institute's central focus on the accounting and taxation system, students will have an extensive understanding of the topics.
Fees:
PCAT is INR22000.
GST professional course is for INR11000.
ICA Ultadanga
A highly rated institute for providing training in the field of accounting and finance, ICA has over 120 centers across the country. The institute offers three, four, and six months of Certified Industrial Accountants (CIA) courses as part of its GST course. It has other courses on TDS, Direct Tax, Tallyprime, etc. as well. Without the inclusion of ICA, the list of the best GST certification courses in Kolkata is certainly incomplete.
Course Highlights:
The biggest highlight of the course is the 100% online job guarantee
Opportunity to work with multinationals
80% is practical training whereas just 20% theory
Live training using the latest software
The academy offers an Any Time Job (ATJ) card which enables you to access over 30 placement cells
Course Curriculum:
The course starts with basic fundamentals of GST and entails tax levy and collection, returns, tax payment, and valuation. The course is designed to give you more practical experience and thus includes GST using Tally, GSTN, and a live project.
Henry Harvin
Henry Harvin's GST course is also a very popular choice among those who are looking for a GST certification course in Kolkata. With its GST practitioner certification, the institute is a leading name for providing  GST courses in the country. The institute has started offering the GST course in 2016 and has been among the first few to start offering a GST certification course in Kolkata.
Course Highlights:
32 hours, of course, comprising of 4 models
Also offers complimentary modules of resume writing and soft skill training
Training experts have more than 20 years of GST experience
One year access to tools and resources
The course is online, focused on practical learning
Provide 100% job placement opportunity
Course Curriculum:
The four modules cover all topics related to GST. Supply or Levy, export, import, and e-way bills are explained in the first module, whereas the second module comprises transitional provisions and job work aspects other than registrations and input tax credit & ITC04. The third module mainly focuses on accounts, tax payments, returns, etc and the fourth module includes litigation, audit, offenses, penalties, demand, and recovery-like topics.
Fees– INR12500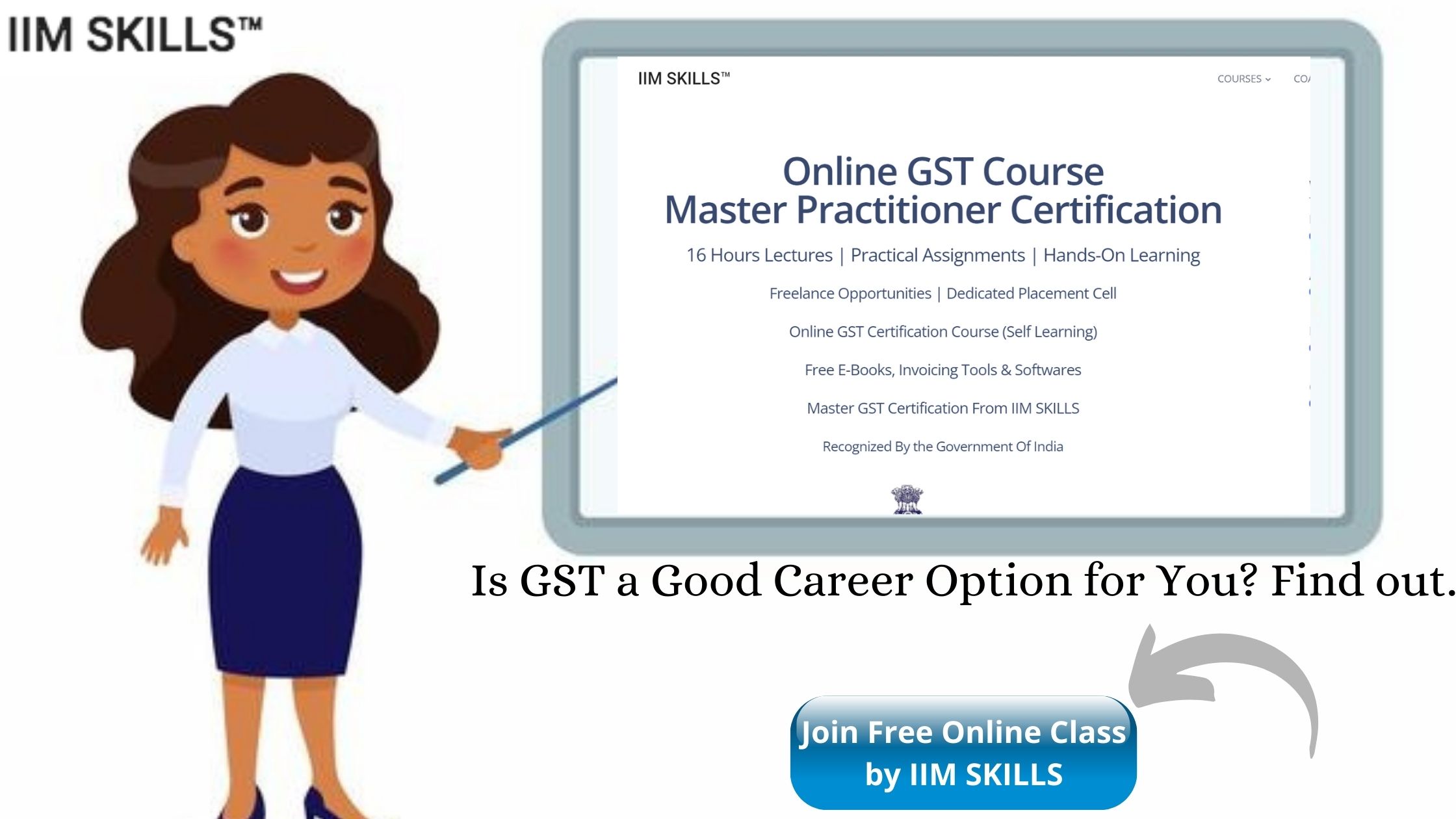 Frequently Answered Questions
1. Which GST course is the best?
Though there are many, IIM Skills' online GST Master Practitioner Certification tops the list.
2. What is the duration of the GST course?
A. IIM Skills conducts 16 hours of lectures comprising practical assignments and hands-on training. The next batch is December 26 and 28 2021.
3. What is the use of the GST certification course?
A. A certification will enhance your skills to grab better jobs and even give you an opportunity to open your own consultancy. On average, an individual's salary can see a rise of 15% to 25% if they are GST certified.
Conclusion:
Kolkata, the hub of education, arts, and crafts is filled with many more institutions that provide good quality GST courses. The above-mentioned ones are the cream. Make an informed decision to choose the best GST certification course in Kolkata. If you are still confused if you are choosing the right career path, it's fair to truly understand GST.