Are you currently living in Ahmedabad? Do you want to know about content writing courses in Ahmedabad? You have come to the right place. This article will help you to learn about a few of the content writing courses in Ahmedabad and choose the best place to learn content writing.
Thanks to the COVID 19 pandemic, the recent years have become the beginning of a digital eon with the internet as its reigning monarch. Today, everything is happening digitally and content has become the pivot between the end-user and a service provider. Content writing is a field where growth and development opportunities are many and also a popular choice of career nowadays for freshers as well as candidates looking for a change of profile.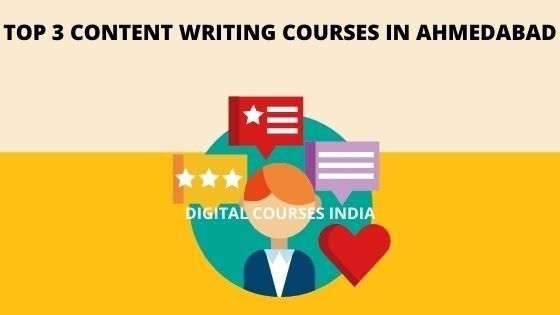 But what exactly is content writing?
Content writing is the process that involves developing textual content and presenting it in a manner that will draw the attention of the readers and keep them engaged till the end. It may sound really simple. But to create simple, clear, and concise content needs guidance and practice. Content writing is not an innate talent. It has to be developed and practiced. It needs expert guidance to become a good content writer.
Content writing is the latest wrinkle among young entrepreneurs in Ahmedabad. Are you a fresher from Ahmedabad who wants to take a career journey with a lot of scope for creativity and imagination? Or do you wish to quit your monotonous job and explore something new with a lot of scope in the future? If your answer is yes, then you have to take up a content writing course in Ahmedabad.
Also, read about the Top 6 Content Writing Courses in Delhi NCR
What are the benefits of being a content writer?
There is a wide range of benefits you could get if you choose content writing as your career.
You can work in content development or a digital marketing company as a full-time content writer. You can also opt to be a part-time employee of such a firm. Or you can choose to be a freelancer and be your boss.
One of the most sought-after benefits of a job profile is flexible timings. There are indeed very few career choices that give you the option to work according to your timings. Students and women, especially mothers are the candidates who are the most benefitted by this feature. If you opt to be a part-time employee or a freelancer, you can work according to your convenient timings and even at the comfort of your own home.
Gain knowledge at every step
If you are a content writer, you have the opportunity of broadening your horizons as an everyday bonus. Content writers never cease to learn. They may learn more in their specific niche or a variety of genres. But learning never stops for a content writer.
You may want to check out the Top 10 Content Writing Courses in Nagpur
This is yet again another lucrative and rewarding aspect of being a content writer. You can earn a lot provided you have the knowledge and the patience to survive in this industry. Earning while learning is a bonus that other jobs seldom provide.
Scope for growth and development
As there is a growing demand for content writers in India and throughout the world, there are several opportunities and job openings in this field. Professional growth and career development are relatively more for a content writer than for many other professionals.
Good platform for putting your creativity to use
If you are a person who hates monotony and loves innovation, this is an excellent platform to prove your mettle.
Why is it necessary to do a course in content writing?
As mentioned earlier, though writing might be an innate talent for some, content writing is not necessarily an innate talent. It requires knowledge about how the digital marketing world works and the basics like search engine optimization, keyword analysis, etc., have to be mastered.
A good content writer should be able to produce content that engages the target audience and stop them from jumping pages. The content he/she develops should serve the purpose of its creation i.e., to explain, educate, persuade, announce, etc. It requires a deep analysis of the audience and their expectations. A firm grasp of how social media works is helpful to create good content and publicize it.
One also has to learn the different types of content and how to create content based on the requirements of the industry. You can learn and develop these skills from experts through good content writing courses in Ahmedabad.
What does a content writer do?
There are various types of content a writer creates. A content writer must learn the format of every type of written content along with the nuances, through a good content writing course. And needless to say, a lot of patience and dedicated practice is required to achieve a noteworthy level of writing.
Every writer has his specialization called 'niche'. His facts and opinions revolve around it. A blog is the penned output of a writer's knowledge about his niche. It is an informal way of writing where there is a very little boundary for the writer's creativity and opinion.
Articles are formal textual content that has to provide exact facts and details about a particular subject. There is no room for creativity and the personal opinion of the writer in an article. Nevertheless, articles are considered the most informative and trustworthy form of written matter.
Social media is considered a very powerful tool that can be used for purposes like advertisements, communication, announcements, education, etc. a content writer is expected to have a good amount of knowledge about social media and use it to achieve their purpose of writing. Social media posts are again textual and graphical content a content writer creates to achieve the above concepts.
As the name says, a product description elaborates the features and utility of a product. It is an important piece of writing that helps the end-user to decide upon a product that best suits his needs.
Pamphlets and infographics
These are very short, graphical, and colorful content that is widely used for advertisement purposes.
Every professional must have a document portraying their educational and technical qualification, professional proviso, and other talents in their domain. This can either be a single-page document called a resume or a multiple-page document called curriculum vitae otherwise known as a CV.
Book reviews are very helpful to readers to choose books they would like to read. This textual content gives a brief account of the author and what the book is about. Care is taken to review the book without giving out its total content.
E-books or electronic books are the electronic version of books. E-books are very popular these days as they can be read on electronic mediums on the go like mobile phones, laptops, and electronic devices created for reading, e.g., Kindle Reader.
Nowadays, every organization, may it be commercial or educational, adopts a practice of maintaining a website that gives more exposure to the organization. The about us page is a section of the website that gives more information about the organization, for example, its values, mission statements, founders, year of establishment, etc.
These are statements that are given by an organization to the press for releasing them to the public. Generally, a press release informs the press and eventually the public about big changes or new initiatives of the organization. For example, the appointment of new officials in the higher posts of the organization or launching a new product line, etc.
Where to learn content writing in Ahmedabad?
We have come to the most important part of this article which answers the question of the hour, where do you learn content writing?" Many institutes offer content writing courses in Ahmedabad. You can choose the one course that suits you the best according to your needs and style of learning.
There are many content writing courses in Ahmedabad which are of different types. Duration, course fee, mode of learning, and other features like career guidance and internships have to be kept in mind while choosing content writing courses in Ahmedabad.  Content writing courses in Ahmedabad are conducted in online mode these days due to the Covid 19 spread. It is best to use this as an opportunity to learn content writing in the comfort of your home.
Must Read: How to Choose a Course
Now let us know more about the top content writing courses in Ahmedabad.
1. Content Writing Mastery course from IIM Skills
IIM Skills is the top institute in India that provides an international standard content writing course to aspirants throughout India. The Content Writing Course otherwise known as the CWMC is the best content writing course in Ahmedabad to date. It covers the entire concept of content writing and helps beginners to step into the digital world with ease. Now let us get into the details of this course.
The Content Writing and Master Course (CWMC) is a vast, intensive, and very interesting course. IIM Skills has designed this course to be a very hands-on one which is quite rare in the industry. They are aimed at helping an aspirant writer, be it a novice or an amateur, to get a hold of various tactics of writing and the expectations in the industry. It is one of the versatile content writing courses in Ahmedabad.
The CWMC offers a month-long course with lectures from expert content writers every week. The different aspects of content writing are taught to the students exhaustively. The instructors make sure that each student is provided with ample resources needed to master the skill. It is a 4-week course comprising 16 hours of lecture and 4 weekly assignments followed by an in-house internship.
Course Features:
The candidates who undergo the course are not only given lectures but are given assignments every week. The assignments are carefully designed to make the students put all their knowledge into action. A dedicated manager is assigned to every student who helps to clear doubts, evaluate the assignments and provide prompt feedback.
The instructors of this course are very dedicated and the best of their kind. They make sure that every student gets the maximum benefit out of the course.
The students are asked to appear for an exam at the end of the course after which they are awarded certification by IIM Skills. IIM Skills also provides many international certifications like HubSpot certification which help students land with clients not only in India but abroad as well.
IIM Skills offers a three-month internship. The interns are given real-time writing tasks as part of the internship. The lectures in the internship period provide more intense coaching on the subject. The students are assisted in getting their portfolios and social media presence developed.
They are provided with adequate knowledge on how to use various tools to develop SEO-friendly content. The students are also coached about various search engines and the features they provide to analyze content. At the end of the three-month internship, the student who was an amateur writer emerged as a full-on content developer.
The other highlights of the course are:
Placement assistance is the crux of any professional course. Without placement assistance, the whole point of attending a course and getting certified goes invalid. IIM Skills has a robust placement cell that offers sufficient placement assistance to the candidates.
Lifetime access to course curriculum
Yet another exceptional feature of this course. IIM Skills provides lifetime access to the course curriculum which includes videos of the lectures and study materials.
All the above features of the Content Writing Master Course make it the best content writing course in Ahmedabad. The other courses offered by IIM Skills are the Digital Marketing course, Technical Writing Course, GST certification course, etc. For more details regarding the course fee and batches, visit the IIM Skills website.
Don't forget to read the IIM Skills Content Writing Course Review
2. Advanced Content Writing Course – GRRAS Solutions
GRRAS offers one of the comprehensive content writing courses in Ahmedabad. Many freshers, working professionals, and even students have enrolled and completed the course.  Though GRRAS has many training centers and practice labs throughout India, the Ahmedabad center is the most popular one.
It is a classroom course comprising 30 hours of training in the fundamentals of content writing. This course can be done on a regular track in which the duration is 15 days. It can also be done in Fastrack mode wherein the duration of the course is 5 days.
GRRAS provides a 100% placement guarantee to all the candidates who complete the course and obtain certification.
The trainers and instructors at GRRAS train the students with many live projects wherein they are made to put their learning to full use. These live projects are assessed promptly and appropriate feedback is given to them.
GRRAS provides lifetime placement assistance through its effective placement cell. It ensures that the students are not facing trouble finding jobs suiting their profile.
Lifetime Training Membership
The most beneficial feature of this course is that the students are not only offered lifetime access to the course study materials, but they can redo the entire course whenever they feel the need to recall or update themselves.
To know more about the course fee and the batch details, visit the GRRAS website.
Recommended Read: Digital Marketing Courses in Moradabad
3. Content Writing course – EXCEL PTP
Excel PTP offers one of the worthwhile Content writing courses in Ahmedabad. Excel PTP stands for Excel Professional Training Program. The institute offers a variety of professional courses in Ahmedabad among which the popular one is the Content Writing Course. Excel PTP is a part of Amar Techno Labs Pvt Ltd., Ahmedabad.
The following are the details of the course.
The course is of two levels, the Beginner level, and the Advanced level.
The Beginner level course duration is 4 months wherein the basics of content writing is covered completely.
The Advanced level course duration is for 8 months. All the complex concepts of content writing are covered in this course.
For better learning, the candidates are advised to start with the beginner-level course and then proceed to the advanced level. Both are classroom courses, but due to the pandemic, the institute has decided to offer them online. Extra efforts are taken to ensure that the quality of the courses is not compromised.
The course is a one-to-one Every candidate who enrolls for the courses is given individual attention. This provides an improved scope of learning than that of batch training.
The students are given many mini projects which are carefully assessed and appropriate feedback is given to them by the instructors to ensure mistakes are corrected and necessary changes are made promptly.
A final project is a live real-time content writing work given to the candidates, which makes them ready to step into the industry. It gives them knowledge of how the industry works, deadlines, and many such job-oriented topics.
The institute also offers Placement Assistance and guarantees that every candidate lands up with a job or a client in the industry according to the style he/she chooses to work (full-time/part-time/freelancing).
The candidates are offered jobs that give attractive salary The freelancing beginners are given jobs that give stipends.
For more details regarding the course fee and timings, visit the website or call (079)40072121/9409378394.
Some things to remember
The following are the important things to take home from this article.
Choosing the right course is the beginning of a great career ahead.
Make sure that the course you choose has internships and live projects offered to the candidates.
Read different reviews before making the final discretion.
Make use of everything the course you have chosen has to offer.
And unarguably, the most important thing to do right away is to "start writing".
FAQs
What is the best institution that provides content writing courses in Ahmedabad?
Considering the organized course materials and the different platforms that the students will get to explore, after the course completion, IIM Skills is the best institution in Ahmedabad that provides content writing courses.
What are the basic skills required to become a successful content writer?
The basic skill that a content writer must have is the ability to write in simple language and in a manner that will relate to the readers.
What are the courses that a content writer must pursue?
To become successful content writers, the writers must have the knowledge of the current trends of digital marketing that will help them to reshape and remodify their content accordingly. They should acquire the skill to optimize the content according to the SEO guidelines and should earn the experience of working with CMS.