Every day we come across plenty of feeds and information online. For example,  a blog, information on the website, podcasts, videos, or even advertisements on websites and other digital channels are part of the contents available online. Mostly, people do not think about how these online contents are produced and who does that. But there are some like you, who are interested in producing such content and want to know the art behind it.
Hence, to make it easier and understandable for you, we will be discussing content writing in detail. Plus, we will be discussing some of the best content writing courses in Noida. So, if you are from Noida and looking for a good content writing course then you have landed on the right page.
Though we will be discussing content writing courses, you can still go through this article to know more about the content writing courses as it includes information not only about content writing courses in Noida but also some of the best online content writing courses.

What is Content Writing?
Content writing involves writing and editing in digital format. These are done for marketing purposes. However, content writing is not done only for marketing on a digital platform. It also includes writing blogs, articles, eBooks, webpages, etc. Content writers give an insight into the content they provide. Content writers create content for different formats. They can be: –
Blogs
Newsletters
Video scripts
Web pages
Emails
Articles
eBooks
White papers
Social media posts
As it can be seen from above there are plenty of fields where content writing is required. Moreover, in the current digital age, the role of content writers has increased tremendously. As the internet is almost in every hand today, the importance of digital content and marketing has also increased accordingly.
Today, most companies are investing a lot in content marketing as this gives them a good reach to promote their goods and services online. This is a much simpler process compared to other channels. Therefore, the demand for content writers has increased a lot.
For example, companies like Swiggy and Zomato are heavily dependent on their online content to attract more customers. They post a variety of content on social platforms. This enables them to bring more traffic to their app or website. Apart from this, even if you see their pages or app, you can see plenty of content. All these advertisements or promotional content are done by content writers.
Content writers play a very crucial role in writing video scripts for advertisements. Many companies go for video advertisements as well to leave an impact. Sometimes, you see a video and get emotional and do check that particular company's website.
For instance, recently, Mother Dairy launched an initiative to educate and encourage people to avoid using plastics. In this particular video, the company not only gave an environmental message but also promoted its brand by claiming to go plastic-free. The script for such a video is prepared by a content writer.
One of the other most popular forms of content writing is blogging. The bloggers share their experiences of different fields with the reader. The blogs tend to be more conversational and engaging. You can find humor, emotion, and other entertainment stuff in the blog. Blogs are very entertaining and tend to be written considering the loyal fans.
Many of us receive many emails from companies promoting their product or anniversary wishes with a beautiful message. All these email contents are again done by a content writer.
Content writers also prepare newsletters that are being sent by companies to their customers. These newsletters give plenty of information about a company's aim and future goals. Such newsletters help companies to be in touch with clients and make them aware of the latest developments and product-related information.
As it can be seen from above, content writers are into plenty of fields. Now, let's get into a discussion about why content writers are very important. This will give you an idea about the prospects available for content writers. Once this is clear we will move on to discuss the best content writing courses in Noida.
Not from Noida? You can give these a read if you want.
Top 6 Content Writing Courses in Delhi
Top 11 Content Writing Courses in Gurgaon
Why Content Writers are Important?
The above discussion has given an insight into the fields where content writers are active. Now, we will look into the aspect of the role and importance of content writers in those fields.
Content writers put soul into any promotional content or video. They play with words. Every time they give unique content. This enables them to connect with the target reader or viewer.
In this age of the internet, we are more glued to screens and for anything, we search online. Due to this, it becomes very important for companies to be more aggressive in their online promotional activities. And for this, content writers are required.
The content writers are expected to bring something unique and engaging so that more business is generated. Compared to other platforms, online content is more useful with easy access.
Scope of Content Writing as a Career
Once you complete a course in content writing, you have plenty of opportunities to work as a content writer. You can go for freelancing, content creator/developer, content strategist, and many more. You can also start your blog. As a blogger, you can choose a niche and post blogs on the same. Through your unique and conversational writing, you can have loyal readers. This will help you to generate a good income.
A good content writing course will help you to make a dream career through your writing. Moreover, with the below options of best content writing courses in Noida, you can achieve your dream of a great content writer. Let's now discuss some of the best content writing courses in Noida.
You may want to find the answer to this question: Is Content Writing a Good Career Option?
Best Content Writing Courses in Noida
IIM Skills – Content Writing Master Course
IIM Skills is one of the leading institutes in the world of digital marketing and content writing. For content writing, it offers an excellent course by the name Content Writing Master Course. This course enables you to learn everything about content writing. Moreover, you do not need to attend any physical classes.
So, if you are looking for one of the best content writing courses in Noida from the comfort of your home then it is a great option. Since it is an online course, one can join this course from any part of the world.
Salient Features of The Online Content Writing Course:
You get three months of guaranteed internship.
You get the opportunity to publish your first e-book on Kindle, or Google Books.
You will be writing your first blog for a renowned and bigger platform like The Times of India.
You will be publishing your first ever press release on an online news portal.
You will get to launch your very own content writing agency.
You will get lifetime support from IIM Skills.
You will be provided with free tools worth Rs 35,000/-.
You are going to get freelancing opportunities.
You have a very big opportunity to get content marketing certification from Hubspot, Cambridge, Massachusetts.
You will also get to learn copywriting, business listing, academic writing, SEO, and many more.
The above salient features make this course unique and in high demand. As a result, it not only turns out to be one of the best content writing courses in Noida but also in the whole country.
Course Duration
The total course duration for this course is one month along with an option for three months internship. The course will be offering 16 hours of lectures along with 60 hours of practical assignments. Moreover, you get 10 plus hours of internship lectures. Now, let's discuss the course curriculum in detail.
Course Curriculum
The whole course is divided into 12 modules. Each module covers different topics and covers all the aspects of content writing.  These are discussed below in brief.
Module 1 – Module 1 is about Web Development where you get to learn the following topics: –
Importance of WordPress website and setting up a WordPress account
Web hosting
Content delivery network setup
Plugins
Module 2 – It is about blog creation. The topics are: –
How to understand the psychology behind web traffic and make the most of it.
Learn to create amazing landing pages to attract users.
Identifying UI UX experience for website or blog.
Module 3 – This module covers the introduction to content writing. The topics are: –
Content types.
Distribution of content across various channels.
Module 4 – This module discusses content keyword research. The topics are: –
Keyword planner.
Types of keywords and how to select them.
Module 5 – It teaches about writing content. The topics are: –
To understand the mindset of readers.
How to write more and also how to create influential content using storytelling.
Module 6 – It is about content writing tools. Topics are: –
Avoid grammar mistakes.
How to use internet tools to check writing quality.
Content engagement.
Module 7 – This one is about duplicate content detectors. Topics are: –
Plagiarism and how to avoid writing plagiarism content.
To explore online tools to check duplicate content.
Module 8 & Module 9 – Both the modules teach about content distribution using email and Google local pages set up. Topics are: –
How to capture leads for subscribers
Setting up 3rd party marketing tools
Setting up automation
Google local page and how to set up
Multiple locations set up
Module 10 & Module 11 – Both the modules teach about content marketing using social media and exploring social media tools. Topics are: –
Creating social media pages.
Do's and don't of social media.
Social Media listening tools.
Module 12 – It covers freelance content writing. Topics are: –
How to monetize writing
Ideal pricing for content work
How to approach industries for freelance work
The curriculum details mentioned above are not exhaustive. The curriculum allows learning everything about content writing. This makes it not only one of the best content writing courses in Noida but also everywhere.
IIM Skills Brand Partners

Reviews and Testimonials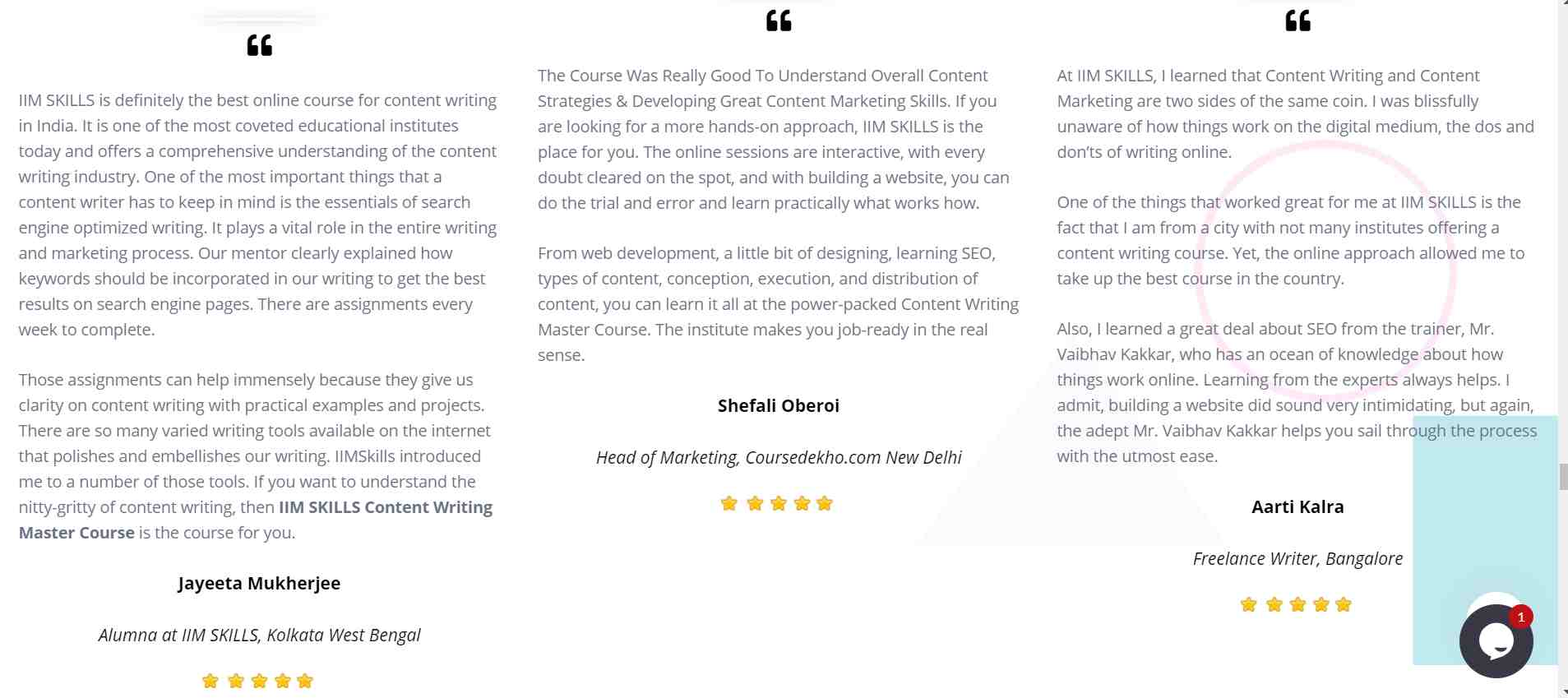 For more detailed analysis, check out the IIM Skills Content Writing Course Review
Course Fee
The course fee is Rs 14900/- plus GST.
Other Courses at IIM SKILLS
ICT – Advance Content Writing course
ICT is recognized by the Government as an innovative start-up. Thus, its certification holds great credibility and weight in the employment market. This feature makes it one of the best content writing courses in Noida as it offers offline classes as well.
Course Duration
This is a 13 weeks course and the entire course is divided into two parts. The first part consists of six weeks of classroom/live training and the second part consists of seven weeks of internship and live projects. Now, let's discuss the course syllabus to know more about this course.
Course Syllabus
This particular course is divided into 13 modules and each module consists of various topics.
Module 1: The first module gives an introduction to content writing.
The Different Topics Covered under This Module are as follows: –
Basics of content writing
The effective process for content writing
Prewriting, drafting, sentence construction, paragraph building
Revising, editing & proofreading
Publishing
Module 2: In this module, you will learn how to boost your vocabulary.
The Topics Are:
Vocabulary building tips
Words usage
How to understand technical terms in a domain
How to use the thesaurus
Google tools
Module 3: After covering this module, you will be well-versed to avoid common grammar errors in writing.
Punctuation
Wordy sentences
Sentence variety
Verb power
Pronoun problems
Parallel structure
Module 4: Through this module, you will know about writing tools, tips, and techniques.
Topics Include: –
Internet research skills
Writing hacks
Using Grammarly, Copyscape, Ginger, and Hemingway app
Module 5: Non-fiction creative writing skills can be learned from this module.
Topics Covered Are: –
Digital advertising
Copywriting
Web content writing
Blogging skills
Social media content development
Module 6: This module covers details regarding fiction writing.
Topics Are: –
Short stories
Novels
Themes
Style
Module 7: It will teach you business writing skills.
Topics Are: –
Types of business communication
SEO writing
Business plan
White papers
Press release
Module 8: This module covers aspects of technical writing.
Topics Are: –
Technical writing style
Technical blogs and content
Ways to approach technical writing for non-technical graduates
Module 9: Here, you will learn about academic writing skills.
Topics Are: –
Art of academic writing
Essay writing
Thesis writing
Research proposal
Biographies
Book/Movie Review
Critique writing
Module 10: In this module, you will learn to write specific pieces of content.
Topics Are:
Resume writing
Cover letter
Linkedin profile
Module 11: This module covers Content Marketing.
Topics Are:
Content marketing basic
Content strategy development
Lead generation through content marketing
Module 12: In this module, you will learn methods for the monetization of writing skills.
Topics Are: –
How to decide freelancing prices
How to write faster without any quality compromises
How to become a published author
How to become a successful blogger
Module 13: In this, you get to learn about Book Publishing.
Topics Are:
Book drafting
Self-publishing
Approaching a publisher
Promoting the book
Course Fee
The total course fee is Rs 12172/- plus 18% GST.
Thus, with its unique features, availability of physical classes in Noida, and Government recognition, it has become one of the best content writing courses in Noida.
Information Developers Foundation – Master of Content Writing Course
Information Developers Foundation or IDF was founded in 2009. The institute claims to offer a unique method of teaching after enrolling in their course. They have divided this process into two phases.
In phase 1, they bring students in the right mindset to learn the course. After your enrolment, they will be sending emails containing details every alternate day with a step-by-step guide. There will be a total of 10 such emails. After this, you will be evaluated through video conferencing. In phase 2, you will be attending 1:1 online live classes. There will be two contact classes to learn in-depth about topics along with doubt clearing.
Course Duration
The course will be for 32 hours. This course contains a total of four lectures.
Course Content
The course is divided into 10 sections. Each section contains sub-topics to help you have a deeper understanding of the topics. Let us now have a brief look into the topics covered under 10 sections.
Course introduction
Jobs and responsibilities of content writers
Principles and types of communication
Types and classification of contents
Website and content management system
Content planning including keyword planner
Types of document structure
Web banners and logo creation
Grammar for logical and clear writing
Text and video content for the web
Blog
Finding your niche
Ways to make money from the blog
SEO concepts
Freelancing
Course Fee
The total course fee is Rs 9,999/-.
This course is available in both modes – online and offline. With the availability of the institute in Noida and offering a great learning experience, the Master Content Writing Course turns out to be one of the best content writing courses in Noida.
The above content writing courses are among the best content writing courses in Noida. Apart from those, online platforms like Udemy and Coursera also provide some of the best content writing courses. Thus, the courses offered by such platforms include them among the best content writing courses in Noida.
Frequently Asked Questions
What is Content Writing?
Content writing is the art of producing content and publishing it online. Unlike other means, it is the most affordable and has large access. The content writers play with words to bring uniqueness to their content.
2. What are the eligibility criteria for becoming a content writer?
There are no specific eligibility criteria. All you need to have is good English skills so that you do not have to face any issues while writing. Apart from this, all you need to have is passion and dedication to learn the technicalities of content writing.
3. Is content writing a good career option?
Yes. Due to easy access to the internet and its wide reach, the demand for content writers has increased manifold. Nowadays, most companies are going for online marketing. This strategy helps companies to reduce costs as well as cover most of the population. As a result, companies need more and more content writers.
Conclusion
Content writing is a good career option for those interested in writing and who love to play with words. Due to globalization and the internet, the demand for content writers has increased a lot.
To become a good content writer, one should do a content writing course. This will enable them to learn the necessary skills for becoming a good content writer. Selecting a good content writing course is very important if you want to do well in this field. A good and reputed course will enable you to reach places in your career.
Moreover, you will not be limited to a particular city or country. If you work hard and your content is unique, attractive, engaging then you can receive opportunities from companies all over the world.
If you are not a freelancer and looking for some good job opportunities then this course will help you in getting the same.  A course from a good and reputed brand always goes well in a long way. So, choose one of the best content writing courses for your bright future.