GST, which stands for Goods and Services Taxes, is a national tax levied on goods and services, including their manufacture and sale. The implementation of the Goods and Services Tax (GST) is regarded as a significant step forward in India's indirect tax reform. This article will provide you with an overview of the various GST certification courses in Noida that you can enroll in.
A GST practitioner certification course will be a guide to the overall rules and regulations that are specified, its compliance, and its overall outcome. GST-certified course is recommended for any professional, entrepreneurs, and students from any field who wish to learn more about the GST channel.
A GST certification course will also enable one to understand how GST impacts the finances of an organization and overall, what effects it has on the country's economy. The tax is imposed at each stage of the manufacturing process. Both the customer and the manufacturer are subject to GST. GST is expected to provide numerous benefits and advantages to consumers as well as the Indian economy as a whole.
GST in A Nutshell:
The Goods and Services Tax (GST) system was introduced on July 1, 2017. One of India's most significant economic reforms has been the implementation of GST. The reform absorbed the vast majority of indirect taxes levied by the central and the state, resulting in a single tax system administered uniformly. GST has been categorized into some components:
Central Goods and Services Taxes
State Goods and Services Taxes
Integrated Goods and Services Taxes
Advantages of GST:
GST brings a lot of indirect taxes under a single roof which has simplified the taxation procedures.
There will be a substantial decrease in cases of sales without receipts.
The tax burden can be divided equitably between manufacturing and services.
What Is A GST Certification Course?
GST certification programs are designed to provide basic and advanced practical knowledge of the various aspects of Goods and Services Tax. Topics such as taxation basics, registration, administration, reporting, returns, and in-depth accounting and transaction recording, as well as GST laws.
Multiple courses are covering the basic and advanced level contents of the course. It is better to go through the contents of the course offered by various institutes before enrolling in a particular GST certification course.
Below Is A List of Some of The Best GST Certifications in Noida:
IIM Skills:
IIM Skills is a leading institute in the Delhi-NCR region, specializing in providing the best GST certification courses all over India through their well-structured online course. They are also a pioneer in online courses like content writing course, digital marketing course, and Technical Writing Course.
IIM Skills offers the best online GST course available which is brimming with information. Emphasis is laid on the practical aspects of GST. The course also takes you from basic to advanced levels and equips you with invaluable skills. By the end of the course, you will be ready to enter the job market as a GST-certified professional.
GST certification course offered by IIM Skills is a master certification course spread over four weeks as a Live online course. The curriculum emphasizes practical training making it India's best GST certification course. Training is provided by industry experts and emphasis on doubt clearing and practical knowledge is given.
The Fees: Rs 2900 (GST included)
Topic Covered During The Course:
Basics of GST
Software and Tools Used in GST Implementation
Mechanism of Reverse Charge
GST Input Tax Credit Payment
Registration Criteria and Processes Under the GST Act
Invoicing Rules and Regulations
Returns on GST Filing
Terms and Conditions for GST E-way Bill Payment
Methods Offsetting GST Liability
Other Benefits of The Course: 
Can avail of a free demo class before registering for the course.
Lifetime access to study material is provided.
Placement assistance.
Opportunity to avail internship.
Delve deeper into this course with the IIM Skills GST Certification Course Review
GVT Academy:
GVT Academy is a reputed training institute that provides the best GST certification courses in Noida. It enables candidates to achieve the best of knowledge in this domain best.
The course contents are as per the industry guidelines to provide the best extensive knowledge of GST & income with industry-based GST course content and syllabus. The course is covered over 80 hours.
The Two Parts of The Course:
GST (Indirect Tax)
Income Tax
The Course Content:
GST Goods and Services Tax (Indirect Tax) covers the following topics:
The Essentials of GST
GST Migration and Registration
Returns under GST Rules and Regulations
Input Tax Credit
GST E-Commerce Rules
GST Job Work
Other Topics- Under GST Rules and Regulation
Income Tax covers the below-mentioned topics:
Income
Assessments of Income
Deduction
Few other modules are also available under the GST certification courses in Noida under the online module. They are as mentioned below
E-Account.
E- GST.
E-GST Training.
GVT Academy is one of the best GST certification courses in Noida, offering 100% placement assistance.
Know more about the Top 6 GST Certification Courses in Gurgaon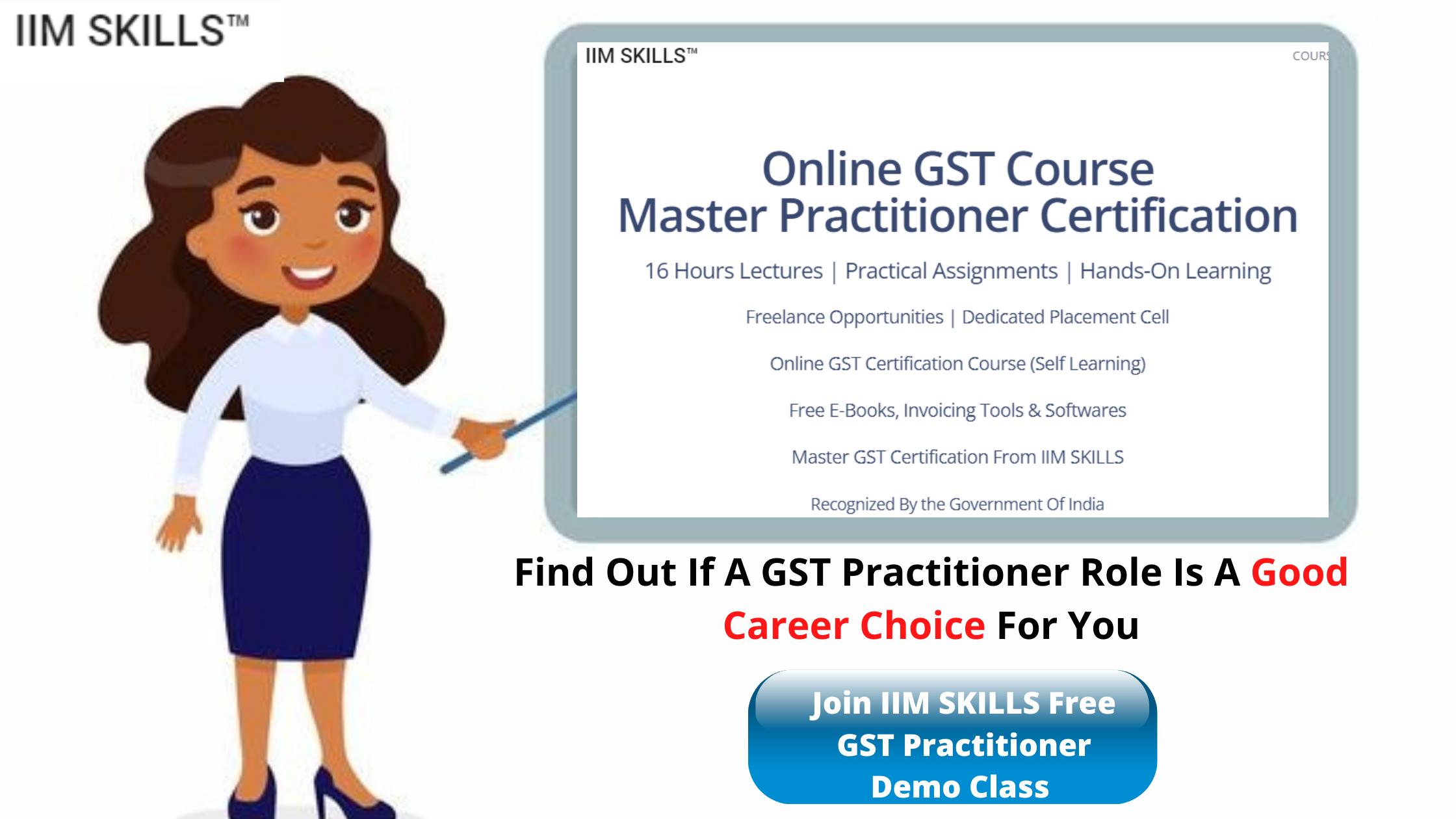 BPA Educators
BPA Educators has been providing coaching GST certification courses in Noida, to provide valuable training to young professionals and students. Their GST and e-filing course guarantees that you will become an expert in this field. The course is covered in online mode.
The Topics:
GST Fundamentals
Tax Levy and Collection
Details of Time and Place of supply
Supply in Detail
Mechanism of Reverse Charge
Export/Import under GST
Tax Invoice
Composite scheme
Other Take-Aways:
Exposure to work on a real-time project.
Expert advice from mentors.
Certification on course completion.
With practical training, BPA can help you understand tax concepts, keep account books, and file tax returns, allowing you to file returns for income tax, TDS, or GST. This will help you gain good technical knowledge of various taxes, and you will perform well in interviews and receive good job offers as a result.
Few other courses which are offered by BPA Educators besides the GST certification courses in Noida are:
CMA Course
CA Coaching
Direct Tax
Tally and Accounting Software
MIS Analysis
Pro Accounting
Business Communication
IPA Career Edge
IPA is a top-rated e-accounting Institute in Noida, which is famous for the best e-accounting training in Delhi NCR. They provide one of the best GST certification courses in Noida. Their goal is to give students the make students job-ready by providing them with practical accounting experience. In addition to providing, you with the necessary technical skills in e-accounting, the IPA Career Edge specialization course also covers soft skills, interview skills, and corporate conduct throughout the course.
The team of faculty at IPA Career Edge consists of highly skilled and qualified professionals which include chartered accountants, cost accountants, company secretaries, and others qualified in the field of accounting.
The E-GST Course Module:
Taxation Transactions and Accounting
Taxation Transaction Covered Under Tally
GST Act Overview
GST Return Filing
Income Tax Act Overview
ITR Filing
TDS Overview & Return Filing
Apart from the GST certification courses in Noida. IPA Career Edge also provides courses under the following categories.
Specialization Courses:
E-Accounting Course
E-Taxation
IPA Sr.Executive
IPA Manager
IPA HR
Specific Course:
Tally ERP
Busy-Accounting
SAP
PE/ESI
TDS/TCS
ROC Compliances
Advance Excel
After completing the course, all students will receive proper certification. Following the completion of the course, their faculty will assist you in obtaining your desired job.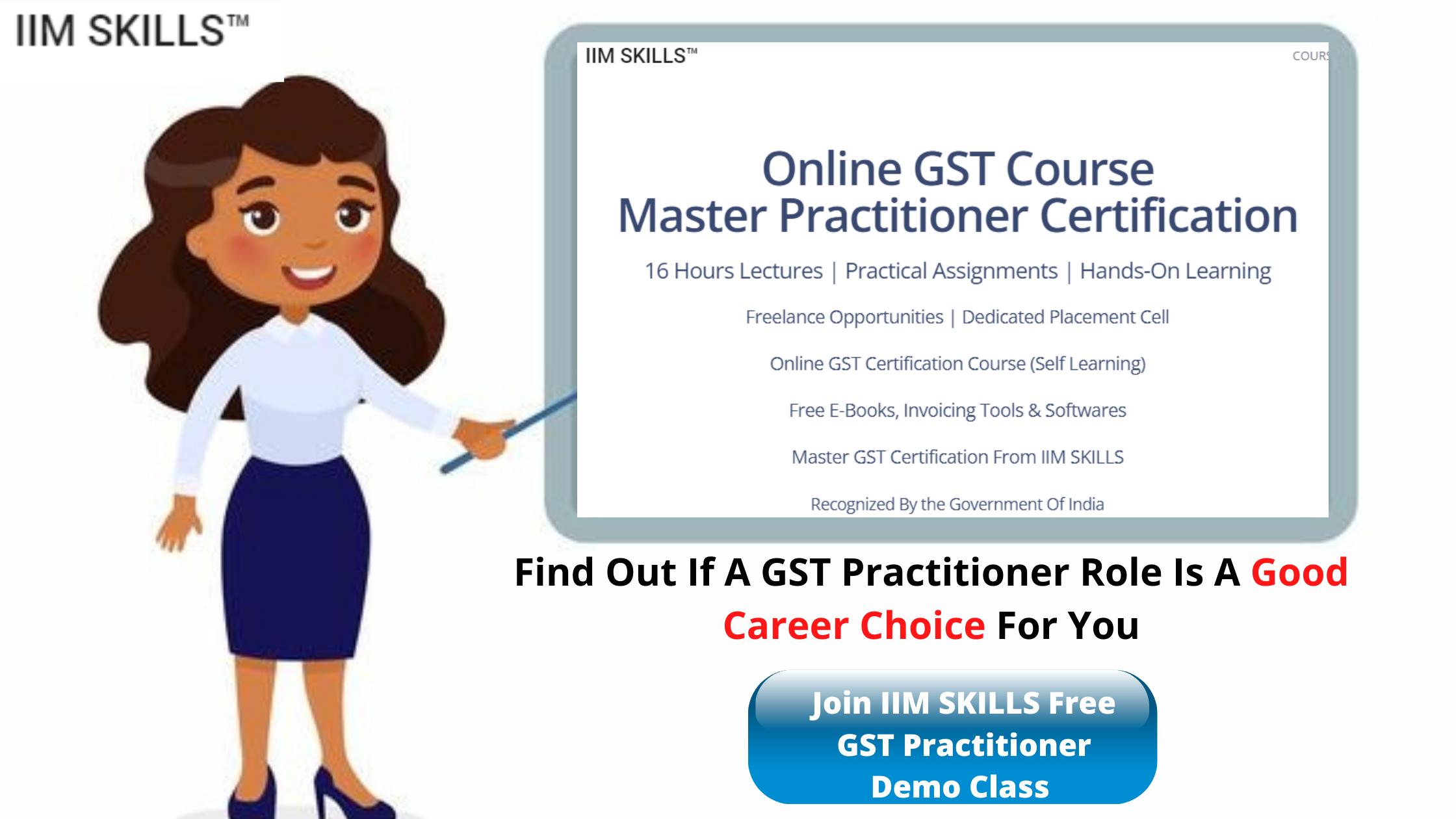 SLA Consultants:
SLA Consultants is one of the leading training institutes providing a wide range of courses in IT, Non-IT, HR, data science, and digital marketing, SAP, Tally, and other domains apart from the GST certification courses in Noida. The faculty at SLA consultants are highly skilled. Their training is practical and project-based and placement assistance at the end of the course is provided. They are an expert in providing short-term certification courses.
The Courses They Offer:
E-Accounts
E-GST
E-GST and Income Tax
E-GST Training
Candidates who want to improve their tax consulting skills or start a career in business and finance can enroll in these courses.
The Course Modules:
Overview of GST
E-GST Registration with Rules and Formats
Levy and Collection
Input Tax Credit
E-Commerce in GST
Composition Levy and Job Work in GST
Details of E-Way Bill
IGST Law
Refunds
GST Annual Returns.
Course Duration: Spread over 50-60 hrs of weekend sessions.
KVCH:
KVCH is a leading training institute in Noida. They provide training in various sectors like IT, Non-IT, specialization courses, and courses in accounting, networking, BFSI, and robotics. Each sector has several short and long-term courses. Their training in e-GST and income tax helps you find a valuable job in the financial sector.
Course Description:
Overview of GST
Migration and Registration under GST Rules and Regulations
Returns with GST Rules and Formats
Refunds
Input Tax Credit with GST Rules
E-Commerce in GST
Job Work
Composition Levy in GST
Other Benefits:
Certification on course completion.
Placement assistance.
Classes are available in weekday, weekend, and Fastrack formats.
Henry Harvin Academy
Henry Harvin is also one of the good institutes proving GST certification courses in Noida. They cover all the latest topics in this field. Trainers at Henry Harvin are highly trained and are experts in this domain.
The course takes you through the complete practical knowledge required in this area. Real-life cases and experiences are shared to improve problem-solving capabilities. The course is spread over 32 hours of live online classes.
The Fees:
Self-paced course: 8099/-
Live online classes: 8999/-
Topics Covered in The Course:
Details of Supply or Levy, Exports and Imports & E-Way Bills
Registrations, Input Tax Allowance & ITC04
Transitional Provisions
Accounts and Records, Invoices, Tax Payments
Time of Supply, Returns, and Refunds
Litigation Management, Audit, and Assessments
Offenses and Penalties, Demand and Recovery
Other Benefits of The Course:
1-year access to e-learning materials.
Computer-based practical training on GST.
Eligibility to Enrol for GST Certification Courses in Noida:
Since the Indian government implemented GST, many institutes have begun offering GST training. The GST certification course is open to law students, as well as a graduate in any discipline, chartered accountants, certified management accountants, company secretaries, professionals transitioning from finance to taxation.
Individuals who are interested in pursuing a career in taxation. Finance professionals who wish to meet their professional taxation requirements. In short, This GST certification course is designed for anyone who wants to learn and study GST to become a GST expert.
Career Prospects of GST Certification Courses:
Completing a GST certification course allows one to work as a GST practitioner. A GST practitioner must have a thorough understanding of GST, which can be obtained through a GST certification course.
Businesses will need to hire professionals for dedicated GST management, up-gradation, and reconciliations, which is expected to result in significant job opportunities
A candidate can work on return filing, taxation, and statutory compliances on their own. As the GST will accommodate the majority of the working-class population and job seekers into a well-designed approval, the Indian service and job arena have vast opportunities for the generation rising youths.
As it is a newly introduced law, and not many people are aware of the details. Professionals with in-depth knowledge will be in demand. You will also have the opportunity to increase your pay package as a result of this additional skill that you possess.
Professionals already in the finance background get to benefit more from this course as it opens doors to many more corporate opportunities for them.
A GST certification course will aid an individual pursuing it in developing various taxation, finance, and accounting professionals' skills.
Few more details on the Benefits of GST Certification Courses in Noida
Who Are GST Practitioners:
A GST practitioner or a GST expert is anyone who can provide help and services to people on tax-related activities, generate bills and invoices, and deliver challans. A GST practitioner has to be a central or state government-certified person and must be registered with the GSTN portal. A registered person can authorize a GST practitioner to perform any of the below-mentioned tasks on his behalf.
Details of outward and inward supplies are provided by them.
Provide monthly, quarterly, annual, or final returns.
Make a credit deposit into the electronic cash ledger.
File a refund claim.
Apply for registration amendment or cancellation.
Registration for GST, cancellation and renewal of GST registration can be done by GST practitioners.
GST practitioners are not permitted to submit applications on behalf of taxpayers. GST practitioners can save the application, but the taxpayer is the only one who can file it.
Eligibility Criteria for Enrolling As A GST Practitioner:
To enroll as a GST practitioner, one must qualify the below-mentioned criteria:
The applicant must be an Indian citizen.
Applicant must be of sound mind.
Applicant must not be declared insolvent.
Applicant must not have been convicted of any offense resulting in imprisonment for more than two years.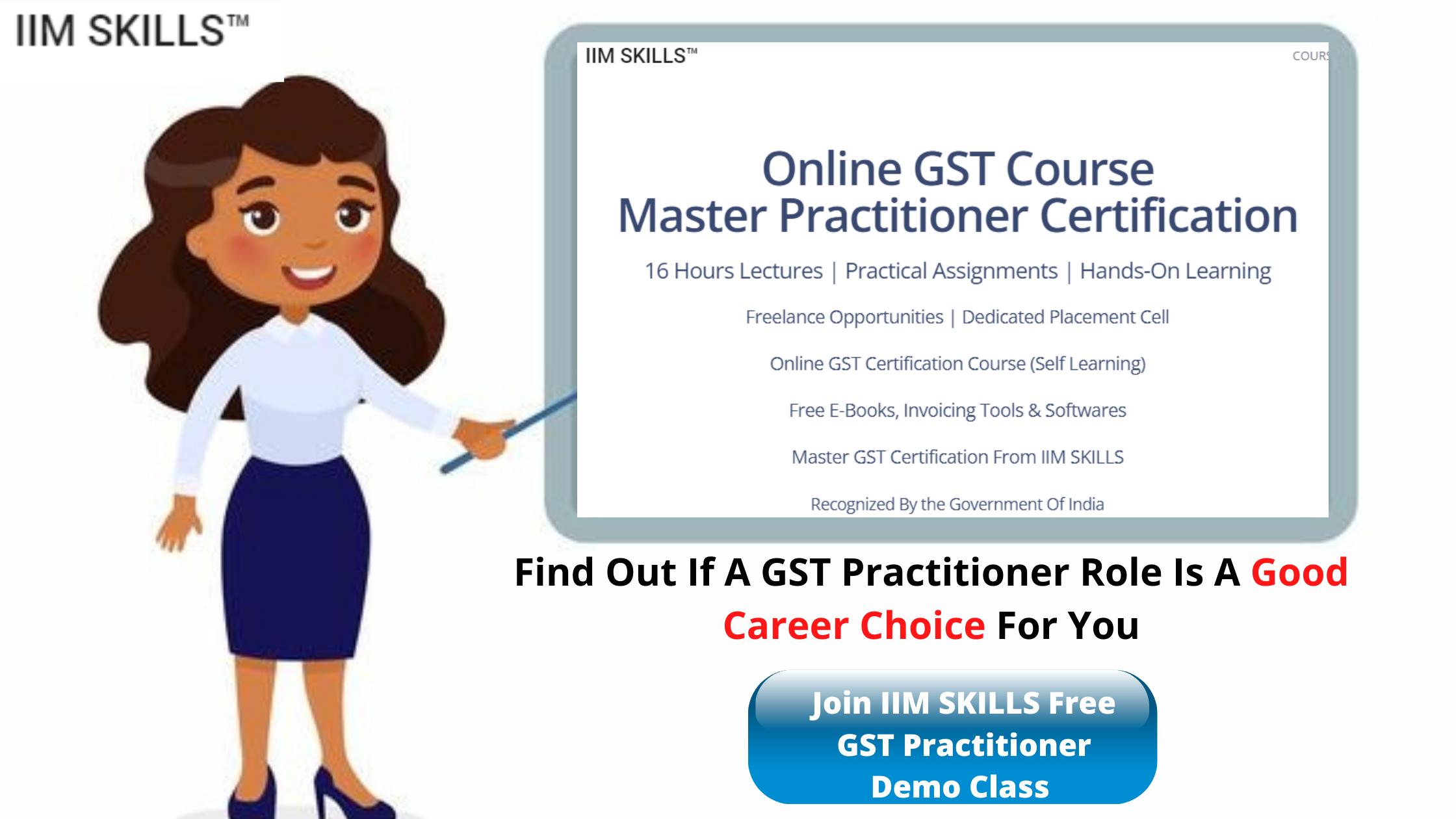 How To Enrol As A GST Practitioner:
A few simple steps will help you enroll as a GST  practitioner:
A candidate who wishes to become a GST practitioner may apply to the authorized officer using form GST PCT – 1.
The authorized officer issues the certificate in form GST PCT – 2 after examining the eligibility.
In addition, the candidate enrolled as a Goods and Services Tax practitioner must pass an examination administered by a certified authority.
To excel as a practitioner, one must have extensive practical and theoretical knowledge. One must be up to date on current GST laws.
Professionally certified GST practitioners are in high demand throughout India. NACIN((The National Academy of Customs and Indirect taxes and Narcotics) would conduct the examination for enrolment as a GST practitioner.
Frequently Asked Questions:
How much can a GST practitioner earn?
Your earnings depend a lot on the skill set you possess. However, on average a GST practitioner can earn between 4.5 -6.5 LPA in India.
What is the nature of the GST Practitioners exam?
GST Practitioner exam is a multiple-choice question exam.
Who all can attend the GST course?
This course is open to students majoring in law, the arts, business, or engineering, professionals working in the finance and taxation domains, as well as individuals seeking a career in accounts, finance, and taxation.
Is there any prior skill required to learn this course?
No, but a basic knowledge of indirect taxes prevalent in India will help understand the course better.
Conclusion:
Given the plethora of career opportunities that GST has created, it is highly recommended that you research the various GST certification courses and enroll in one.
Completing a certification in GST will provide you the required confidence in the field of taxation you need to become a professional tax consultant.